MCU: Robert Downey, Jr. Isn't the Only Marvel Actor Who Could've Had a Music Career
The Marvel Cinematic Universe has launched several actors into superstardom. Robert Downey, Jr., Chris Evans, Chris Hemsworth, and Scarlett Johansson are just a few from the franchise that can now write their own ticket in Hollywood.
While Downey came to the Marvel genre with plenty of acting credits to his name, few may know that he also cut an album back in 2004. Turns out several of his co-stars also tried their luck in the music industry before attaining superhero status.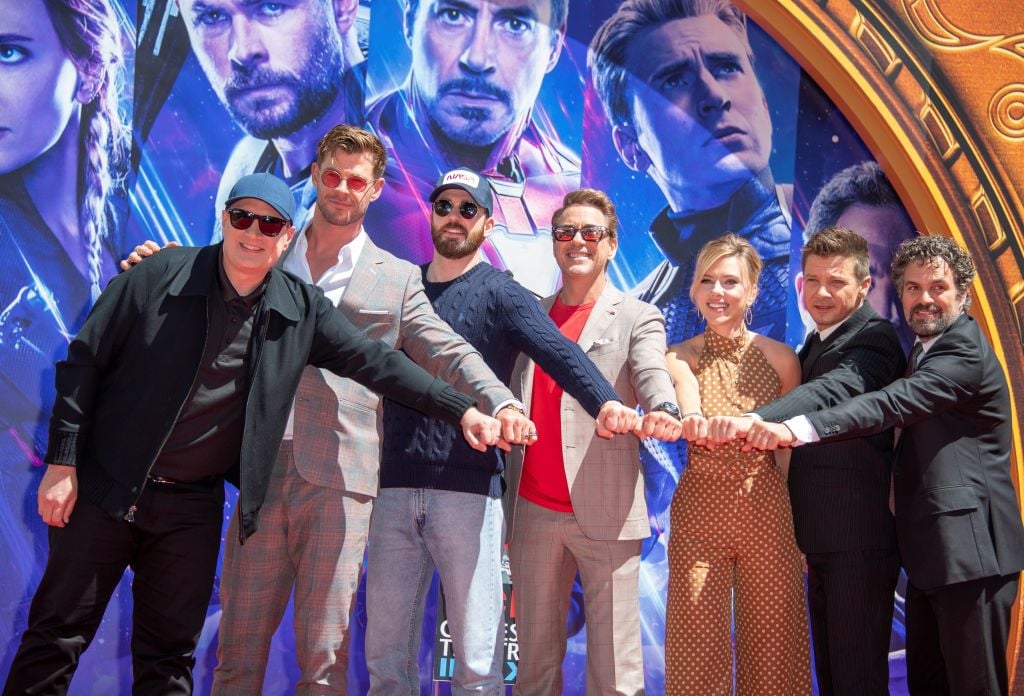 Robert Downey, Jr. tries out his vocals in 'The Futurist'
In 2004, Downey released his first album entitled The Futurist. The Iron Man star wrote eight of the original songs and also performs two covers – one classic from Yes, as well as the song "Smile" from Charlie Chaplin, for which he was nominated for an Oscar. Not only does Downey prove he's got an impressive set of pipes, but he also shows off his piano playing skills.
Released by renowned label Sony Classics, The Futurist showcases a jazzy, mellow sound with tracks including "Man Like Me," "Details," and "Little Clownz." The track "Broken" may be Downey's most personal song, where listeners can pick up on the actor's inner turmoil.
Though the album didn't launch the Marvel star's singing career, Downey was praised for his attempt at a different form of art.
Jeremy Renner just dropped an album
Hoping to bring some good vibes during the coronavirus crisis, Renner debuted his first album The Medicine in March shortly after quarantine restrictions were mandated.
"I've always found music to be one of the few things that unite people in a pure way," he wrote on Instagram. "Common ground can be hard to find in today's world, but music has remained a constant for me. To feel deeply, to dance fervently, and live together is more present now than ever." 
Releasing the song "Heaven Don't Have a Name" last year following the premiere of Avengers: Endgame, Renner was clearly attempting to embark on a music career. Time will tell if the Hawkeye star succeeds in this genre.
Brie Larson makes an early singing debut
According to IMDb, Larson was just 15 years old before dropping her album Finally Out of P.E. in 2005. The Oscar winner wrote seven out of the album's 13 tracks which includes songs "Life After You," "Whatever," and "Shoebox."
Ranging from empowering funk to tear-jerker love songs, Larson's album exhibits the actress's diversity in vocals and songwriting. With comparisons to Pink and Avril Lavigne, Larson may decide to one day revive her penchant for singing.
Scarlett Johansson sang before 'Sing'
Showing some impressive vocal talent in the 2016 animated film Sing, Johansson apparently had some prior experience when it came to carrying a tune. With two studio albums to her name – 2008's Anywhere I Lay My Head and 2009's Break Up – the Black Widow star focused more on singing than songwriting.
Her debut album consists of 13 Tom Waits covers including "Green Grass," "Who Are You," and "Fawn." Collaborating with Pete Yorn for Break Up, Johansson's second album includes nine songs where the two perform everything from ballads to offbeat pieces that go the more retro route.
While there's no news of the MCU actress doing another album anytime soon, fans will be able to hear her perform in 2021 when Sing 2 is released.