MCU: Robert Downey Jr. Was Paid Over $1 Million per Minute in This Marvel Film
Robert Downey Jr.'s name is practically synonymous with the Marvel Cinematic Universe. Launching the franchise in 2008 as Iron Man, Downey soon earned superstar status and become one of Marvel's biggest draws.
The Doctor Doolittle star has been in several spinoff films from the MCU, including one where he was paid a pretty penny for his less-than-ten-minute role.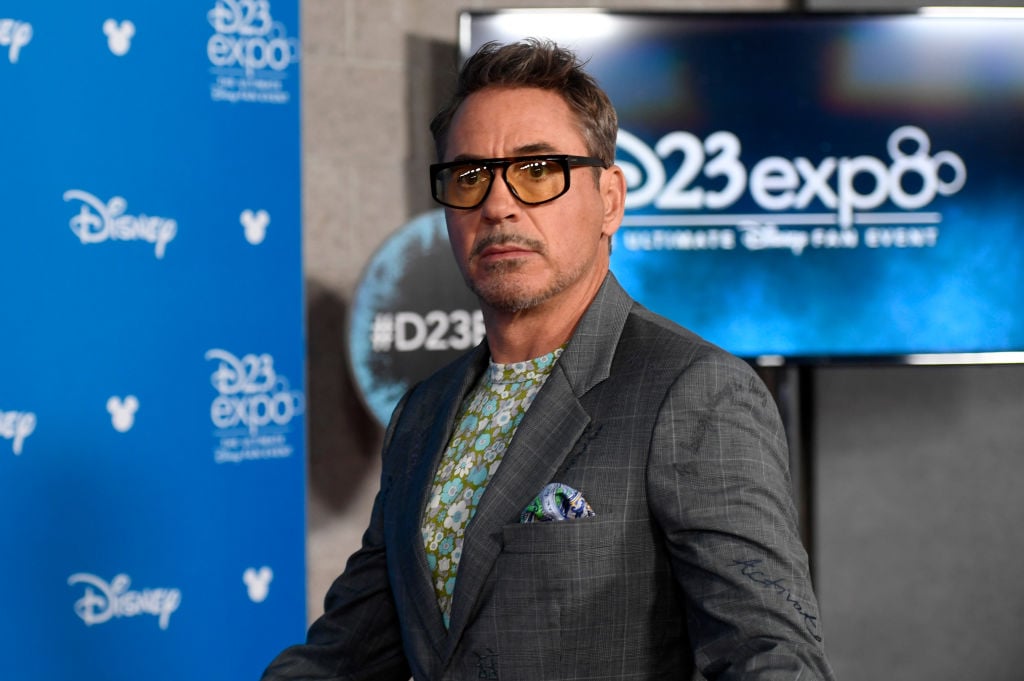 Robert Downey Jr.'s pre-'Iron Man' credits
Prior to donning the infamous metal suit for Iron Man, Downey starred in a host of films including The Pick-Up Artist, Kiss Kiss Bang Bang, and Zodiac. The actor also earned two Oscar nominations for his roles in 1992's Chaplin and 2008's Tropic Thunder.
While talent was never a problem for Downey, the actor struggled with substance abuse from an early age. Arrested in 1996 for possession of cocaine, heroin and a pistol when he was stopped by police for speeding, Downey was sentenced to three years in a California state prison in 1999 after violating his probation, according to BBC.
The Weird Science star's incarceration and documented addiction issues halted his career and made him a gamble to cast upon his release. For a marked amount of time, Downey's phone wasn't ringing with offers.
Marvel director Jon Favreau goes to bat for RDJ
Due to his storied track record, Downey was a tough sell for Marvel studios when it came time to cast Tony Stark for the 2008 film Iron Man. While studio execs saw the actor as a liability, director Jon Favreau knew that Downey was the one for the role.
"It was my job as a director to show that it was the best choice creatively… and now the Marvel Universe is the biggest franchise in film history," Favreau said according to Cinema Blend."Everybody knew he was talented."
The Lion King director fought for Downey and won over the suits at Marvel. Seeing obvious parallels been Tony Stark and Downey, Favreau was confident that the Less Than Zero star would completely embody the character.
"Certainly by studying the Iron Man role and developing that script, I realized that the character seemed to line up with Robert in all the good and bad ways," Favreau said. "And the story of Iron Man was really the story of Robert's career."
RDJ mentors Marvel newcomer Tom Holland
When Marvel cast actor Tom Holland as Spider-Man's Peter Parker, the young star revealed that Downey became somewhat of a mentor to him.
"The amazing thing about RDJ is that he's arguably the most famous movie star on the planet, or the biggest movie star on the planet," Holland said, according Insider. "But he's always early, he knows every crew member's name, he always knows his lines. He's professional, he's kind, he's caring."
Holland made his debut in the Marvel Cinematic Universe the the 2016 film Captain America: Civil War when he first met Downey. "He was really sweet and he kind of looked after me and took me under his wing a little bit," Holland said of the Iron Man star. "Entering the Marvel Universe is daunting, it's a big process."
When Marvel had released two Amazing Spider-Man films to a lukewarm reception, the studio decided to reboot the series with Spider-Man: Homecoming in 2017 headlined by Holland. Knowing the star power that Downey brings, producers brought in Iron Man for a quick cameo. Despite appearing on screen for under ten minutes, Downey was sure to bring credibility – and audiences – to the film.
Perhaps that's why he was paid $10 million dollars for the walk-on in Homecoming. While some may think that is a ridiculous sum (more than $1 million per minute if you do the math), the film was a box office smash which many think may have had something to do with Downey's appearance.