MCU: Will the Majority of Phase 4 Take Place on Disney+?
The Marvel Cinematic Universe has, up to this point, been a filmic franchise. From the very first Iron Man to Avengers: Endgame, the Infinity Saga took place over several films. Yet, now that Disney+ has entered the picture, future Marvel productions will premiere on the streaming platform, including multiple limited series highlighting characters who have yet to receive their moment in the spotlight.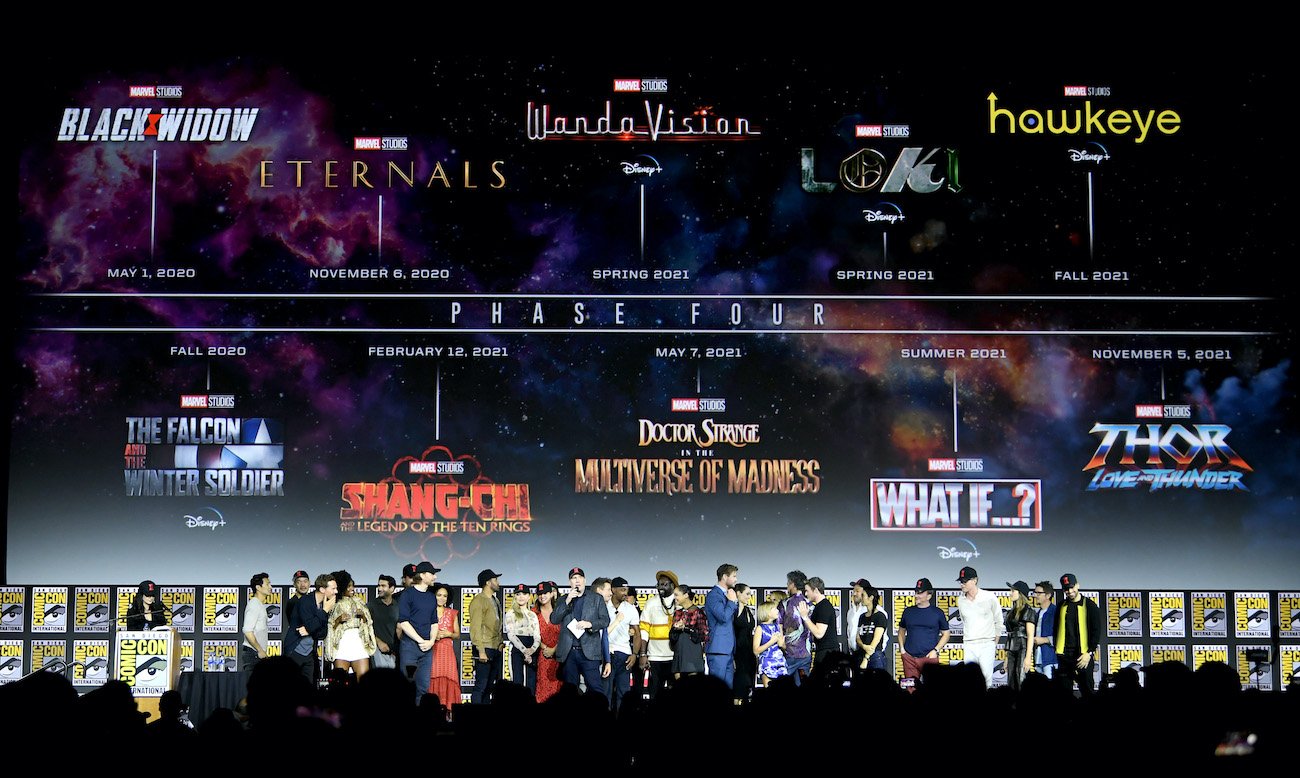 How many upcoming Phase 4 productions will be Disney+ shows? Is the streaming platform going to have a larger Phase 4 presence than the cinema? Based on information available, TV shows will directly impact and relate to the movies; WandaVision will segue into Doctor Strange in the Multiverse of Madness. Yet, just how many shows will Marvel enthusiasts have to binge to prepare for upcoming films? Based on information available, more than half of Phase 4 will be on Disney+. 
The cinematic releases that will be a part of the MCU's Phase 4 
While rumors surrounding Black Widow suggest that the Natasha Romanoff standalone installment will premiere on Disney+, such statements remain unconfirmed. As of now, Black Widow is still set to premiere in theaters.
In addition to Black Widow, the Phase 4 movie slate also includes Thor: Love and Thunder: what many presume to be Hemsworth's farewell to the landscape. Doctor Strange in the Multiverse of Madness is also set for Phase 4, alongside Shang-Chi and the Legend of the Ten Rings, an untitled Spider-Man movie (most likely), and Eternals. In short, Phase 4 will likely feature 6 cinematic premieres. Yet, more shows are coming soon. 
The multiple Marvel TV shows that will be a part of Phase 4
As mentioned, WandaVision will directly segue into Doctor Strange in the Multiverse of Madness, likely initiating the cross-conversation between the two distinct platforms: the streaming service and the theatrical release. Yet, WandaVision is not the only Phase 4 production to premiere on Disney+. 
Falcon and the Winter Soldier will take place following Avengers: Endgame; Anthony Mackie and Sebastian Stan are set to co-star, with Mackie's Falcon stepping up to carry Cap's shield. 
Loki is also coming to Disney+, and it will take place following the moment that Loki stole the Tesseract in Endgame. In a Forrest Gump-type fashion, viewers will see the trickster mess with famous historical events. 
Hawkeye is also coming soon, and it's likely that Clint Barton will train Kate Bishop to take on his superhero duties moving forward. Fans can also anticipate Mr. Marvel, Moon, Knight, and She-Hulk. What If… ? is coming too, but as an animated series. Thus, the show will likely be in a different world than the other installments, rather than impacting the other shows and movies. Yet, 7 live-action Marvel shows are coming to Disney+ as part of Phase 4, surpassing the amount of cinematic released anticipated.