Megan Fox and Machine Gun Kelly Mimic Angelina Jolie and Billy Bob Thornton With A 'Bloody' Valentine's Day Necklace
Megan Fox and Machine Gun Kelly's romance just got more intense. On Feb. 14, Kelly commemorated his first Valentine's Day with the actor on Instagram by sharing a series of photos. One of the them shows a pendant necklace with a drop of Fox's blood inside, giving his song title "Bloody Valentine" a whole new meaning.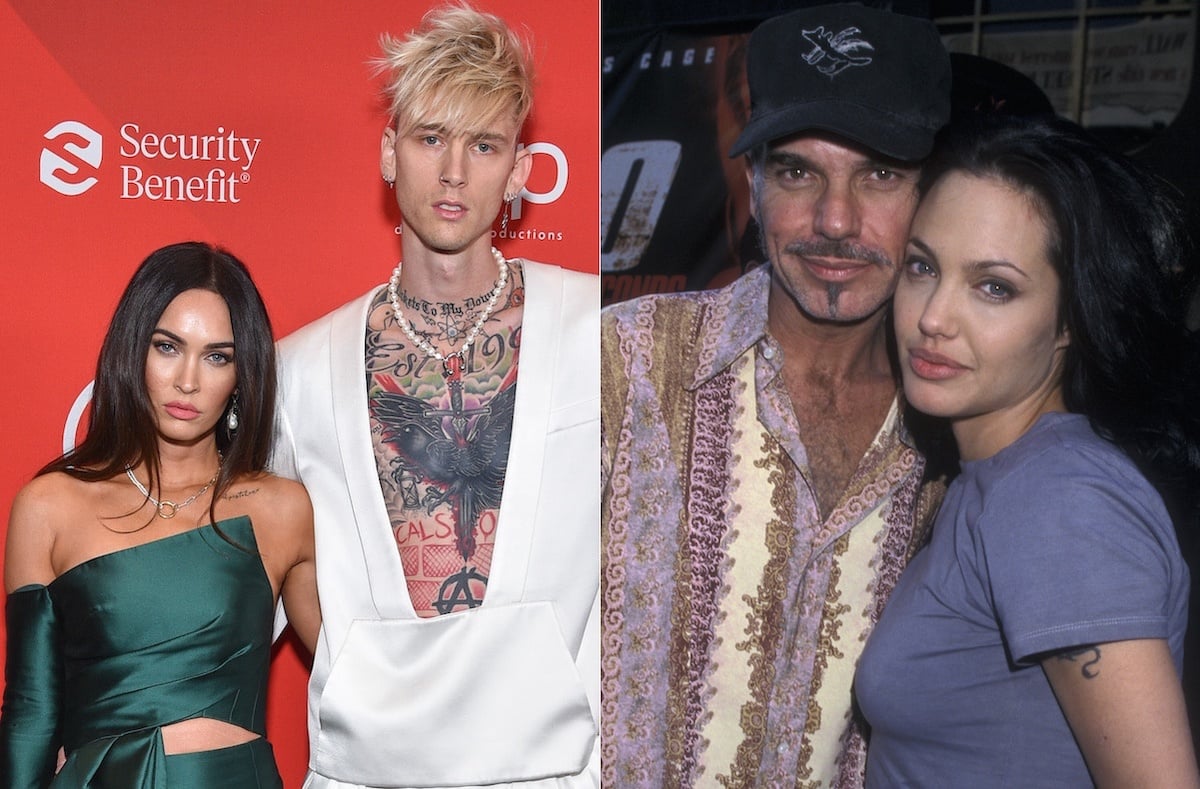 Megan Fox and Machine Gun Kelly's relationship timeline
Fox and Kelly first got together after the Jennifer's Body alum starred in his "Bloody Valentine" music video in May 2020. The appearance came not long after Fox's split from ex-husband Brian Austin Green, and the two have been rather inseparable ever since.
After months of separation followed by some public drama with Green in the fall, Fox quietly filed for divorce from the 90210 alum on Nov. 25.
Fox and Kelly aren't shy about their fast romance. The actor accompanied the singer to New York City when he was the Saturday Night Live musical guest in January 2021, and he even carried her into 30 Rock like a groom carrying a bride across a threshold. Their Valentine's Day Instagram posts further proved how into each other they are.
RELATED: Eddie Fisher Learned of Elizabeth Taylor's Affair From Richard Burton Himself
Machine Gun Kelly and Megan Fox's blood pendants are just like Angelina Jolie and Billy Bob Thornton's
In his Instagram post, Kelly revealed the pendant necklace containing a drop of Fox's blood.
"I wear your blood around my neck," he wrote in his caption. Fox didn't reveal whether she has a necklace just like his, but she did gush over the star in her own Valentine's Day post. She wrote:
"there goes my heart
manifest outside of my body
draped in the towering silhouette of a most unusually handsome boy

magical and haunted
kinetic and tortured
ethereal and dangerous
cosmic
lawless
eternal
creative genius

the journey will likely be perilous
but there is no destination without him

happy valentine's day rehab barbie"
RELATED: Will Aaron Rodgers and Shailene Woodley Get Married Before JoJo Fletcher and Jordan Rodgers?
Machine Gun Kelly and Megan Fox's blood pendants are just like Angelina Jolie and Billy Bob Thornton's
Fox and Kelly aren't the first famous couple to wear jewelry like this. Angelina Jolie fans will recall that she and Billy Bob Thornton wore vials of each other's blood as necklaces during their three-year marriage in the early 2000s. They also got tattoos of each other's names, and Thornton's even had blood tattooed dripping from her name.
The two eventually divorced, and Thornton explained the necklaces in a 2018 interview on the HFPA in Conversation podcast.
"A lot of the things they said about us at the time were exaggerated," he said. "It wasn't as crazy as people wrote about it." He continued:
"The necklaces were a very simple thing, 'Hey let's poke our fingers with a pen and smear a little blood on there and when we're away from each other we'll wear the necklace.' It was that easy. But by the time it came out in the press it sounded like we were wearing a bucket of blood around our necks."
The couples' necklaces were silver oval pendants on a long chain that they wore on red carpets from to time. The pendant Kelly shared was a clear orb gilded in brass. The things we do for love.