Megan Fox and Machine Gun Kelly's First Date Was Like Something Out of 'The Bachelor'
Megan Fox and Machine Gun Kelly have been together for over a year now. They are so inseparable that it's hard to imagine a time when they weren't a couple.
In a recent interview, the two stars opened up about their love life. They even shared the details of their first real date.
Megan Fox and Machine Gun Kelly have been dating for over a year
MGK and Fox first got to know each other in the spring of 2020 on the set of the movie Midnight in the Switchgrass. At the time, Fox was married to actor Brian Austin Green, with whom she shares three children. Kelly was dating someone else, and he has a daughter from a previous relationship.
After meeting, the two separated from their respective partners and quickly started seeing each other. Since then, they have been practically inseparable, and they are constantly making headlines for their public appearances and comments about one another on social media.
Fox has referred to Kelly as her "twin flame" and said that their relationship is "handled for us by our ancestors and the spirits and energies that are watching over us."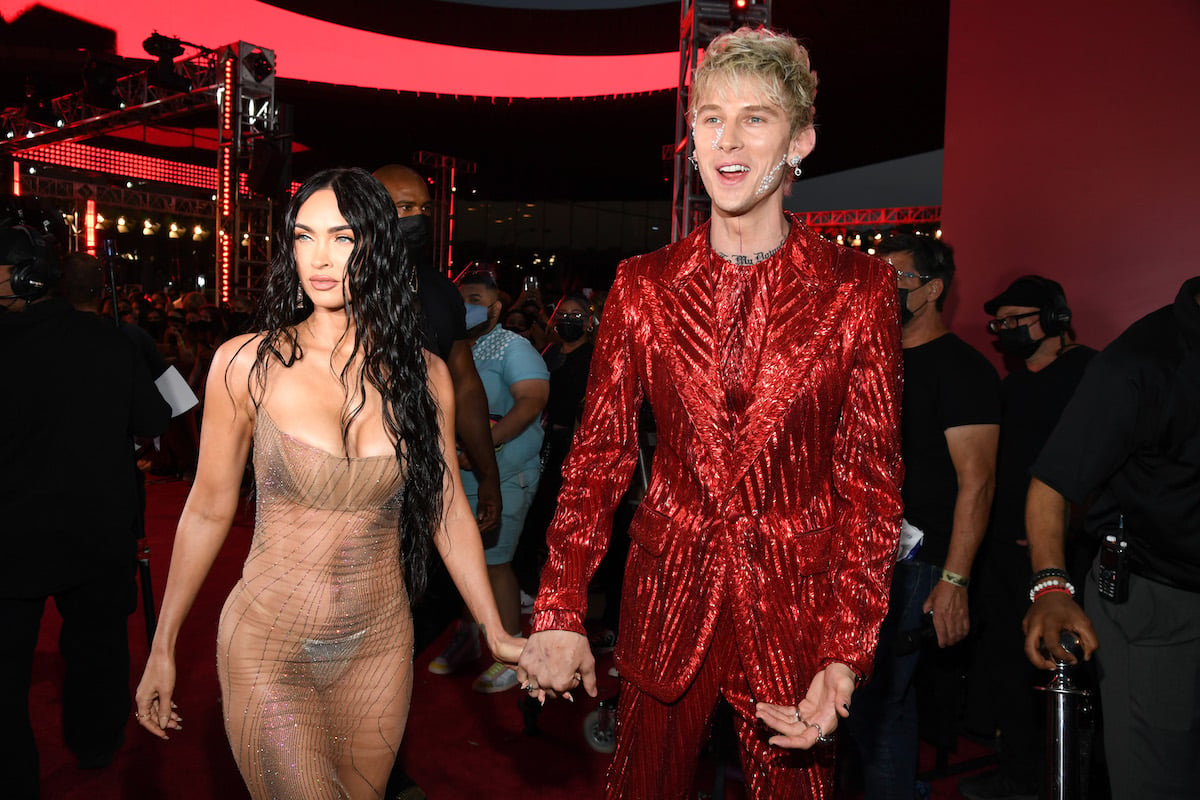 Their first date was like something you would see on 'The Bachelor'
The couple recently gave an interview together to British GQ, where they shared intimate details of their relationship, including what they did on their first date.
Machine Gun Kelly put in extra effort to impress the Jennifer's Body star. Their first date sounds just like something you would watch on ABC's The Bachelor.
According to the couple, Kelly picked up Fox for their first date in a 1974 Cadillac convertible. They listened to Ella Fitzgerald while he drove her to the edge of a canyon, where he had set up a picnic and a ton of roses.
After the picnic, he took her to the Roxy Theatre, which was closed. "We went to the roof and played pop-punk and made out," Kelly reminisced.
RELATED: Megan Fox Reveals the First Words Machine Gun Kelly Ever Said to Her
Machine Gun Kelly immortalized his first date with Megan Fox on social media
On Sept. 25, 2020, MGK posted a series of photos to his Instagram account. Based on what the couple revealed to British GQ about their first date, it seems the musician made the post right after his first date with Fox.
The first couple of photos show MGK and Fox together. The rapper wore an all-white outfit covered in graffiti designs, while Fox wore a black leather jacket and a pink leopard print purse.
The third photo is a screenshot of an email from a reporter whose name and email address are censored. The reporter wrote, "Hello! I'm a reporter for [censored] and was recently handed photos of your client Machine Gun Kelly scaling the roof of The Roxy in Los Angeles last night. I was hoping you might provide some insight as to why Kelly and his partner, Megan Fox, were climbing the roof at all. Thanks so much!" 
The following slide shows MGK helping Fox clamber up a building in the dark. 
The "Papercuts" singer captioned the photos, "happy boy 🥳 #TicketsToMyDownfall OUT NOW"