Megan Fox Once Said She Was Obsessed with This 'High School Musical' Star
Megan Fox is one of those names that everyone knows. From Transformers to Jennifer's Body to New Girl and the many ways she's opened up about the mistreatment she's received over the years, Fox is really an interesting figure. And back in 2008, she was joking around on the GQ red carpet about who she's "obsessed with."
Megan Fox once said she was obsessed with Zac Efron
RELATED: Megan Fox Would Make the Worst Roommate For 1 Unsanitary Bathroom Habit
If you've seen any of her popular work, it's obvious that Fox is funny and has great comedic timing. And in interviews, it's even more evident. When Fox went to the GQ Man of the Year magazine party red carpet in 2008, she told one reporter that her current obsession was "Zac Efron." She also pronounced it really odd, with the emphasis on the end of his name as opposed to the beginning.
"He's here? What you don't know is Zac Efron and I are the same person," she told the reporter. She ran with the joke a bit, saying that he's basically just her with a wig. It is really funny, and also hints that maybe she wasn't really obsessed with him at the moment, but wanted to just have a laugh.
"Sometimes I say things that are shocking on purpose. And so not everything I say is always true," she told an Access Hollywood reporter that same night. She was referring to an interview she did in the magazine about hooking up with a stripper. But it might also be fair to apply it to her Efron comments, especially considering what she said the next year.
Fox also said Efron — and Robert Pattinson — were 'too pretty' for her tastes
According to MTV, Fox told Elle in 2009 that she's not into the type of guys like Efron and Robert Pattinson. Twilight had just come out in 2008, with New Moon making its premiere later in 2009, so Pattinson was on everyone's minds. 
"[Robert] and Zac — they're just too pretty, with the big hair and the suits. And Rob is, what, 22? Zac is 21? That's a joke," Fox said. "Boys in their 20s are a waste of time. They have nothing to offer conversationally. They're immature. I feel like I have a better shot with someone in his 30s."
There were some rumors at the time about her and Pattinson dating, but it really just came down to her asking for a lighter once.
Fox was dating actor Brian Austin Green at the time, and had been since 2004. Being that he was about 36 at the time of this Elle interview, Fox was definitely aware of what she liked. 
"He's a man. He has an ego…" Fox said about Green. "He's the one person that I know that if I'm struggling and everything's getting crazy, I can call."
Megan Fox was married to Brian Austin Green, but is now with Machine Gun Kelly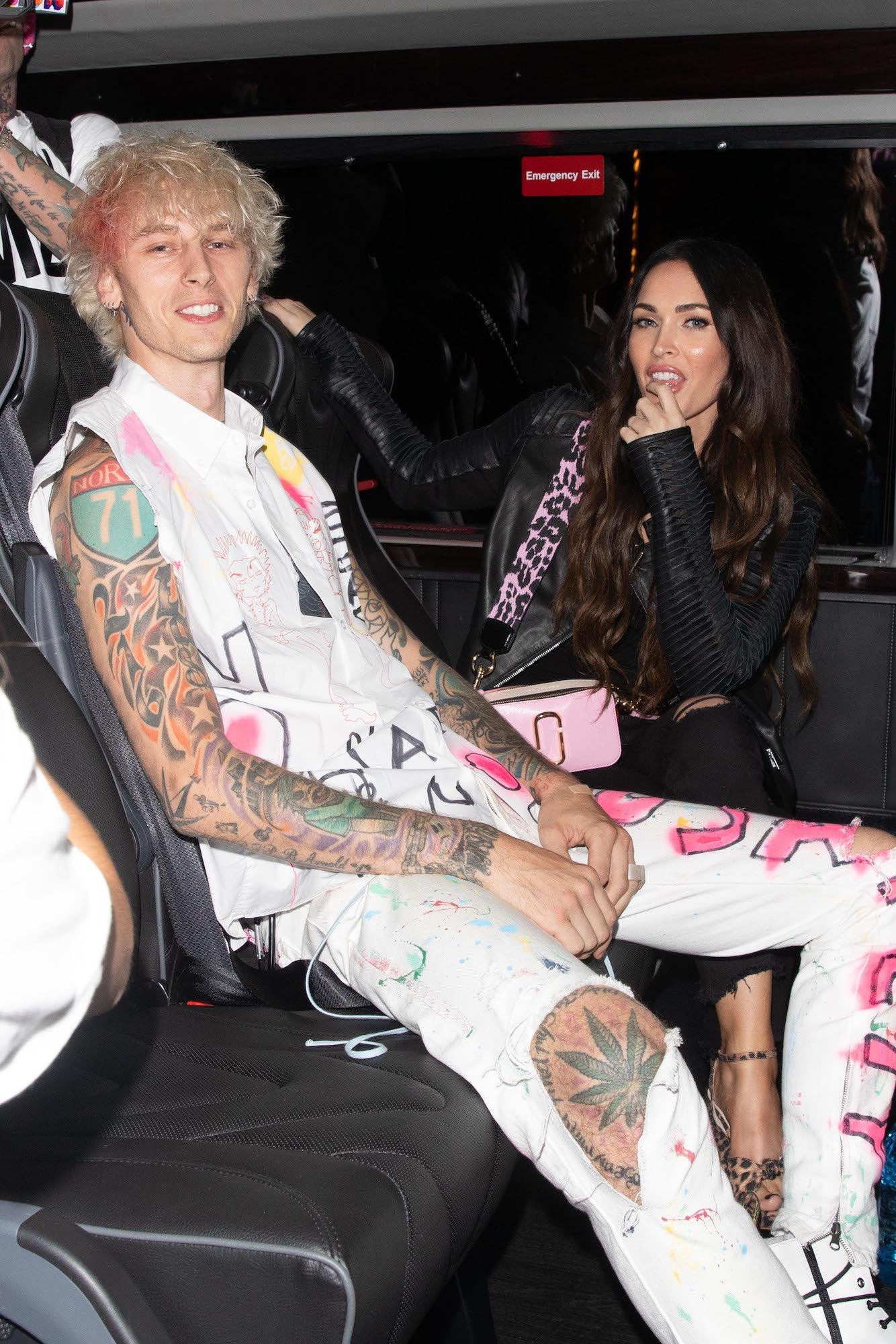 Fox and Green went on to have three children but separated this year according to Cosmopolitan, even though they'd also had a few off and on moments in their relationship. Green addressed their separation on his podcast in May 2020, saying that Fox told him that she realized that she liked herself "better during that experience" of being out of the country and alone. 
"I was shocked and I was upset about it, but I can't be upset at her because she didn't ask to feel that way," he said. "It wasn't a choice she made, that's the way she honestly felt."
Fox is currently dating Machine Gun Kelly, who she met while filming Midnight in the Switchgrass. According to Cosmopolitan, Fox told Lala Kent and Randall Emmett that she felt an instant connection with Machine Gun Kelly when they first met.
"I knew right away that he was what I call a twin flame. Instead of a soul mate, a twin flame is actually where a soul has ascended into a high enough level that it can be split into two different bodies at the same time," Fox said. "So we're actually two halves of the same soul, I think. And I said that to him almost immediately, because I felt it right away."
RELATED: Brian Austin Green Is Really Upset Megan Fox Has Moved on So Quickly and Publicly With Machine Gun Kelly, Source Says