Is Megan Thee Stallion Engaged?
Megan Thee Stallion has taken home her first Grammy Awards ever. The Houston-born rapper took home trophies for Best New Artist and Best Rap Song for her song "Savage (Remix)," featuring Beyoncé. The 26-year-old has had a monumental year professionally. Not only did she drop her first official debut album, Good News, she also had several massive hit songs, including "WAP" with Cardi B.
Megan looked stunning when she graced the Grammy's socially-distanced red carpet. She was draped in a gorgeous orange gown, and she was wearing a ton of glittering jewelry.
However, fans pointed out a massive diamond on the rapper's ring finger, and now they're convinced that she might be engaged.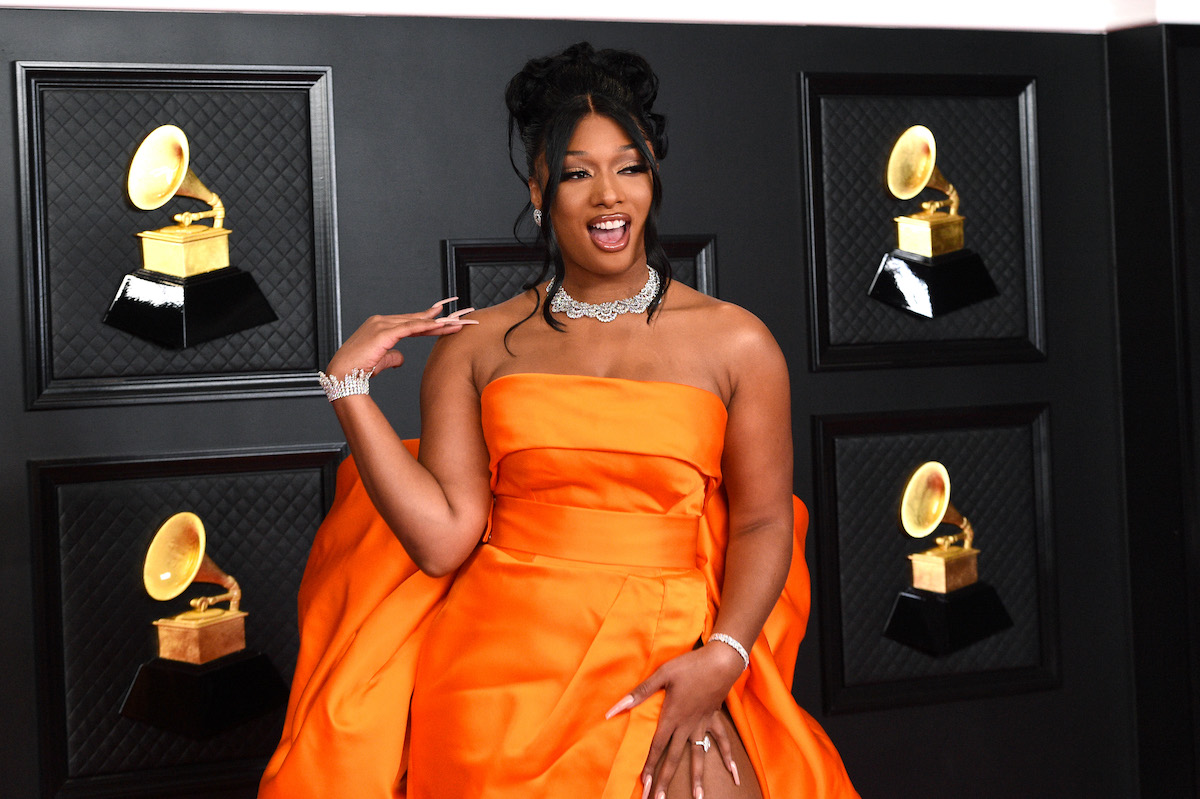 Megan Thee Stallion's Grammys look was glamorous
For Megan's first appearance at the Grammy Awards, she made sure that she looked the part. She was styled by Eric Archibald and was wearing a custom tangerine Dolce & Gabbana gown and shoes.
"Our inspiration was Old Black Hollywood glamour; the dress fit that inspiration perfectly, and the color was outstanding," Archibald told The Hollywood Reporter.
Megan was also thrilled with the look. "I feel like a gift," she told her team before gracing the red carpet and becoming the first female rapper to win the Best New Artist award in over 20 years. The rapper's hairstylist Kellon Deryck decided to compliment her look with the hair. "A romantic, whimsical updo that embodies Old Hollywood glamour," he said. "It came together after seeing the dress and understanding that framing her face in a classic updo would be the best way to compliment the whole look."
Fans also couldn't keep their eyes off of the more than 220 carats of diamonds by Chopard that she wore. However, it was the diamond on her ring finger that had fans raising their eyebrows.
Megan Thee Stallion is dating rapper Pardison Fontaine
Though rumors had been swirling for some time, back in February, Megan revealed that she and  Pardison "Pardi" Fontaine were dating. "Yeah, he my boyfriend," she confirmed. "I never said hot girls can't have boyfriends."
Pardi has been in the industry since 2013 when he released his first single,  "Oyyy." He's gone on to write for Kanye West on Ye, Cardi B on Invasion of Privacy, as well as Lil Nas X and even Ed Sheeran. The rapper is best known for his 2018 hit with Cardi B, "Backin' It Up."
Pardi also co-wrote "WAP" and "Savage." For their first Valentine's Day as a couple, Pardi went all out for Megan with a private flight full of roses, a custom three-course meal from a private chef, and a bedroom full of flowers. The couple has also jokingly made fun of each other online.
Is Megan Thee Stallion engaged to Pardi?
While fans were taking in Megan's glamorous look on the Grammy's red carpet, they noticed she sported a massive diamond ring on her left ring finger.
Though we would love it Megan and Pardi took the next step in their relationship, it looks like the ring simply matched the Chopard necklace that Megan wore for the night which included 91.70 carats of diamonds set in 18-karat white gold.