Megan Thee Stallion Reveals the 1 Heartwarming Way She Gets Over Feeling Sad
If there was one slogan that epitomized the summer of 2019, it was the saying "Hot Girl summer."
While many pop culture aficionados loved the saying and used it to refer to anyone who was thriving, there are a lot of people who might not know the origins of the slogan. Megan Thee Stallion, an up and coming rapper, popularized the catchphrase, but that's only the beginning of her effect on pop culture.
Keep reading to learn who Megan Thee Stallion is, how she became famous, and the way she pumps herself up when she's feeling down.
How did Megan Thee Stallion become famous?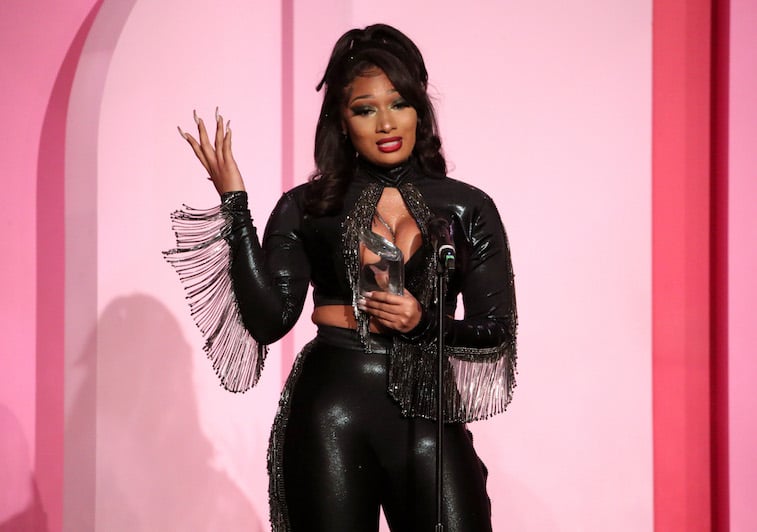 Megan Thee Stallion was born in 1995 and given the name Megan Pete. Her mother was an aspiring rapper and brought her young daughter along with her to recording sessions, establishing her love of music and performing from a very early age. By the time she was a teenager, she chose the stage name Megan Thee Stallion and began writing her own rap songs.
For a few years, the talented young woman perfected her craft by continuing to write and perform in her hometown of Houston, Texas. In 2013, she began getting some recognition when a clip of Megan Thee Stallion performing rap songs opposite some other aspiring rappers went viral.
The video, combined with her booming social media presence, helped her to start achieving some popularity.
In 2016, she released both a single and a mixtape, releasing her first EP the following year. Megan Thee Stallion became well known for her beauty, impressive height (which was where she derived her stage name) and her suggestive, sassy lyrics. 
Megan Thee Stallion encourages confidence among her followers
In May 2019, Megan Thee Stallion released her first full-length album, Fever. The album was an immediate hit with her fans and even received a slew of positive critical reviews. Her songs "Rachet" and "Realer" were particular favorites amongst fans, and led to the creation of a meme labeled "Hot Girl summer."
The slogan became the source of a feminist movement, inspiring women everywhere to live their best lives and not let anyone hold them back.
Megan Thee Stallion even released a song called "Hot Girl Summer" in August 2019 as a tribute to both the movement and the meme. Since then, Megan Thee Stallion has become closely associated with the idea of body positivity and confidence among women, an idea that she supports through her lyrics and attitude.
In addition to her rap career, she has continued to attend college, inspiring thousands of fans all over the world. Megan Thee Stallion has also collaborated with some seriously big names in the rap game, including Nicki Minaj and Ty Dolla Sign.
Megan Thee Stallion is a huge Beyonce fan
Even rising superstars like Megan Thee Stallion can have bad days. She recently opened up about how she does her best to dodge negativity, but when she can't shake the rumors or the internet chatter, she turns to the music of one superstar who shares a surprising connection with her. 
"Everybody knows I super love Beyoncé," she said. "I'm from Houston, she's from Houston."
Megan Thee Stallion went on to describe how, when she's feeling down, she will listen to Beyonce's music and watch older interviews of the music icon, drawing parallels to the difficult times in her life and how Beyonce seems to have gone through many of the same struggles. 
Whether or not there could be a collaboration between the two of them at some point in the future remains to be seen – but fans everywhere would definitely love to see two of the most confident, strong singers around work together.