Megan Thee Stallion Shockingly Admits She Has Chemistry With DaBaby
Rapper Megan Thee Stallion has taken over the hip-hop industry very quickly with her in-your-face lyrics and captivating performance ability. She recently released her debut album, Good News, to critical acclaim. It also hit No. 1 album on the Billboard Top R&B/Hip-Hop albums chart and No. 2 on the Billboard Top 200 Albums Chart.
Surely an upcoming staple in the rap game, the rapper has had the opportunity to collaborate with many different artists on iconic singles. Last summer, she released "Hot Girl Summer" with Nicki Minaj and Ty Dolla $ign, and the song quickly became a success and a popular choice for fans. She also collaborated with rapper DaBaby on the viral song. "Cash Sh*t." In the song, she and DaBaby created a lyrical call and response that fans adored and repeated widely on social media.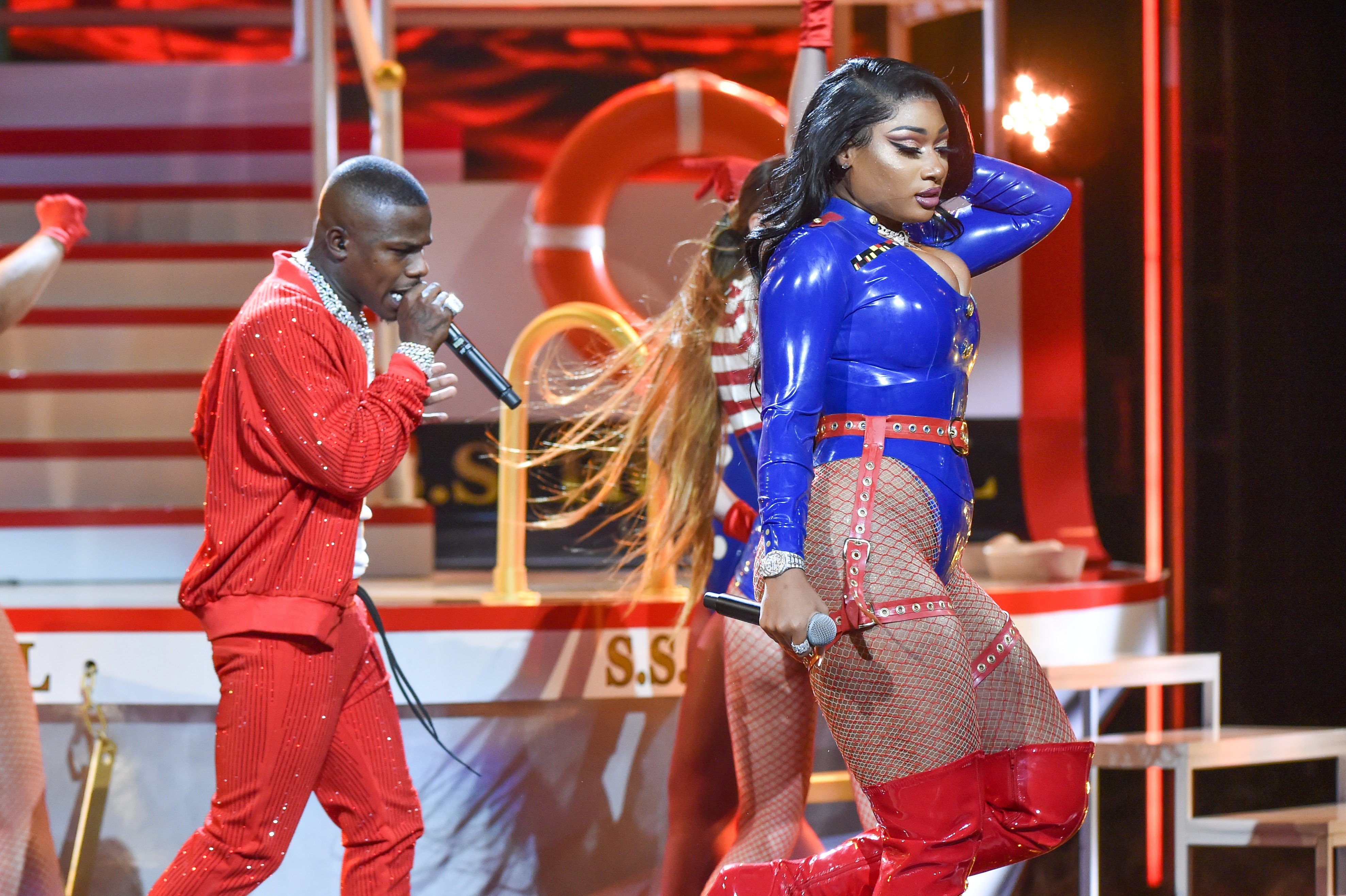 Recently, Megan Thee Stallion shared her personal opinion on the relationship she has with the "Baby on Baby" rapper.
Megan The Stallion says she would release a joint project with DaBaby
People have always suspected there could be a chance that the two could be a romantic pair, as DaBaby is frequently called Megan Thee Stallion's "work husband" on Twitter. However, it seems to be all business for the two. On an episode of SiriusXM's Hip Hop Nation, Megan Thee Stallion shared her perspective on the rapper and mentions she would be open to working on a project with him in the future.
When it was said that she and DaBaby have " have crazy chemistry," Megan Thee Stallion added, "that is something that we often talk about." She continued, "Now that I got my album done and he just dropped his EP, we definitely need to get to work on that."
Megan The Stallion and DaBaby collaborated once more on her debut album, "Good News" with the dong song "Cry Baby," which has also become a success on social media with users attempting to do the dance that the rapper famously posted to her social media.
In the past, DaBaby has shared he is also a fan of Megan Thee Stallion and he would create an album with her, stating "She talks sh*t like I talk sh*t, and I'm a hot boy," DaBaby offered, as reported by Hollywood Life, referring to her popular "I'm a Hot Girl" reference to her fans.
He also mentioned, "Been a hot boy. So yeah, we'd burn that b*tch down," clearly reiterating the mutual respect they have for each other.
Megan and DaBaby are also fierce competitors
While the pair has mutual respect for one another, the two are competitors in not one, but two categories at the 2021 Grammy Awards. They are nominated for both "Record of the Year" and "Best Rap Performance." Megan Thee Stallion and DaBaby also share other similarities, including that they both are from the south.
RELATED: Lil Baby Says That People Wanted Him to Have Beef With DaBaby
The self-proclaimed "Houston Hottie" is from Texas and DaBaby from Charlotte, North Carolina. As the two continue their ascension into legendary rapper status in the industry, fans look forward to seeing the two lyricists share a track together in the future.