Megan Thee Stallion Was Once Too 'Shy' to Rap Publicly
Grammy-winning rapper Megan Thee Stallion is best known for her songs "Savage," "Body," and "Hot Girl Summer." Through her music, the artist encourages women to be as expressive and authentic as possible. She also has a solid social media presence and collaborations with Coach and Rihanna's Savage X Fenty line under her belt. 
Although she's toured all over the country and performed at multiple award shows, Megan recently shared that she didn't always have the confidence she exudes today.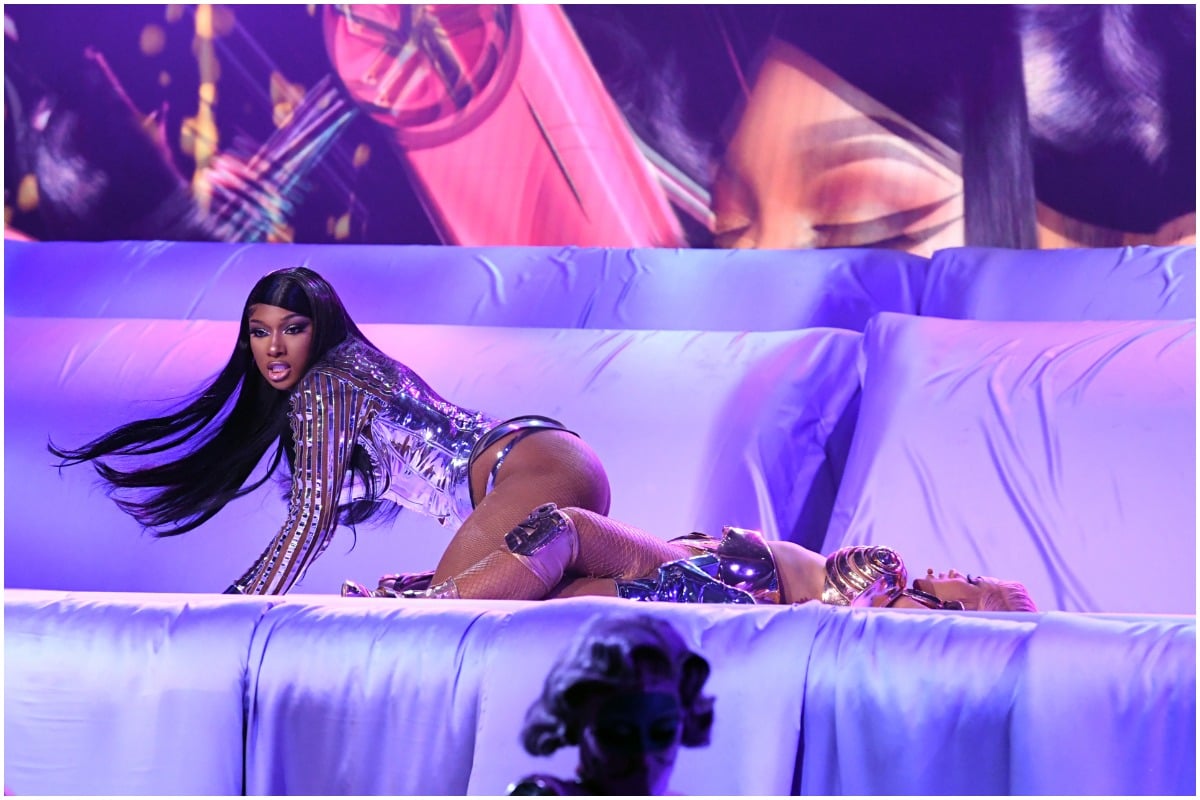 Megan Thee Stallion didn't want anyone to know she could rap
On Feb. 15, 1995., Megan was born in Houston, Texas. Her mother, Holly Thomas, was a bill collector and local rapper. Growing up, the "WAP" performer said she and Thomas would drive around the city while listening to rapper UGK. Soon, Megan, who has a reported net worth of $6 million developed a love for music and considered pursuing a career in rap. By the time she graduated from Pearland High School, she knew she wanted to take performing seriously. She created a stage name, "thee stallion," after men referred to her as a "stallion" at a young age. 
While Megan found her dream during her freshman year at Prairie A&M University, she told Rolling Stone in Feb. 2020 that she initially didn't want anyone to know she could rap. The "Girls in the Hood" performer said she felt insecure about her skills until one of her college friends pushed her out of her shell. 
"Believe it or not, I used to be a little shy," Megan said. "I never wanted anybody to know that I could even rap. Even when I got to college and I told my best friend I could rap, she'll be like, 'OK. Well, then rap.' She wanted me to rap, and I wouldn't do it. But then we went to a kickback, and I just started rapping. I was confident in myself, but I didn't really know how people would react to how I thought about myself on the inside."
Megan Thee Stallion won 3 Grammy Awards in March 2021
Ultimately, Megan got over her stage fright in 2016. The college student became confident enough to perform onstage at multiple events at her school. After several years, Megan eventually made a name for herself and inked a deal with 1501 Entertainment. Through her label, she released her mixtape, Fever, in 2018. The project skyrocketed Megan's career and earned her features with DaBaby and Nicki Minaj in 2019. 
The Houston native's career continued to soar in 2020. Despite getting shot that July, Megan prevailed with hits including "Savage" and "Savage Remix" with Beyoncé. The pair's collaboration earned Megan four Grammy nominations in 2021. During the live event, the 26-year-old student took home three trophies for "Best Rap Performance," "Best Rap Song," and "Best New Artist." While accepting her award for "new artist," Megan held back tears as she thanked her late mother and former manager, Thomas.
"I don't want to cry, but first of all, I wanna say everybody is amazing," she started. "Every artist that was nominated for this award is so amazing. So, shout out to all of y'all." 
"I really wanna say thank you to my momma," Thee Stallion concluded. "She's not here with me today, but I know she's here with me in spirit, and she always believed I could do it."
Megan Thee Stallion celebrated her Grammy win with her 'OG hotties' 
Following her Grammy win, Megan shared on Instagram that several of her college friends supported the rapper's career. She posted a black and white photo of herself and three BFFs from her early university days.
As the foursome beamed for the camera, Megan shared how grateful she is to have the same crew in her corner for her big night. 
"Still hanging with the same crew, aye," she captioned under the photo. "The fact that I went from being shy to rap for them in our dorm room to now they watching me rap on stage all the time is crazyyyy. Thank y'all for being my sisters and loving me unconditionally. I got y'all's back fa eveaaa -OG hotties."