Meghan Markle Cleverly Honored Women on International Women's Day with her Wardrobe
Meghan Markle is embarking on her new, post-royal life. While there are a lot of unknowns about her future, it is certain that she will continue dedicating her time to causes that matter to her. Over the past several weeks, Markle made a slew of final royal appearances, often wearing snazzy designer clothing. During one of her last appearances, which took place on International Women's Day, Markle made a grand statement when she stepped out wearing an outfit that definitely got fans talking.
Meghan Markle is committed to women's causes
Meghan Markle has long been dedicated to women's rights, even long before she was married to Prince Harry. When she was a teenager, Markle took a stand against a commercial that she perceived as sexist. Her convictions earned her the attention of Hillary Clinton, and ultimately, the commercial was altered. All throughout college, Markle worked with various charitable organizations, and in 2014, she began working with UN Women.
Many people believe that Markle and Prince Harry bonded initially over their shared love for doing good in the world. It didn't take long before she was by his side at royal appearances, speaking out on behalf of women's rights and better education opportunities for the disadvantaged. Even during her pregnancy with her son, Archie Harrison, Markle was hard at work on various projects, showing that she wanted to tackle her royal role on her own terms. Even after the announcement that Markle and Prince Harry would be retiring from royal life, she continued to support her favorite causes.
Meghan Markle's recent stylish visit
During one of her final appearances in early March, Markle visited a school in East London to meet with students and discuss the importance of women's empowerment. The event was held on International Women's Day, and it's no surprise that Markle's outfit reflected the significance of the day. Not only did she make an impression on the students gathered there, but as fans and reporters were quick to note, Markle wore only female designers during her visit.
Her monochromatic outfit included a blazer by the fashion house ME+EM, a luxury label founded by Claire Hornby in 2009, shoes by Jennifer Chamandi Lorenzo, and a cream-colored handbag designed by Rejina Pyo. Fashion is very important to Markle and during her time with the royal family, she has often been regarded as one of the best-dressed women in the circle. Therefore, it is even more impressive that she chose to represent female designers with her stylish, simple outfit.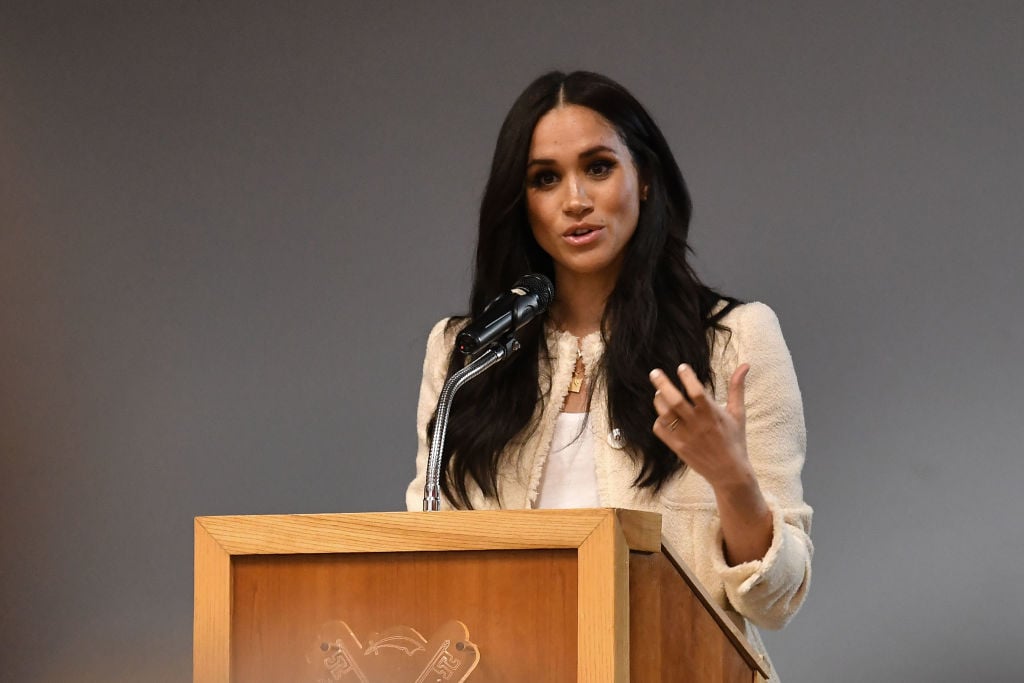 Meghan Markle's Smart Works clothing line
There have been several times over the years when Meghan Markle has directly tied in her love of women's rights causes with her affection for fashion. In late 2019, only a few months after she gave birth to baby Archie, Markle curated a special line of womenswear basics designed to benefit the Smart Works charity. The charity was founded with the intention of helping women find jobs and dress appropriately for interviews.
Markle's collection consisted of five pieces, from a shift dress to a simple blazer and pants. As Markle stated in an interview from the launch, she was excited by the opportunity to help other women grow in confidence through work-appropriate, stylish clothing.
There will surely be more opportunities for Meghan Markle to continue helping women as she begins a new life away from the royals. Her platform might be slightly different than it was before, but it will no doubt still be a prominent one.