Meghan Markle's Interview Subtly Revealed Queen Elizabeth Doesn't Have That Much Power After-all
Meghan, Duchess of Sussex's interview with Oprah Winfrey is making headlines all around the world. As fans wait to see what the next chapter in the dramatic saga will be, many are looking to the details that Meghan dropped in the interview as proof that the royal family is just as dysfunctional as any other group.
One of the most telling tidbits that Meghan related to Winfrey is when she talked about her relationship with Queen Elizabeth, and the odd disconnect between the way that the queen treated her as compared to her treatment by other members of the royal family's inner circle. 
Meghan Markle's groundbreaking interview with Oprah Winfrey
When Meghan and Prince Harry's interview with Oprah Winfrey aired on March 7th, many royal fans didn't know what to expect. It has been an interesting few years for both Meghan and Prince Harry, after a series of problems with the British tabloids ultimately led to the couple stepping away from their roles as senior royals.
Some fans probably expected the couple to dish out some tea about how hard it was to live in the spotlight. Still, few could have predicted just how many bombshells Meghan would drop during the course of the two-hour interview.
Not only did Meghan reveal that she contemplated suicide at one point, but that she went to the royal family to ask for help — and was denied. She name-checked Catherine, Duchess of Cambridge as making her cry in the days prior to her wedding and even admitted that one unnamed member of the royal family had "concerns" over the color of Archie Harrison's skin. She also opened up about her relationship with Queen Elizabeth, revealing some juicy details about how the monarch treated her. 
Meghan Markle said that Queen Elizabeth was always kind to her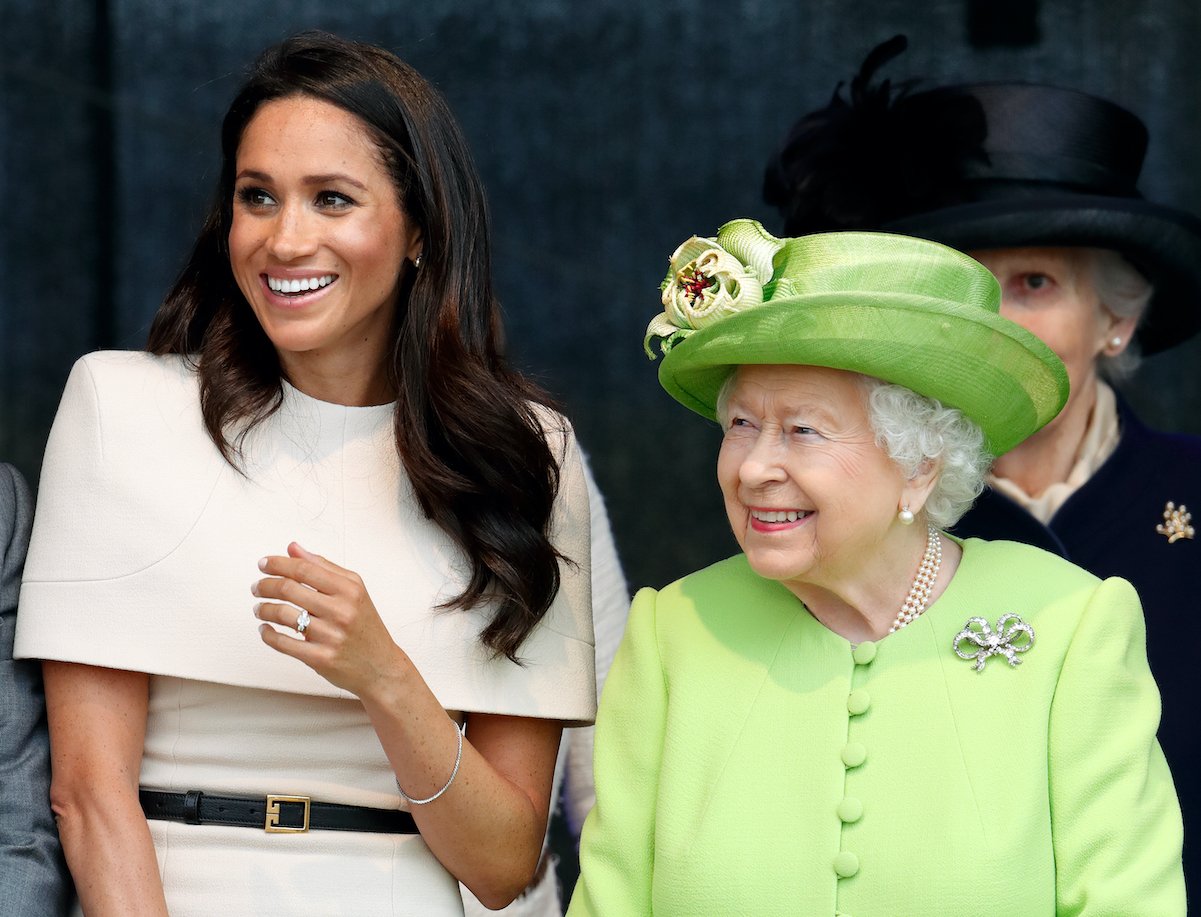 In the interview with Oprah, Meghan revealed that Queen Elizabeth was actually one of the first members of the royal family that she met after she started dating Prince Harry. She was also very clear to state that despite the fact that she felt mistreated by the institution of the royal family, the queen was always stellar.
She said: "There's the family, and then there's the people that are running the institution. Those are two separate things. And it's important to be able to compartmentalize that, because the queen, for example, has always been wonderful to me."
Meghan went on to describe how, on her first solo engagement with Queen Elizabeth, the monarch "gave me beautiful pearl earrings and a matching necklace…just moments of…and it made me think of my grandmother, where she's always been warm and inviting and…and really welcoming."
Does Queen Elizabeth have less power than fans think?
As kind as Queen Elizabeth might have been to Meghan, "the firm" was definitely not. Meghan described how, after she went to the royals for help, she was shut down — leaving her with no choice but to deal with her sadness and pain in whatever way that she could.
The disconnect there is undeniable, and for many royal fans, it is an interesting contrast, one that hints at the fact that Queen Elizabeth might not be able to completely control the actions of those surrounding her. 
The Duchess of Sussex said: "So, there's the family, and then there's the people that are running the institution. Those are two separate things. And it's important to be able to compartmentalise that, because the Queen, for example, has always been wonderful to me."
Prince Harry, in the same interview, seemed to allude to that fact when he stated "when you're head of the firm, there is people around you that give you advice. And what has also made me really sad is some of that advice has been really bad."
Ultimately, fans might not ever know the truth — but that certainly won't stop everyone from waiting and wondering.