Michael Jackson Revealed Why Elvis Presley 'Just Wasn't an Influence' on His Songs
Elvis Presley inspired many famous songs but not any of Michael Jackson's songs. Jackson once unintentionally wrote a song with the same title as one of Elvis' classic tracks. Despite this, Jackson said Elvis was not one of his influences, and he had a very specific explanation for why this be the case.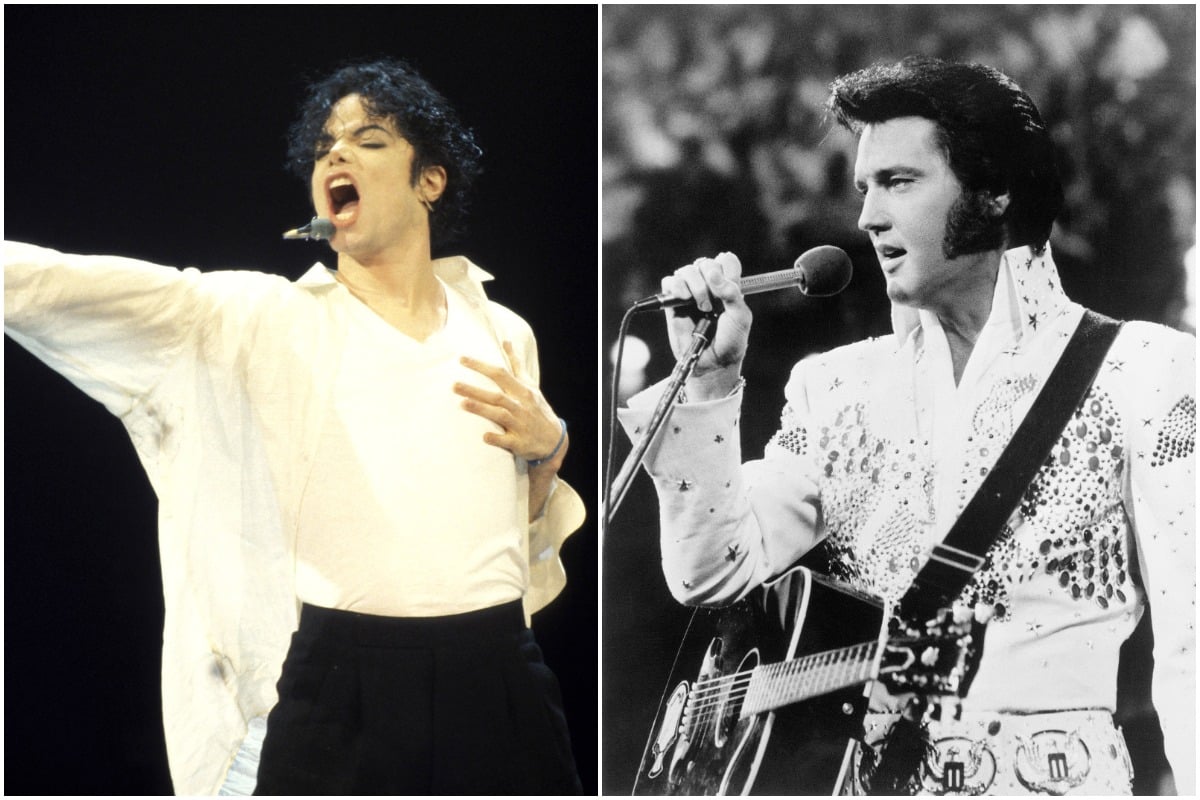 Michael Jackson's record company changed the title of a song he wrote because of an 'Elvis Presley connection'
In his autobiography, Moonwalk, Jackson discussed the creation of The Jacksons' album Triumph. For context, The Jacksons were what The Jackson 5 called themselves for awhile. He wasn't pleased with most of the songs on Triumph.
"'Time Waits for No One' was written by Jackie and Randy with my voice and style in mind," he recalled. "…'Give It Up' gave everyone a chance to sing, Marlon in particular. We strayed from the band sound on those tracks, perhaps sinking back into that Philly trap of letting the arrangement overwhelm us. 'Walk Right Now' and 'Wondering Who' were closer to the [sound of The Jacksons' album Destiny], but for the most part they were suffering from too many cooks and not enough broth."
Jackson said the only exception to the rule was a song he wrote named "Heartbreak Hotel." "I swear that was a phrase that came out of my head and I wasn't thinking of any other song when I wrote it," he said. "The record company printed it on the cover as 'This Place Hotel,' because of the Elvis Presley connection." Notably, Billboard credits the song under its original title.
RELATED: Elvis Presley's Former Bodyguard Once Claimed the King of Rock and Roll Had a Strict Rule About Priscilla Presley – And Those Who Broke It Got the 'Third Degree'
Jackson dismissed the idea he took any inspiration from Elvis. "As important as he was to music, Black as well as white, he just wasn't an influence on me," Jackson revealed. "I guess he was too early for me. Maybe it was timing more than anything else."
Was The Jacksons' 'This Place Hotel' as successful as Elvis Presley's 'Heartbreak Hotel'?
Whether "This Place Hotel" was inspired by a certain 1950s song or not, it was a hit. The track reached No. 22 on the Billboard Hot 100 and remained on the chart for 16 weeks. It did not match the success of Elvis' "Heartbreak Hotel." The Billboard Book of Number 1 Hits says that song topped the Billboard Top 100 for eight weeks.
RELATED: Smokey Robinson Felt Michael Jackson Sang 1 of His Songs Better Than He Did
The King of Rock 'n' Roll didn't inspire Michael Jackson, but these 1950s entertainers did
Jackson's explanation is surprising considering what he wrote elsewhere in Moonwalk. In the book, he cites Little Richard, Chuck Berry, and Otis Redding as formative inspirations. He also says he was deeply moved watching performances by Fred Astaire, Gene Kelly, and James Brown while he was growing up. All those entertainers were famous around the same time as the "Can't Help Falling in Love" singer. Jackson saw Elvis as a significant artist — even if Elvis didn't impact him personally.