Michael Jackson: The 'Thriller' Track Janet Jackson Helped Him Make
Michael Jackson was one of the greatest pop icons of the 1970s, 1980s, and 1990s. Years after his career started, his sister Janet Jackson came onto the scene. Somehow, lightning struck twice in the same place and two members of the same family became major stars
Unsurprisingly, Michael and Janet collaborated multiple times. Some fans may be shocked to know they collaborated before Janet even released her first hit single. Thanks to a single from Thriller, many fans heard Janet's voice before they even knew her name.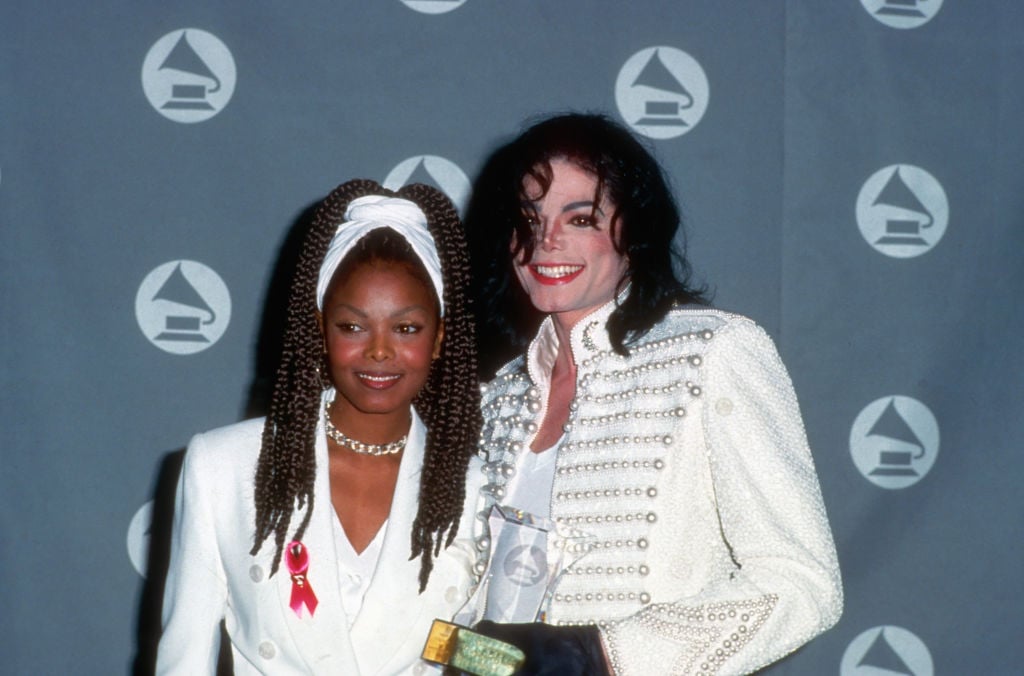 The Michael Jackson hit with Janet Jackson's backing vocals
According to AllMusic, Janet's first album, Janet Jackson, was released in 1982. The record performed well on the R&B charts but it didn't have any pop success. That didn't mean Janet didn't get any airplay that year. 1982 was the same year Michael released his album Thriller.
One of the hit singles from that album was "P.Y.T. (Pretty Young Thing)." The song features memorable backing vocals from Janet. According to Billboard, Janet has happy memories of working on the song. She remembers Michael asking her to come to the studio to sing on the track back when she was 16 years old.
Janet recalled "Since we had been singing together forever, I knew it'd be easy. I jumped at the chance. I loved being one of the P.Y.T.'s and was especially proud—I hope this doesn't sound like bragging—that when the record was mixed, my single background voice was the one featured." Janet said the prominence of her backing vocals made her feel pure bliss. Many fans of Michael and Janet would feel the same bliss while listening to the song.
The legacy of 'P.Y.T. (Pretty Young Thing)'
Michael's decision to work with his sister paid off. Billboard reports "P.Y.T. (Pretty Young Thing)" reached number-ten on the Billboard Hot 100 back in 1983. While the song wasn't as popular as some of Thriller's other singles, it still gets regular airplay nearly 40 years after its release.
Interestingly, The National reports Jackson never performed "P.Y.T. (Pretty Young Thing)" in a single live set. Why? Was it because he couldn't get Janet onstage with him to perform her backing vocals live? Fans can only speculate.
Janet Jackson becomes a star and collaborates with Michael Jackson again
Years after the success of "Pretty Young Thing," Janet became a pop success on her own thanks to her album Control. She was able to get out of Michael's shadow by having a sound of her own.  Her image was also substantially different from Michael's as it emphasized sensuality.
Eventually, the two Jacksons would release a full-blown duet together. The song was called "Scream." This duet garnered a mixed reception. 
Some fans feel "Scream" is a song for the ages. Other fans feel the track is underwhelming given the talent involved. "Scream" did reach a higher chart position than "Pretty Young Thing," peaking at number-three. However, the latter song seems to get much more airplay today.
Also see: Michael Jackson: Hall & Oates Said He Admitted He Stole 'Billie Jean' From Them