Michaela Coel Reflects on the Racism She Experienced in Acting School
Michaela Coel created and served as the main character of Arabella in the HBO series I May Destroy You. She did the same for her previous show, Chewing Gum. However, Coel's path to success has been, well, rocky. She reflected on experiences with racist — or at least thoughtless — professors and peers when she was in drama school.
Michaela Coel reflects on being the sole member of her race and gender at her acting school
According to a 2020 Vulture profile, acting became Coel's "primary calling" when she began attending the Guildhall School of Music & Drama in 2009.
Coel would be the only Black woman the school had taken in the past 5 years. On Coel's WordPress blog, titled "Drama School Diaries," she referred to herself as the "only black girl in the village."
However, the future I May Destroy You creator had some wonderful experiences at the school. Per Vulture:
She played Eve in the Creation story in her first year and wrestled to contort her tongue into the sounds of Middle English. She absolutely adored Shakespeare and would do him 24/7.
But things turned for Coel when she got the feedback that she was "angry and aggressive." This comment apparently applied to her behavior "both onstage and off."
"Coel listened and held back tears; she'd never heard this before," Vulture reported. When the professor told Coel the aggression probably was something like a "survival mechanism," she "wrote about the experience on her blog." It quickly erupted into a mini-controversy, and an "emergency meeting was called."
'Chewing Gum' and 'I May Destroy You' creator had multiple experiences with racism in the program
I May Destroy You cast member Paapa Essiedu (who plays Kwame) was attending the drama school at the time, too. He remembers this meeting well.
RELATED: How Michaela Coel of 'Chewing Gum' and 'I May Destroy You' Broke Into the Industry With 'No Experience'
"The teachers made it sound like something horrific has happened," he said.
While the drama school teachers "began by professing concern for Coel," Vulture reports that they started getting "defensive about their own race and class."
Sadly, that wasn't the last not-so-pleasant experience Coel would have as a Black woman in an acting program.
"It was just a really confusing place to be as Black people," Essiedu told the publication. He experienced it right along with Coel.
"One teacher shouted the N-word at Coel and Essiedu," Vulture confirmed. "They each joked that he must have been referring to the other."
In a separate incident, a professor "told Coel her vocal cords were just made different because she was Black."
Michaela Coel says that being Black and working-class means changing your voice to fit the mainstream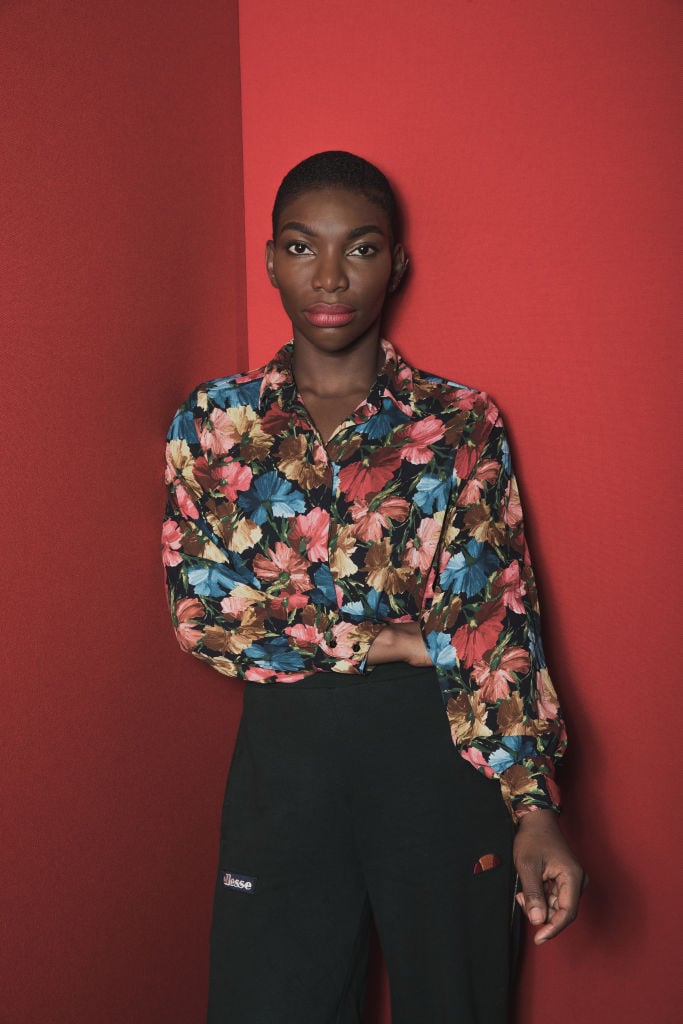 RELATED: Michaela Coel Just Revealed Why She Refused to Sign a Deal With Netflix for 'I May Destroy You'
Coel knows that she's had to change more — and work harder — than some of her peers in the same industry. She talked about this concept with Terry Gross on the NPR show Fresh Air.
"People who are born into working-class homes," Coel explained, in order "to progress in your field," you have to do one thing: "change your voice."
The Chewing Gum star admitted she altered her own.
"My voice has changed so much, as have my peers, who are also from working-class backgrounds," Coel explained. " … I wonder why can't I sound like the person that I was?"
Coel admits it's not always "conscious." But she knows it's there.
"And I've never seen anybody who is Black and working-class and British furthered themselves in their careers without having to change that voice," Coel said.