Michelle Duggar Recommended Her Daughters 'Lock the Door' of the Bathroom at Home to Protect Their Modesty
Those who follow the Duggars know their ultra-strict household rules. Jim Bob and Michelle Duggar raised their 19 kids in a Christian fundamentalist household, and everything from the way the children dressed to how they dated was monitored.
The Duggar dress code has been well-documented over the years. It's expected that the females in the household cover themselves appropriately as to not give men any inappropriate thoughts. And an old interview with Jessa, Jim Bob, and Michelle shows Michelle talking about how she encourages her daughters to protect their modesty. Here's what she said about locking the bathroom door.
Jim Bob and Michelle Duggar encourage their kids to follow a dress code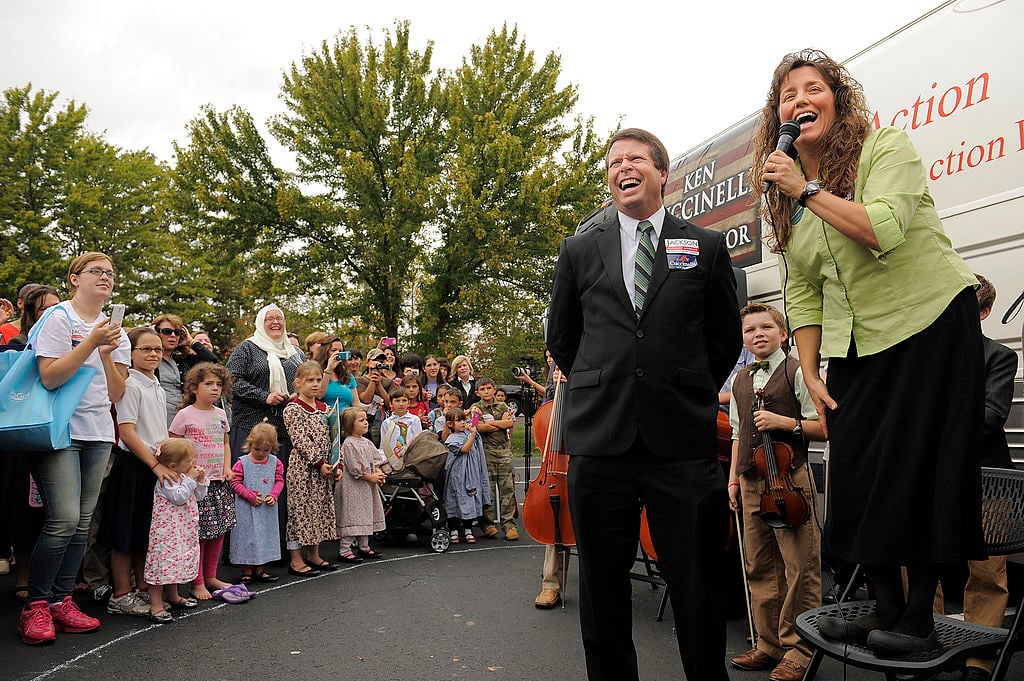 The Duggar dress code is extremely well-known among fans. The women and young girls are expected to wear long dresses that cover their knees, and their shoulders were also always covered growing up. In the book Growing Up Duggar, the Duggar ladies even talked about their strict dress code rules they abided by.
"We avoid low-cut, cleavage-showing, gaping, or bare-shouldered tops; and when needed, we wear an undershirt," they wrote. "We try to make it a habit to always cover the top of our shirt with our hand when we bend over. We don't want to play the peekaboo game with our neckline."
Not only that, but the Duggars also had a code word they would whisper to the men in the household when they saw a scantily clad woman outside of the home. The girls would whisper "Nike" so the boys and Jim Bob could avert their gaze.
"That's a signal to the boys, and even to Dad, that they should nonchalantly drop their eyes and look down at their shoes as we walk past her," Growing Up Duggar reveals. "It's meant to help keep the guys' eyes from seeing things they shouldn't be seeing."
Michelle talked about the expectation that her daughters 'lock the door' when in the bathroom
Reddit users found an old clip of Jessa interviewing Jim Bob and Michelle — and the family touches on their family dress code.
"As the children are growing and maturing, we're talking with them about modesty," Michelle explains with Jim Bob by her side. And Michelle further explained how she encourages her daughters to practice staying modest and ensuring there's absolutely no way that they would be giving boys and men impure thoughts.
"We've always, kind of, encouraged them, you go to the restroom by yourself, and you shower, and you bathe, and you lock the door so that nobody accidentally walks in," Michelle added. And she then continued on to explain that she didn't want her daughters playing "peek-a-boo" with their décolletage.
"Dad always says, 'You're like a special gift that God has made you, so unique and so special that, one day, you're gonna get married, Lord willing, you'll have a spouse, and you're gonna be this present that's wrapped and especially for your future spouse,'" Michelle tells Jessa in the video.
Duggar family critics hate Michelle's advice
Michelle certainly means well while talking to Jessa in the clip, but family critics are slamming the famous mom — especially when it comes to her comment about locking the bathroom door.
"This is disgusting," one Reddit user noted. And they added that Michelle " talking about locking doors and how girls need to stay pure so they're a nice little present for their husbands is disgusting."
"Just, the fact that you need to worry about locking the door when you are in your home with only family," another commented. "That a closed door (to the bathroom, no less) wouldn't be respected. That it is your responsibility to add an additional barrier beyond securely closing a door to a place where you should expect to have privacy in your own home to keep from tempting someone …."
"Their advice for puberty and body changes are 'lock the doors,' 'be modest,' and 'don't play peek a boo' with your clothes?!? In your own home? Can you imagine being 12 with questions and that's what you're told?" yet another wrote.
We know many of the older Duggar women don't abide by these stringent rules anymore. But we're sure the younger Duggars still living with Jim Bob and Michelle are still taught all about modesty.
Check out Showbiz Cheat Sheet on Facebook!