Michelle Zauner Doesn't Think Machine Gun Kelly 'Mainstream Sellout' Album Art Is Copying 'Jubilee'
Japanese Breakfast and Machine Gun Kelly are pretty different. According to some fans, though, there are similar images between the upcoming 2022 release Mainstream Sellout and Japanese Breakfast's Jubilee. For Michelle Zauner, though, these album covers sport completely different concepts.
Fans noticed some similarities between the album covers of Machine Gun Kelly's 'Mainstream Sellout' and Japanese Breakfast's 'Jubilee'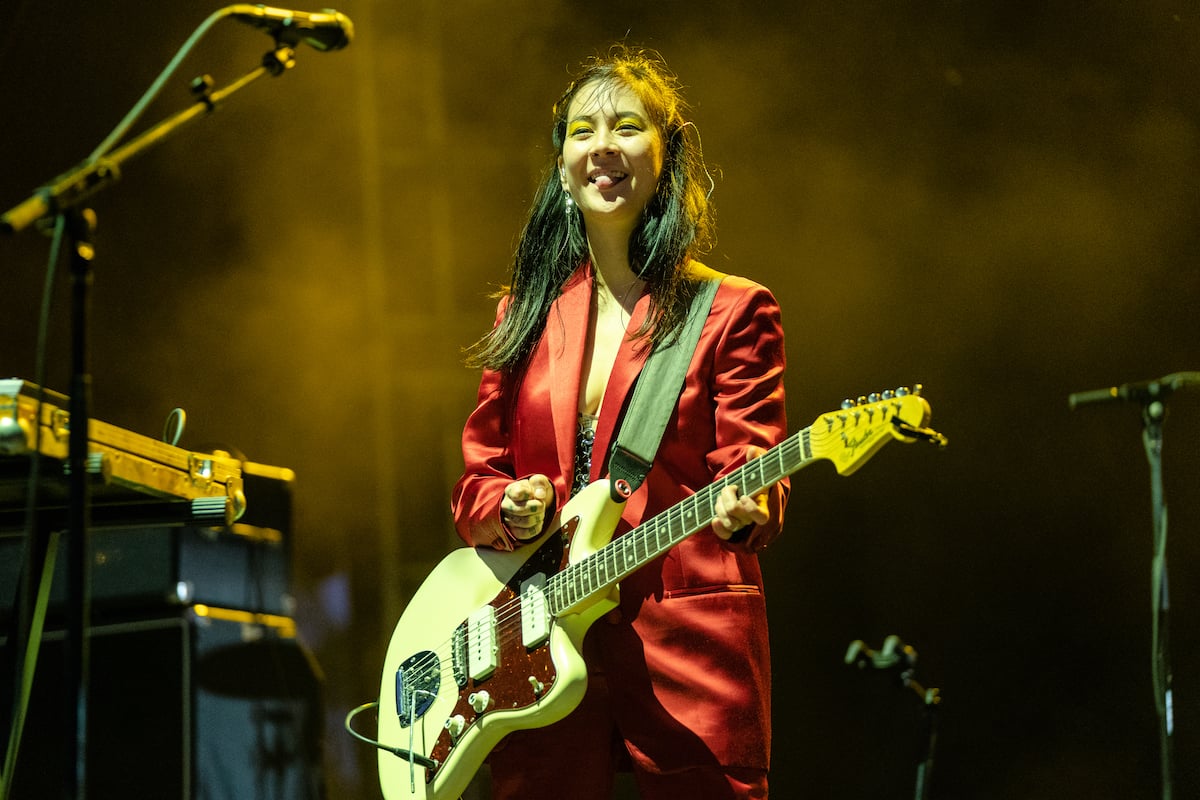 Following the release of Psychopomp and Soft Sounds from Another Planet, the alternative band Japanese Breakfast released the album Jubilee in 2021. This production came with songs like "Be Sweet" and "Paprika," earning praise for its unique sounds, creative lyrics, and yellow-hued album cover.
A few months later, Machine Gun Kelly announced the release of Mainstream Sellout, scheduled for a March 2022 release. Although not much is known about the song from this collection, fans did catch a glimpse at this album's cover art.
To match the Mainstream Sellout vibe, Machine Gun Kelly's album features the artist with pink-purple hair and a black guitar. He stood in the center of the image, with pink-purple tomatoes noticeably thrown around him.
Some fans noticed similarities between this and Japanese Breakfast's Jubilee, which featured singer Michelle Zauner dressed in yellow in the middle of the image. She was surrounded by yellow persimmons hanging around her.
"Kinda looks similar to Japanese Breakfast's Jubilee," one Reddit user noted following Machine Gun Kelly's announcement. 
Michelle Zauner thinks her and Machine Gun Kelly's album is a 'different concept'
Some noticed similarities between these albums and their fruit-inspired images. Even Zauner, a songwriter in Japanese Breakfast, commented on these comparisons on social media.
"2022's feud of the year," Zauner tweeted, along with a link to the Rolling Stone article comparing the two projects. This was sarcasm, as the artist thinks the album covers boast different concepts. 
"I don't actually think it looks anything like my album cover at all," Zauner said during an interview with Pitchfork, "but I think it's very funny that Rolling Stone put up an article about it just because there's a circular fruit in the foreground." 
"I mean his is people throwing tomatoes at him, and mine is persimmons peacefully hanging around me, so I think they're very different concepts," she continued.
Michelle Zauner/Japanese Breakfast earned their first Grammy nominations
In addition to earning praise from fans, Jubilee earned Japanese Breakfast their first Grammy Award nomination.
That was in the Best Alternative Music Album category, appearing alongside Shore by Fleet Foxes, If I Can't Have Love, I Want Power by Halsey, Collapsed In Sunbeams by Arlo Parks, and Daddy's Home by St. Vincent. The Grammy Awards also nominated Japanese Breakfast in the Best New Artist category. 
Some also know Zauner of Japanese Breakfast from her New York Times best-selling novel, Crying in H Mart. Music by Japanese Breakfast is available on most major streaming platforms.
RELATED: Michelle Zauner Names 1 Way She Can Distinguish the 'Real' Japanese Breakfast Fans From the Casual Listeners