'Midnight Sun': Could New Book From Stephenie Meyer Mean We're Getting a 'Twilight 6' Movie?
Stephenie Meyer is going back to Forks, Wash. On May 4, the Twilight author announced a long-awaited new novel in her best-selling vampire romance series. 
Midnight Sun will revisit Edward and Bella's love story "as told through Edward's eyes," and offer "a new and decidedly dark twist" on the familiar tale, according to Meyer's publisher Little, Brown and Company. The book will draw "on the classic myth of Hades and Persephone." It's set to be released on August 4, 2020.  
'Midnight Sun' has been in the works for years
The news that there's another Twilight book in the works isn't a huge surprise to Twihards. An early draft of Midnight Sun leaked in 2008, much to Meyer's dismay. She put the book on hold indefinitely in response. But now, she's decided the time is right to return to the world of vampires and werewolves she created. 
"It's a crazy time right now and I wasn't sure it was the right time to put this book out, but some of you have been waiting for just so so long it didn't seem right to make you wait any more," she said in a pre-recorded announcement video for Good Morning America. 
Could a new 'Twilight' movie be on the horizon?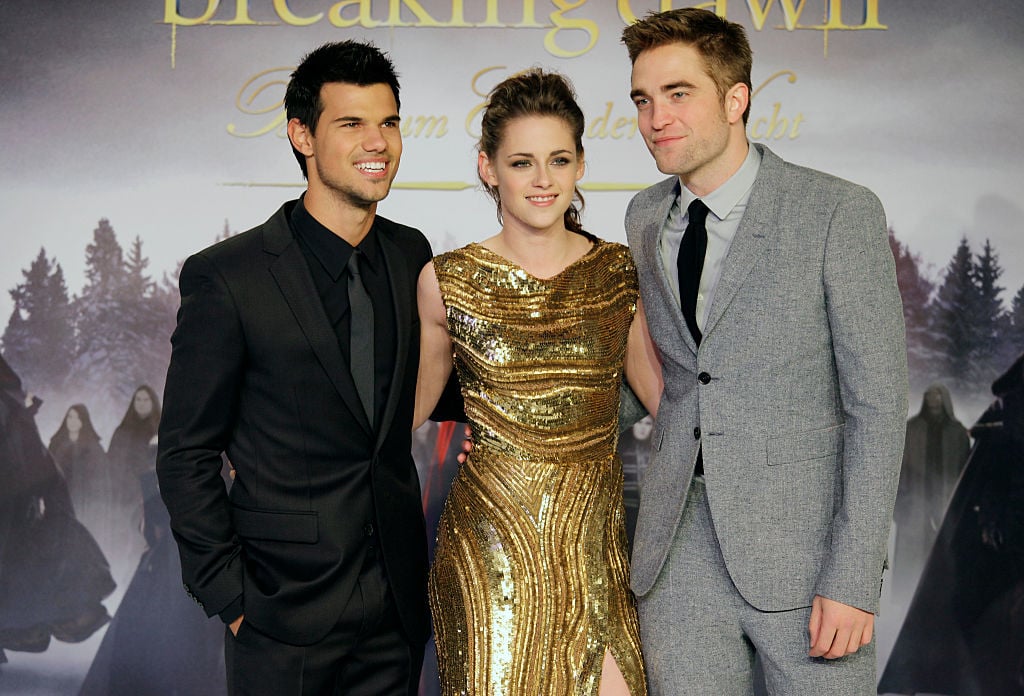 Fans have been waiting more than a decade for Midnight Sun, so when news broke that the book would finally be coming out, many could barely contain their excitement.
"TWIHARDS HAVE WAITED 12 YEARS FOR THIS BOOK TO BE RELEASED THIS IS OUR TIME NOW," tweeted one fan. Another declared that Meyer had "saved 2020."
Unsurprisingly, speculation soon began about whether the release of Midnight Sun might mean that a sixth Twilight movie might be in the works. So far, there's been no announcement about a film adaptation of the novel, which will also share details about Edward's past. The five Twilight movies, which were released between 2008 and 2012, earned more than $3.3 billion at the worldwide box office. 
Would Robert Pattinson and Kristen Stewwart return for 'Twilight 6'?
While a sixth Twilight movie is pure speculation at this point, if Midnight Sun does get the big-screen treatment, it seems unlikely that either Robert Pattinson or Kristen Stewart would reprise their roles as Edward and Bella. Both have been open about their mixed feelings about starring in the mega-popular franchise. 
Pattinson once called the Twilight series "a really weird story" and said he would "mindlessly hate" the movies if he wasn't involved with them. But his attitude has softened over the years, and he now admits he has "warm memories" of the entire experience. Stewart has said being in such a high profile role gave her "panic attacks" and that the level of fame she experienced was difficult to cope with. 
Since leaving Twilight behind, both Pattinson and Stewart have carved out successful careers as adult actors in acclaimed smaller-budget indie films. Stewart has worked with director Olivier Assayas on The Clouds of Sils Maria and Personal Shopper and Kelly Reichardt on Certain Women. Pattinson has starred in The Lighthouse, Good Time, and Cosmopolis and will play Batman in The Batman. Plus, it's been more than a decade since the series kicked off, which might make it difficult for them to return to playing their ageless vampire characters. If Midnight Sun does become a movie, perhaps we'll see other actors take on the roles of Edward and Bella.