Mike Myers and Dana Carvey: How Their Fractured Friendship Was Mended by a Super Bowl Ad
Wayne's World actors, Mike Myers and Dana Carvey, have mended their famously funny friendship. That's great news, of course, but what did a Super Bowl ad have to do with it? And what supposedly caused a rift between them in the first place? Plus, is it true Carvey quit Wayne's World at one point due to differences?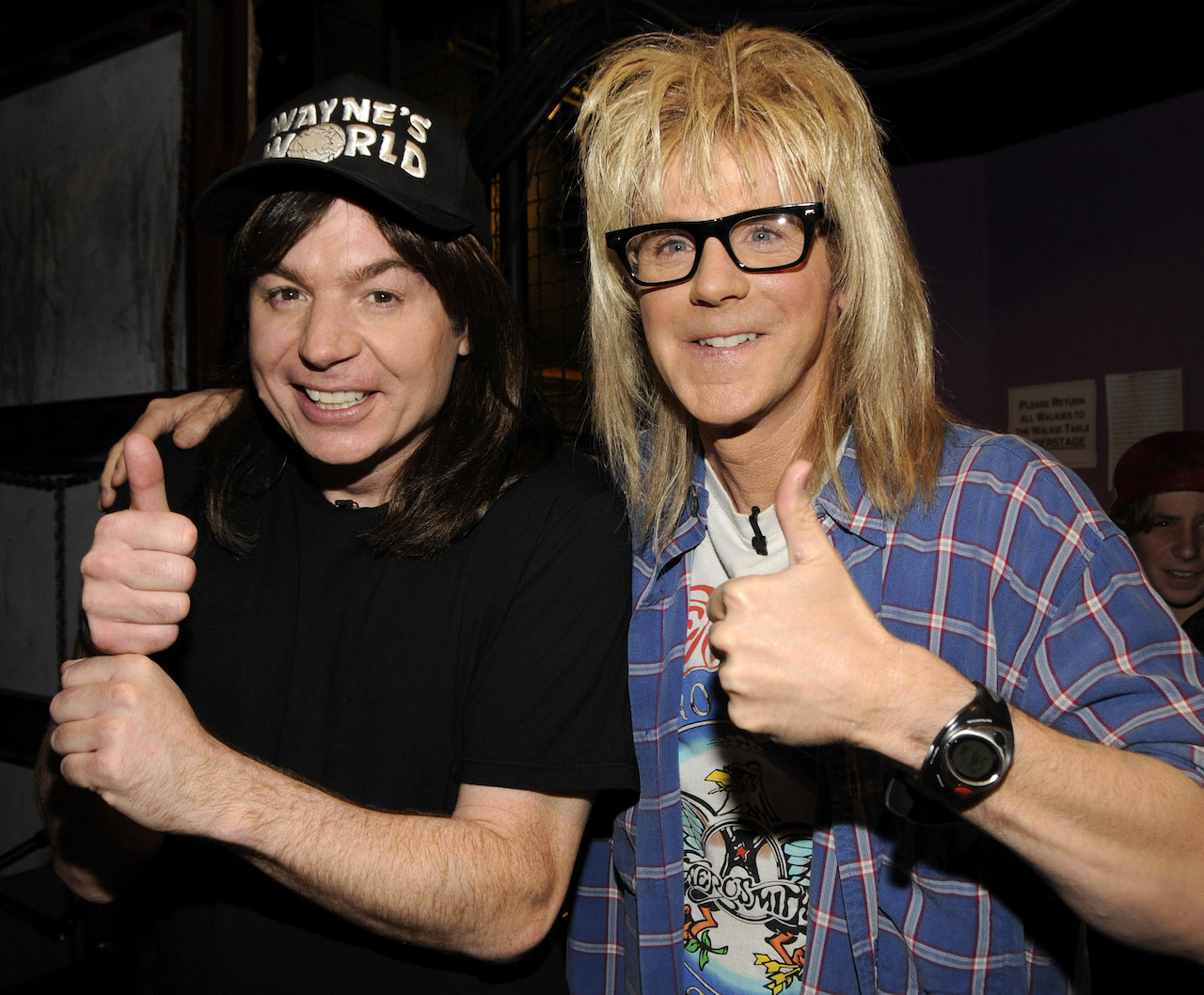 Dana Carvey and Mike Myers are 'very very close friends' following 2021 Super Bowl ad
In 2022, Carvey explained his long history with Myers to radio host, Howard Stern, for The Howard Stern Show. He said that he and Myers became an iconic comedy team "by accident" when they began starring in "Wayne's World" sketches on Saturday Night Live together. From there, they became movie stars.
According to Carvey, he and Myers are now "very very close friends" after gaining some years, perspective, and understanding.
"Everyone has a 10-year-old boy inside them, or girl. That little person gets very jealous of the shiny new toy, very envious," Carvey explained. "As friends in these last few years, you put down all your weapons and you're just very vulnerable and very honest. It's a great way to be with someone."

According to Carvey, the SNL stars reconnected for a Super Bowl ad in 2021 and became closer following that. But what caused the tension in their friendship to begin with?
Dana Carvey thought Mike Myers' Dr. Evil character was based on his impression of Lorne Michaels
Previously on Sirius XM's The Howard Stern Show, Carvey told Stern he was a bit resentful toward Myers for one of his creative choices. According to him, Dr. Evil was too close for comfort to his own impression of SNL's head honcho, Lorne Michaels.
At the time, Carvey said he had spoken to his therapist about his feelings but never actually confronted Myers with them. Still, he said he didn't really consider that a rift between them.
"There are a lot of moments in my life I wish I was more directly straightforward," he shared. He also added he'd "basically let it go" and was glad that he "intersected" with Myers in his career.
However, Carvey concluded they were pretty distant at that time.
Dana Carvey quit 'Wayne's World' because of a writing disagreement
As Carvey revealed to Stern later in the same The Howard Stern Show interview, he didn't want to work on Wayne's World after disagreements over the script. His character, Garth, was more of a sidekick than a co-star and Carvey's own scriptwriting was removed. And that was even though Garth was based on Carvey's real-life brother.
Carvey told Stern the money didn't matter to him and since he was uncomfortable with the direction of his character, he told the filmmakers to go on without him. So, about three weeks before shooting, he told them, "Thanks, but no thanks."
He felt he'd have "nothing to do in the movie," so he essentially quit. Of course, that didn't stick. He was allowed to make some changes everyone lived with — like adding the line, "If you're gonna spew, spew into this."
In the end, he said that he had a great time making Wayne's World with Myers and it was a smash success. And despite their differences throughout their careers, Carvey said their time on SNL and their experiences in making the films bonded them so it was easy for them to come back together with understanding when they were finally ready to do it.
RELATED: 5 of the Greatest Slacker Movie Bromances of All Time