Mike Tyson Almost Got an Even Crazier Tattoo on His Face — Thankfully He Didn't
Even though many people think Mike Tyson's face tattoo is a bit strange, it could have been even crazier. 
Years ago, the former heavyweight champ and Hangover movie star was dead set on getting a completely different tattoo on his face, one that he would have undoubtedly regretted. 
Mike Tyson initially wanted hearts tattooed on his face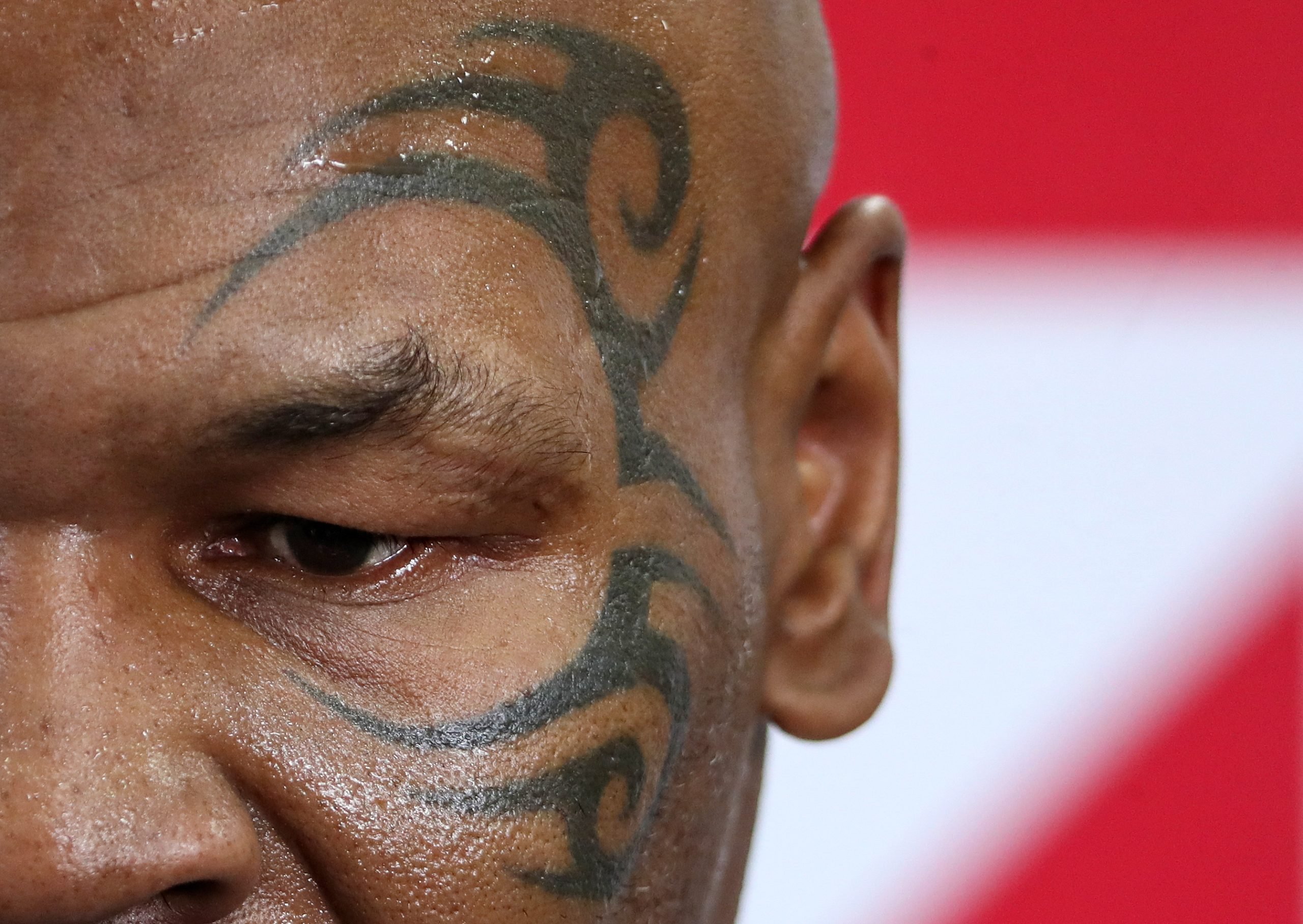 Many people have wondered why Tyson decided to get the bold tattoo on his face, but his answer is pretty simple. Simply put, he really liked the way it looked, according to an interview with Graham Bensinger. 
"I just thought it was a cool tattoo," Tyson said. "I was gonna get a bunch of hearts and stuff and be like a, [unintelligable] that would've been really stupid."
"What were gonna get what?" Bensinger asks. 
"Some hearts and s–t," Tyson repeats. "I'd have been the man of hearts, baby."
When asked how close he came to getting the original tattoo, he revealed that the tattoo artist refused to do it for him.
"Very close," Tyson said. "The tattoo artist said 'no I'm not doing it' … He said 'that's not a tattoo for me, I can't do that.'"
The tattoo artist gave him the idea for his current face tattoo
Although the tattoo artist wouldn't give him that particular tattoo, he decided that the would find Tyson a better one. So he told Tyson to wait a few days so he could find something better. 
"I said 'what do you think I should get,' because I was confused," Tyson said. "He said 'well you just, you come back in a couple of days, I'ma try to write up some stuff in a week, don't get a tattoo, just come back in a couple, like a week. So I waited around, and then he called like two, three days later and said 'Mike, look at this, I got some tribal stuff,' and I said 'woah.' And there was like one, I said 'put another one over there', and then he put it like this, 'yeah, this is cool, this is cool I like it.' So he did it."
Tyson says women loved his face tattoo
In the same interview, Tyson added that immediately after he got it, he thought the tattoo was "hot." Even though many people were initially shocked to see Tyson's face tattoo, Tyson himself says that the response from women was great. 
"I thought it was so hot, I thought it was so hot," Tyson said, smiling. "Cause listen … I'd be in these dens, and these clubs, and these strip places, sometimes, and all the girls came up to me and said 'Well, you're very exotic, where are you from? Where your family from? All these tattoos, it's exotic. Why did you put it on your face?' They say I look like some tribesman and s—t.
Tyson also revealed that he ran into a woman on the Las Vegas strip who was actually from the tribe the tattoo represents. According to Tyson, she had a priceless response.
"And then I run into some chicks that um, that happen to be um, from the Māori tribe," Tyson said. "They say, 'hey, you've got my tribe on your face.' And then the lady just pulls her pants down and shows me this tattoo on her butt. She has it on her butt, right on the street."