Mike Tyson Had To Be Taught How to Throw a Punch By the 'Hangover' Movie Director
Mike Tyson is an all-time-great boxer, but even he needs a lesson once in a while.
Mike Tyson is known for being one of the most ferocious and fearless boxers of all time. With a record of 50-6, he was also one of the most successful, spending his immense earnings on $7 million necklaces and dozens of cars. 
For a boxer with so much talent, one would assume that learning boxing techniques would come to him rather easily, but apparently this is not the case. Todd Phillips, director of the Hangover movie trilogy, revealed that during filming he actually had to teach Tyson how to throw a "movie punch" because the boxer just couldn't get it right. 
Mike Tyson was one of the most feared boxers of all time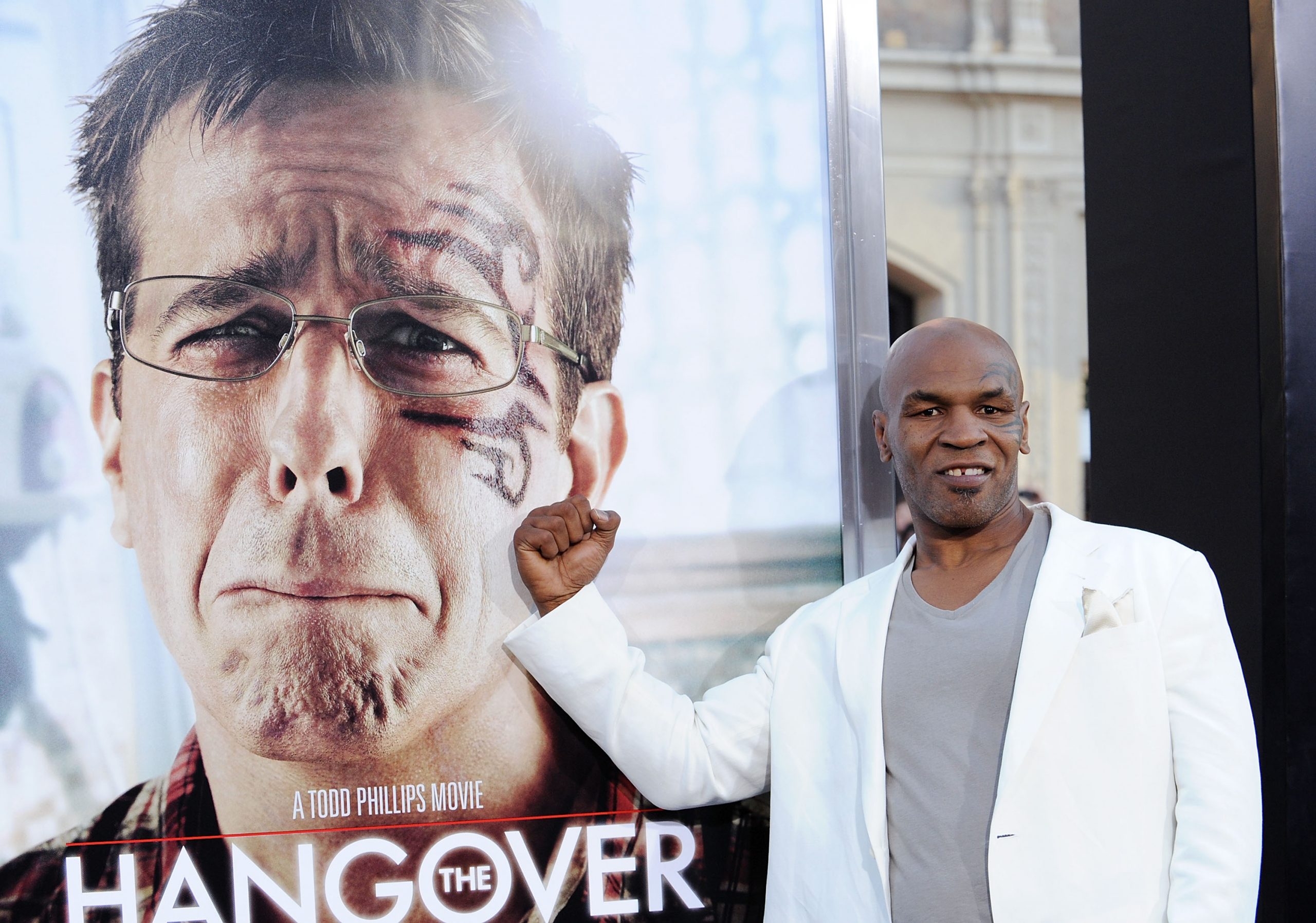 Mike Tyson began boxing at an early age and was quickly recognized as a prodigy. Winning gold medals at the 1981 and 1982 Junior Olympic Games, Tyson became a professional at age 18. He quickly rose in the ranks and became the youngest heavyweight champion in history, winning the title at just 20 years and four months. 
Tyson's dominance continued throughout his 20s, and he began to see his skill pay huge dividends. He received lucrative endorsements from brands such as Pepsi and Nintendo, and earned $400 million over the course of his career, according to Forbes. He spent his millions on an array of lavish items, including a 150-yacht, exotic cats and pigeons, several Rolls Royces. 
However, his spending eventually caught up with him and he filed for bankruptcy in 2003 after racking up a $60 million debt.
Tyson was a powerful puncher that knocked out most of his opponents
Aside from his quickness and skill with intimidation, Tyson was known for his incredible punching power. Of his 50 wins, he won 44 by knockout, with many of them occurring in the 1st round of matches. Tyson actually became so proficient at 1st round knockouts that he would receive a $200,000 bonus every time he ended a match in that fashion. 
Tyson's amazing punching power was due in large part to his tendency to crouch before throwing a hook or uppercut.  The "spring" of his legs added the explosive power that led to many of his matches ending by knockout, according to Modern Martial Artist.
The 'Hangover' director had to teach him how to throw a 'movie punch'
With all of the success he's had, it's hard to believe that someone could tell Tyson anything about how to throw a punch. But according to Todd Phillips, the director of the Hangover trilogy, he had to do just that. Tyson kept doing it wrong for the camera and needed a quick lesson from him, according to an interview with James Corden.
"There's a particular way to throw a punch in a movie," he said. "He kept kind of doing it wrong for camera, in fact, he was sort of pulling it back too far. I'm sort of showing him how to throw a punch, and without missing a beat, he goes 'Oh this is great, I'm getting boxing lessons from the captain of the Jewish debating team.'" 
Thankfully, Tyson mastered the "movie punch" and gave viewers one of the most memorable moments from The Hangover, when he knocked out Zach Galifianakis in the hotel.