Mike Tyson Used To Drive in the Carpool Lane With His Pet Tiger
Mike Tyson was known to spend his money on some outlandish things, but few compare to the tigers he owned. He bought a couple while he was serving time in prison and developed a close bond with them, and even admitted that he drove in the HOV lane with them.
Mike Tyson has endless stories about the ridiculous things he bought when he was at the height of his career. In his prime, he was earning upwards of $30 million per fight, which gave him a lot of extra money to spend on toys. 
Aside from $7 million necklaces and 150-foot yachts, Tyson also enjoyed spending his money on exotic animals. He collected over 1,000 pigeons, but also had several lions and tigers that he kept on his property.
Tyson has noted on several occasions that he had a very close relationship with his big cats. He raised them from cubs and had a huge plot of land in his backyard for them to roam around in. Tyson even admitted that he used to drive around with one of his tigers, frequently riding in the HOV lane. 
Mike Tyson's friend talked him into buying tigers and lions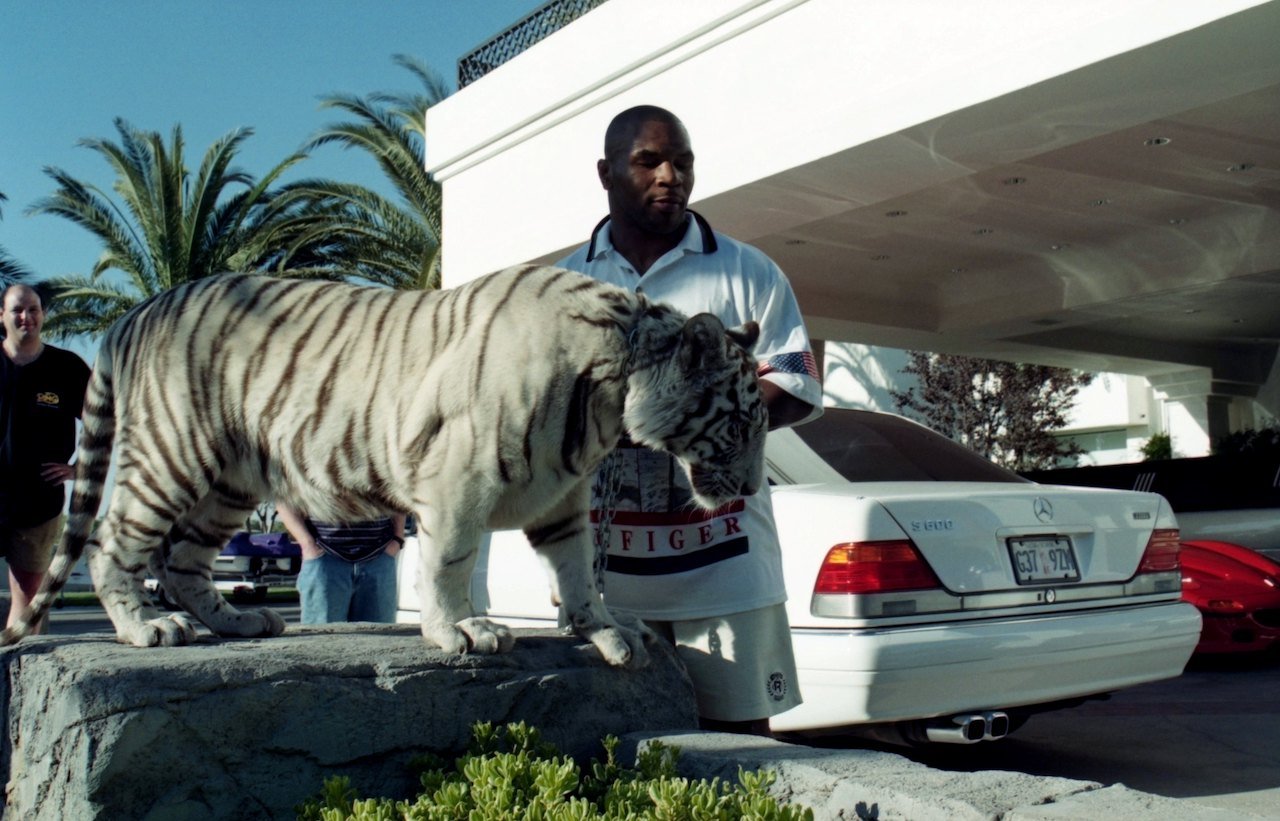 Tyson told the story behind his purchase of the tigers during a resurfaced 2019 interview with Jimmy Kimmel. 
"While I was in prison, I'm talking to my car dealer 'cause I'm asking what car is coming out this year, Ferrari, whatever the car may be, right?" Tyson said. "And so he was saying that some friends of mine had purchased some cars but they hadn't paid all of the money. He said if they don't pay him all of his money, he's gonna take some of their cars and trade it in for some animals, like some horses."
Tyson's friend ended up talking him into buying a few tiger kittens after Tyson imagined how cool it would look to own one. 
"And I said, 'Really, you could do that?' He said, 'Yeah,' … He said, 'Mike, can you imagine being in an F50 Ferrari with the top down, and you got a tiger, a lion driving with you?" Tyson said. "I said, 'Yeah, that'd be pretty hot, right?' 
Mike Tyson used to drive in the carpool lane with his tiger
Later in the interview, an amused Kimmel asked Tyson if it was legal to drive in the express lane with the tiger, and Tyson assured him it is. 
"Yes, yes, you can," Tyson said. "I've done that, you can."
When asked how people responded to him having a jungle cat in his car, Tyson said people typically had positive reactions. 
"Man, they thought it was the illest sh*t ever in the history of the world," Tyson said. "They couldn't imagine it, not in a million years." 
One of his tigers bit a neighbor and cost him $250,000
Unfortunately, not all of Tyson's experiences with his tigers were positive. One of them ended up attacking a woman after she trespassed onto Tyson's property. 
"Somebody jumped over my fence where my tiger was and … started playing with the tiger," Tyson told GQ. The tiger didn't know the lady so there was a bad accident."
The woman was so badly wounded that Tyson ended up paying her $250,000 restitution for the dust up. 
"Listen, when I saw what the tiger did to her … I had a lot of money back then so I gave her $250,000, whatever it was, because she was just f—ed up," Tyson said.