Mila Kunis Admits Husband Ashton Kutcher Used to 'Do Her Homework' While Filming 'That '70s Show'
Mila Kunis and Ashton Kutcher have the most epic love story in Hollywood.
It's no secret that Mila Kunis and Ashton Kutcher are one of the cutest couples in Hollywood. After meeting on the set of That '70s Show, the actors practically grew up together. Kunis even admits that her now-husband Ashton used to do her chemistry homework for her while on set! Find out more about their fairytale romance below.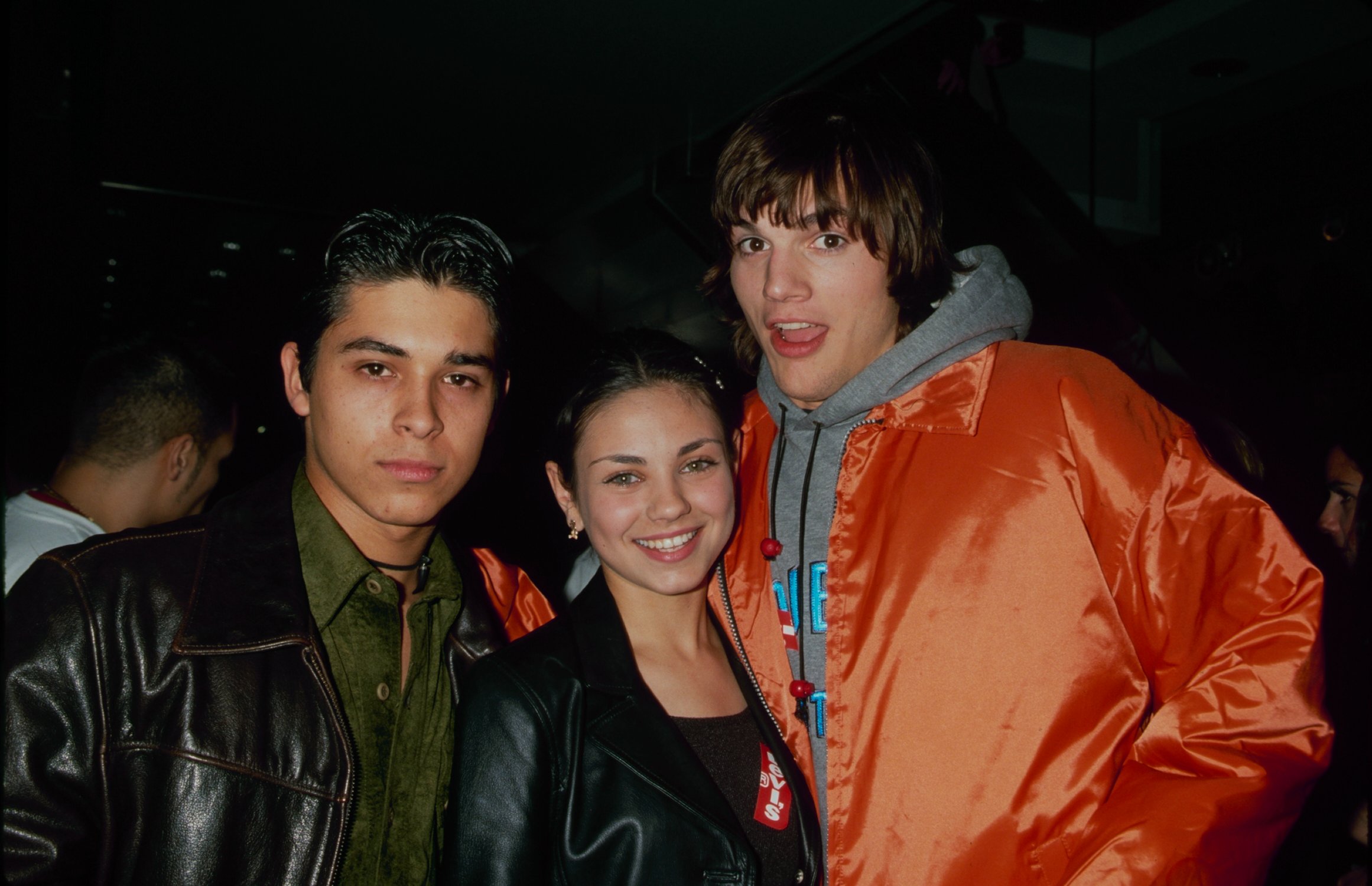 Mila Kunis and Ashton Kutcher are thriving
The pair had a witty response to a recent tabloid magazine, which made a false claim about the couple splitting up. In the tabloid, it said that Kutcher and Kunis were getting a divorce because Kutcher was too "overbearing" and that Mila was feeling "suffocated" because of it. It also claimed that the Black Swan actor "took the kids." 
In a hilarious response to the rumors, the good-humored couple posted a video to social media reacting to the absurd report. In the video posted to Kutcher's Instagram, the two read the cover of the magazine while cozying up together in the car. Clearly, the rumors were false, and the pair was able to laugh it off.
Kunis and Kutcher grew up together on 'That '70s Show'
Mila Kunis and Ashton Kutcher became close friends on the set of That '70s Show, where the two played each other's romantic interests on-screen. Just when you thought their relationship couldn't get any more adorable, Mila confessed that Ashton was her first kiss, and will most certainly be her last. It's like something straight out of a Nicholas Sparks novel!  Of the kiss, Kutcher told People Magazine, "I was so nervous. She acted so cool. She seemed as if she'd done it a thousand times. I was the one with the butterflies in my stomach."
The couple shared many romantic scenes together while shooting the sitcom, yet they kept their relationship strictly platonic behind the scenes due to their significant age difference.
Kunis has confessed that she lied about her age while auditioning for That '70s Show. She had to be at least 18-years-old to be considered, yet she was only 14 when she received the part. Because Kutcher was already in his 20s during filming, he was more of Kunis' mentor than a romantic interest. In fact, he would even go so far as to do his future-wife's chemistry homework!
Mila Kunis and Ashton Kutcher had a 'friends with benefits' relationship before choosing to get serious 
In an interview with James Corden, Mila Kunis confessed that down the line in their friendship, the pair had a "friends with benefits" relationship. Hilariously enough, both Kunis and Kutcher starred in separate movies that revolved around the concept of friends who end up sleeping together.
Ashton starred in No Strings Attached, while Mila starred in Friends with Benefits. The main theme of both films is that men and women can't be "just friends" if they're sleeping together, but despite the moral behind each movie, the two still thought they could make their situation work.
In the interview, Kunis said, 
"The truth is, we both did a movie. I did a movie called Friends with Benefits, he did a movie called No Strings Attached. And if we would have just paid attention to how those movies turned out, we would know that we can't go into a relationship this way. And yet, we did exactly as both those movies foretold. We literally shook hands and we were like 'we're gonna have fun because we're both single and young…'

Three months later we're living together, six months later we're married and have a kid… We clearly didn't watch the end of either one of our movies."