Mila Kunis Had the 'Biggest Crush' on Ashton Kutcher During 'That '70s Show'
Mila Kunis and Ashton Kutcher have been happily married since 2015. Together, they share two beautiful children, Wyatt Isabella and Dimitri Portwood. The loving couple is also making headlines for their beautiful new farmhouse in LA.
But before they developed a life together, they were just co-stars working alongside each other on That '70s Show. And according to Kunis, she secretly had the "biggest crush" on her future husband while filming the series.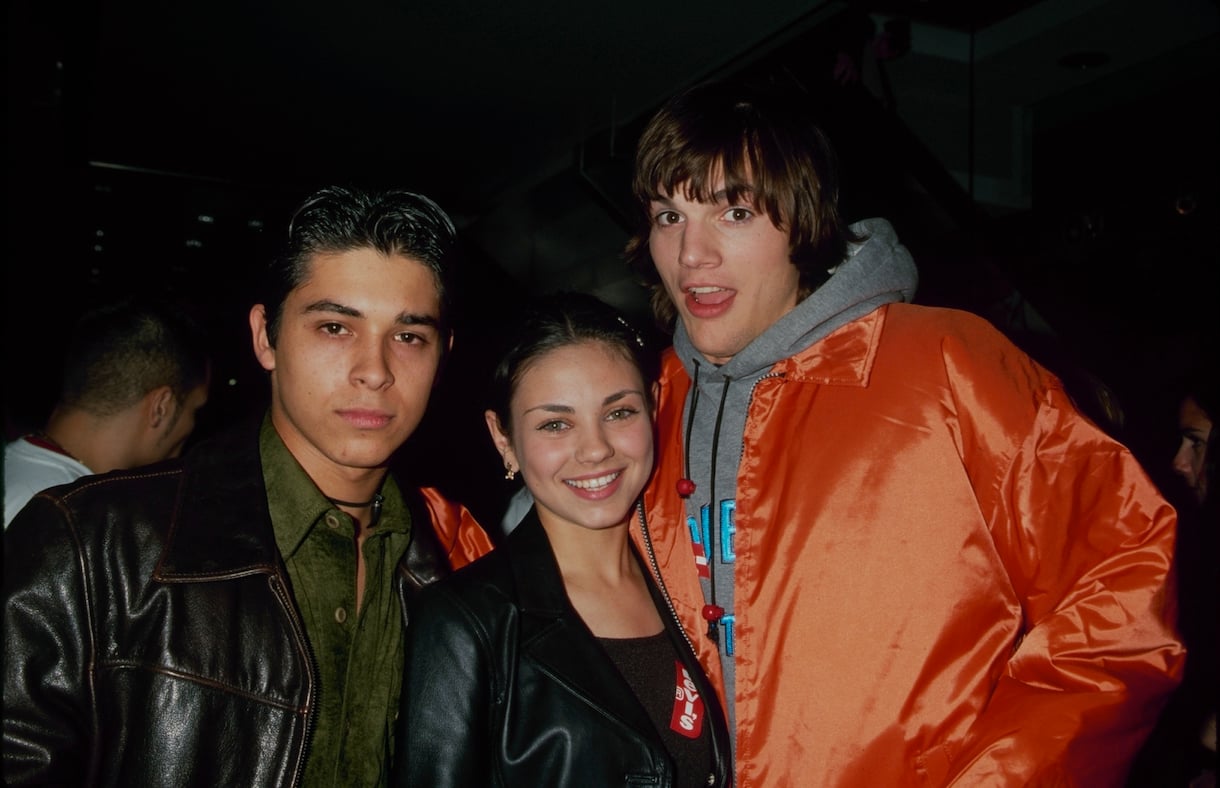 Who do Mila Kunis and Ashton Kutcher play on 'That '70s Show'?
On That '70s Show, Kunis and Kutcher play Jackie Burkhart and Michael Kelso. The characters live in Point Place, Wisconsin, and are best friends with Eric Foreman, Donna Pinciotti, Steven Hyde, and Fez.
On the show, they portray the most popular couple in school.
RELATED: 'That '70s Show': Storylines That Almost Ruined the Show
Kunis' character, Jackie, is known as the spoiled rich girl who comes from a life of privilege. Yet, in real life, things were quite different for Kunis. The actor grew up with practically no money before immigrating to the United States with her family from the Ukraine.
"But growing up poor, I never missed out on anything," she says, according to Insider. "My parents did a beautiful job of not making me feel like I was lesser than any other kids."
Meanwhile, Kutcher, who plays the attractive airhead with the brain of a goldfish, is extremely intelligent in real life.
"The sexiest thing in the entire world is being really smart," Kutcher said at the Teen Choice Awards, according to Insider.
Mila Kunis had the 'biggest crush' on Ashton Kutcher during 'That '70s Show'
RELATED: 'Friends With Benefits': Mila Kunis Fell Asleep During Her Sex Scene With Justin Timberlake
Kunis and Kutcher may be happily married now, but while filming That '70s Show, they had a much more casual relationship. In fact, Kunis saw Kutcher as more of a mentor than a romantic partner because of their significant age gap. (While filming the pilot, Kunis was 14. Meanwhile, Kutcher was 19.)
To further prove the wholesome nature of their relationship at the time, Kunis admits that her future husband used to do her homework in between takes!
But despite their platonic relationship, the Black Swan actor couldn't help but develop strong feelings for her on-screen love interest. She even admits to having the biggest crush on him!
"I was like, 'Oh, he's so cute, it's the Calvin Klein model," she said (via Insider.) "Then I was like, 'I have to kiss him?' I was so nervous and uncomfortable. I had the biggest crush on him."
In fact, he was her first kiss ever!
How many people get to have their first kiss with their future spouse?
Mila Kunis and Ashton Kutcher just moved into a gorgeous barn-inspired home
Kunis and Kutcher are opening the doors to their stunning barn-inspired home in LA.
"We wanted the house to look like an old barn, something that had been here for decades, that was then converted into a house," Kutcher revealed, according to CNN.
But they didn't simply move in. They built the house from the ground up.
"Building a house from the ground up is no small thing," says Kunis. "This was either going to make us or break us."