Mila Kunis Says Her Relationship With Ashton Kutcher 'Stopped Being Fun' at One Point
Mila Kunis and Ashton Kutcher met back in 1998 while starring on That '70s Show. And although they play love interests on the sitcom, their off-screen relationship didn't heat up until 2011, several years after the series wrapped up.
But at one point, Kunis admits that their relationship "stopped being fun." Read on to find out why.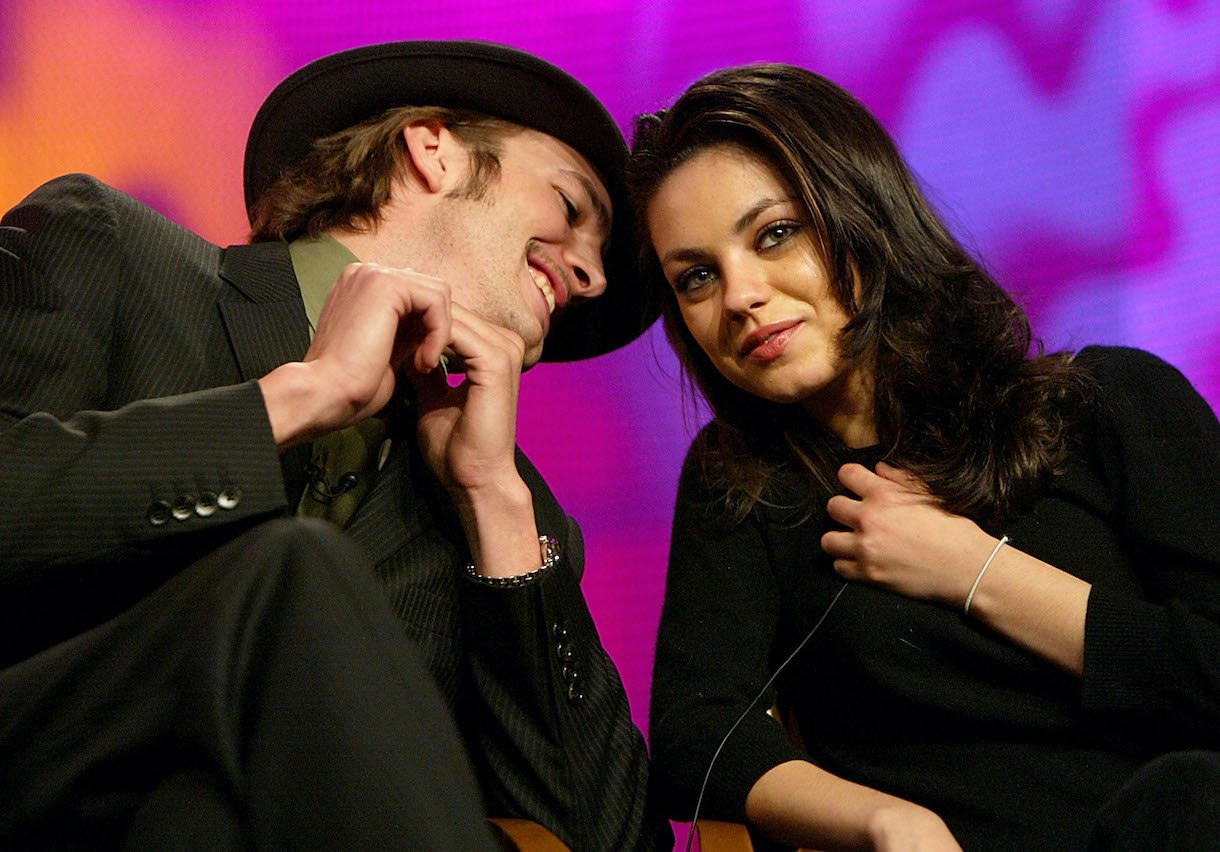 Mila Kunis and Ashton Kutcher got to know each other on the set of 'That '70s Show'
According to Kunis, she had many "firsts" with Kutcher on the set of the Fox sitcom. Because they became so close while filming, Kunis says Kutcher has already seen her at her worst.
"My first real kiss ever was with him on the show, and when [That '70s Show] had a prom, my date for the prom turned out to be my fiancé," she said, according to PopSugar. "We can honestly say that we went to prom together. Not only did [the show] introduce me to my fiancé, but I'm so grateful that all my mistakes are recorded for posterity. I went through everything embarrassing that a girl can go through in front of my fiancé. There's no question that he's seen the worst. I find that comforting."
"There's nothing we don't know about each other because we've known each other for so long," she continues. "The ugly, the bad, the good. We went through a period where I thought he was crazy. At the height of his career, I was like, 'Ugh, I don't like you. I don't even know you anymore. You think you're such hot sh*t.'"
Ashton Kutcher and Mila Kunis began casually hooking up before getting serious
As fans of Kutcher and Kunis know, they have both starred in romantic comedies with eerily similar plot lines. Each film explores the nature of "friends with benefits" relationships, which both Kunis and Kutcher engaged in at the time.
"I did a movie called Friends With Benefits, and he did a movie called No Strings Attached," says Kunis, (via PopSugar.) "And if we would've just paid attention to how those movies turned out, we would've known we can't go into a relationship this way, and yet we did exactly as both those movies foretold. We shook hands and said, 'We're going to have fun because we're both single and young.'
But three months down the road, Kunis stopped enjoying the "casual" nature of their relationship. And according to the Black Swan star, it was no longer "fun."
"Three months later, I was like, 'This isn't fun anymore.'" Kunis said, according to Insider.
"I was like, you know what, I actually care about you. I don't want to mess anything up, so I'm just going to walk away before it becomes too much," she continued. "And he was like, 'Got it.'"
The next day, Kutcher asked Kunis to move in with him. Not long after, they got married and had a baby.
Kutcher's proposal to Kunis was the 'best day' of her life
According to Kunis, it was a beautiful moment when she realized their relationship "changed" for the better.
"One day, it just changed," she said of their dynamic. "All of a sudden, it wasn't the same, and I was really proud of myself for acknowledging that. The best day of my life so far was the proposal," Kunis gushed. "I cried. I was a mess. Not to discredit any relationships in my past, but this relationship is different."