Miles Teller's Wife: The Actor Says Life Is 'a Lot Less Stressful' After Marriage
Miles Teller hasn't been in the public eye much lately, but he's returned to prominence thanks to his starring role in a new Taylor Swift music video. The bride to his groom in the video is also his wife in real life. He and the model Keleigh Sperry tied the knot a few years ago, and they couldn't be more effusive about how much they love each other when asked about it. Keep reading to learn more about Miles Teller's wife.
Teller returned to acting as Taylor Swift's ex in 'I Bet You Think About Me'
Miles Teller's career includes award-winning highs and strangely immediate lows. His emergence in the 2014 film Whiplash appeared to signal the arrival of a brand new movie star. But the next few years of his career are littered with big swings that didn't work out as well as he would've hoped.
His stab at a superhero franchise was in the 2015 reboot of The Fantastic Four, which was a critical flop and a commercial disappointment. The rest of the movies he's made since have either been forgotten already or were never noticed in the first place. The only project Teller starred in between 2017 and 2021 was the little-seen Amazon Prime series Too Old to Die Young, directed by niche auteur Nicolas Winding Refn. (Teller will play an important role in the upcoming Top Gun: Maverick, which would be out by now if not for the pesky pandemic.)  
Up to this point, the biggest news regarding Teller as an actor was when he was accused of holding up the production of The Offer, a miniseries depicting the making of The Godfather, by being unvaccinated and then catching COVID-19. 
In much more pleasant news, he returned to the screen as the conflicted groom in Taylor Swift's video for the song "I Bet You Think About Me." The recent changes in his personal life make this the perfect role for him. 
How did Miles Teller meet his wife?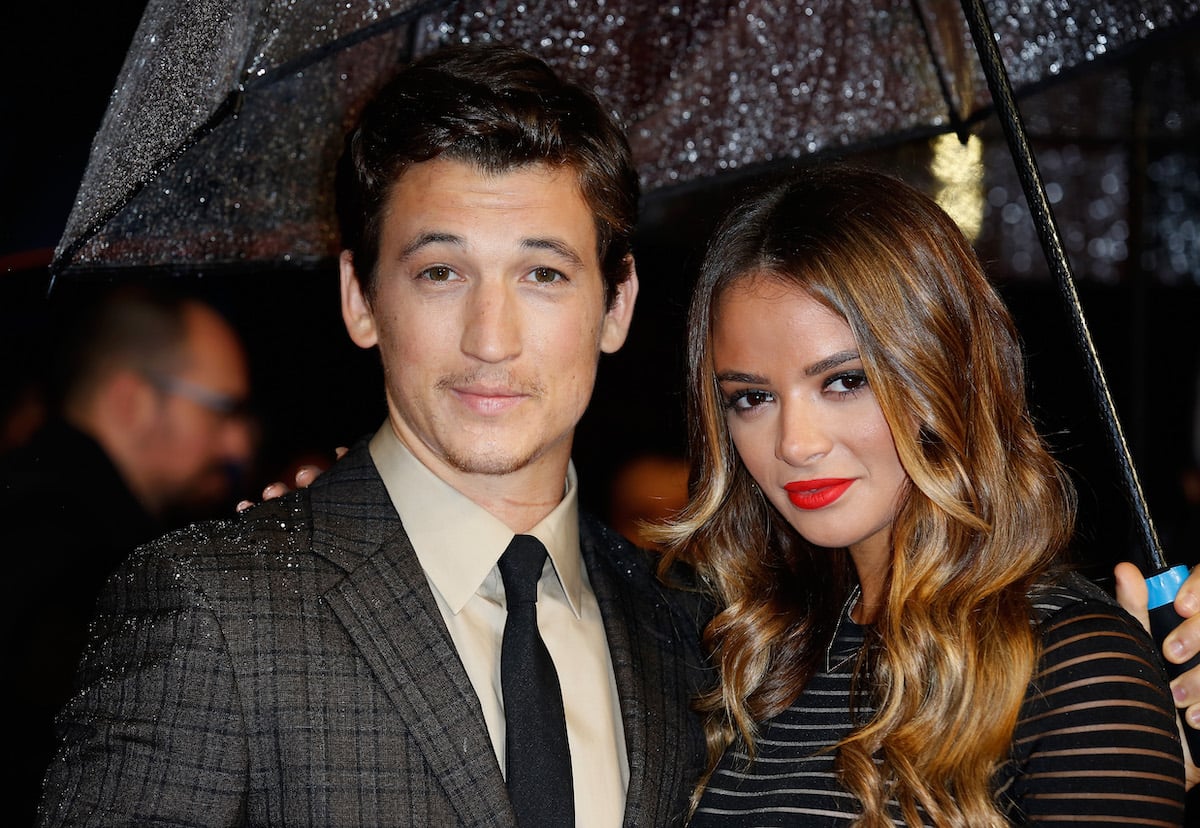 Teller first met the model Keleigh Sperry at a Grammys afterparty in 2013. In a People article recapping their relationship, Teller recalled telling a friend after their first date that, "I think I'm going to be with this girl for a long time." He was right to trust his intuition. 
The two got engaged in August 2017 during a safari trip in South Africa. While elephants roamed freely in the background, Teller led Sperry to a tree with a rose and a note tied to it that read "May 11th, 2013-August 20th, 2017." After getting down on one knee he said, "This was the first day that I asked you to be my girlfriend, and today was the last day you woke up as my girlfriend." 
Sperry said yes and called the proposal "perfect."
"I'll never get the image out of my head of him down on one knee with a tear in his eye," she told the website. "He really thought about every detail and was so nervous!" They were officially married in Hawaii in September 2019. 
Teller said he loves life as a married man
In a new Men's Health cover story, Teller spoke on what the marriage has meant to him, and he couldn't be more positive about their partnership. 
"We just hang out. She keeps me calm. It's pretty great," he says about their time together during the pandemic. "I'm with her now from when I wake up to the moment I go to bed. We have a lot of friends whose relationships got put under a magnifying glass during these times, but we are really great. Once you get married and you make that ultimate commitment, life is just a lot less stressful. You just know that person is always going to be there."
They also used the downtime to customize their backyard. "Keleigh and I both worked on our backyard and did some landscaping," he shared. "We planted a lemon tree, hydrangeas, and a rose garden. Since we were staring at our backyard a whole lot more than usual, we wanted to add color."
Healthy relationships are a must-have at the best times, much less during these last few years of chaos. It's nice to hear Teller speak about the importance of having your priorities in order.