Miley Cyrus Covered 'Zombie' by The Cranberries and You Have to See It
Miley Cyrus might really be a rockstar. The 27-year-old singer performed a 12-minute set live from Whisky a Go Go in Los Angeles on Oct. 17 for Save Our Stages Fest, and she kept with her recent habit of covering beloved rock songs.
For this performance, Cyrus performed two covers and closed with her latest single, "Midnight Sky." She opened with "Boys Don't Cry" by The Cure, followed by "Zombie" by The Cranberries, and "Zombie" was the highlight of the set.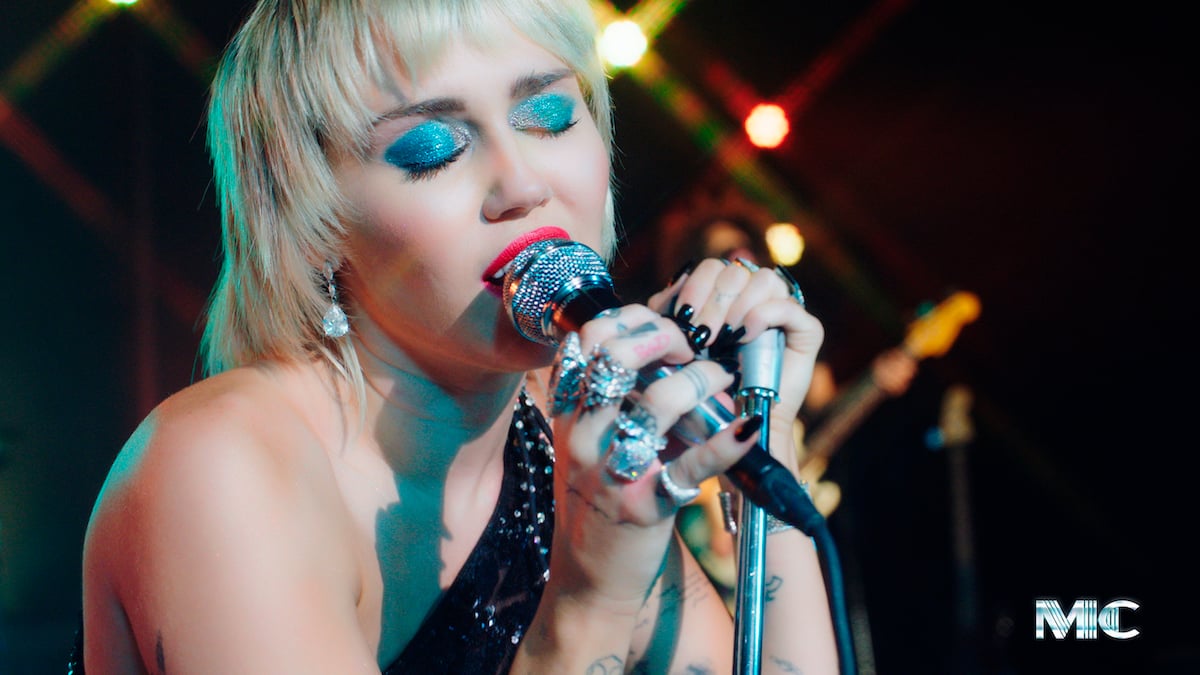 Miley Cyrus covered 'Boys Don't Cry' and 'Zombie' at Save Our Stages Fest
Cyrus' low, raspy voice was a perfect fit for The Cranberries hit. In the comments section of the video, which was originally streamed live on YouTube, fans raved over the performance.
"The woman can sing anything, excellent cover of Zombie," one fan said. Another chimed in saying how impressive this new Cyrus era is.
"She is so different from other pop stars nowadays, she really knows how to reinvent herself," they said. People on Twitter also couldn't get enough.
As one fan wrote, "miley cyrus singing zombie OH MY GOD I DIDNT KNOW I NEEDED THIS IN MY LIFE."
"Miley Cyrus covering Zombie by The Cranberries… she was born to be a rockstar," another said.
Other Save Our Stages Fest performances included Brittany Howard, Foo Fighters, G-Eazy, Rise Against, and The Roots. The event was a fundraiser aimed at helping famous music venues stay open during the coronavirus (COVID-19) pandemic.
Celebrities can't get enough of Miley Cyrus' rock covers
Celebrities have been reacting to Cyrus' "Zombie" cover as well.
The Hannah Montana alum shared a clip of her performance on her Instagram after the show, and Riverdale star Lili Reinhart was blown away.
"Holy sh*******t rock n roll queen," the actress commented on the post.
Cyrus' makeup artist, Janice Daoud, also commented on the star's Instagram post with a simple, "Incredible."
Miley Cyrus and Noah Cyrus performed a cover together for Backyard Sessions
Outside of her #SOSFest performance, the "Mother's Daughter" singer has been performing amazing covers as part of her rebooted Backyard Sessions series on MTV Unplugged. On Friday, Oct. 16, Cyrus and her little sister, Noah Cyrus, gave a rare joint performance. The sibling duo performed Noah's "I Got So High That I Saw Jesus," a slow jam from her May 2020 album THE END OF EVERYTHING.
Cyrus also performed Britney Spears' "Gimme More" and The Cardigans' "Communication" during Backyard Sessions, and on June 27, she performed a cover of The Beatles' "Help!" for the Global Goal: Unite for Our Future event.
Chrissy Teigen reacted to Cyrus' rendition of the classic Beatles song in September, tweeting, "Sounding like a weed smoking dolly angel. Her voice is so different from anyone out there now. I love it."
The former Disney Channel star hasn't released an album since May 2019's She Is Coming, but she has released "Midnight Sky" and the live recording of Blondie's "Heart of Glass" as singles. Hopefully, Cyrus will also drop her cover of "Zombie" and continue to produce these incredible covers.