Miley Cyrus Flaunts Her Relationship With Cody Simpson Amid News of Liam Hemsworth's Official New Girlfriend
It's already been a wild year already for Miley Cyrus and Liam Hemsworth. Fans remember the couple's on-again, off-again relationship that spanned a decade — and while they finally tied the knot at the end of 2018, they separated later in 2019. Now, it looks like Cyrus and Hemsworth can officially go their separate ways after settling their divorce.
We know Cyrus wasted no time attempting to move on from Hemsworth. Her relationship with Kaitlynn Carter didn't last, but she and her current boyfriend, Cody Simpson, are seemingly very in love. And while she appeared to cool off with the Instagram posts of her and Simpson's romance, Cyrus is back at it again after the media confirms Hemsworth's relationship with his new girlfriend, Gabriella Brooks.
Miley Cyrus and Cody Simpson have been together for months
Cyrus isn't afraid to move on quickly, and she and Simpson seemed to dive right into their relationship. But we can't forget that Simpson talked about having a crush on Cyrus in the past. During an interview with Fuse back in 2012, Simpson noted, "Miley Cyrus has always been my childhood celebrity crush." Little did he know what was in store in the future.
Cyrus and Simpson allowed their friendship they've maintained since 2015 to blossom into something more. And they started posting photos of each other on social media back in October and November.
Since then, the lovebirds seemed to cool off with appearances on each other's social media. While they occasionally posted photos and videos of each other on their Instagram Stories, Cyrus and Simpson appear to be focusing on posts revolving around their music and personal endeavors instead of each other.
It looks like Liam Hemsworth and Gabriella Brooks are officially together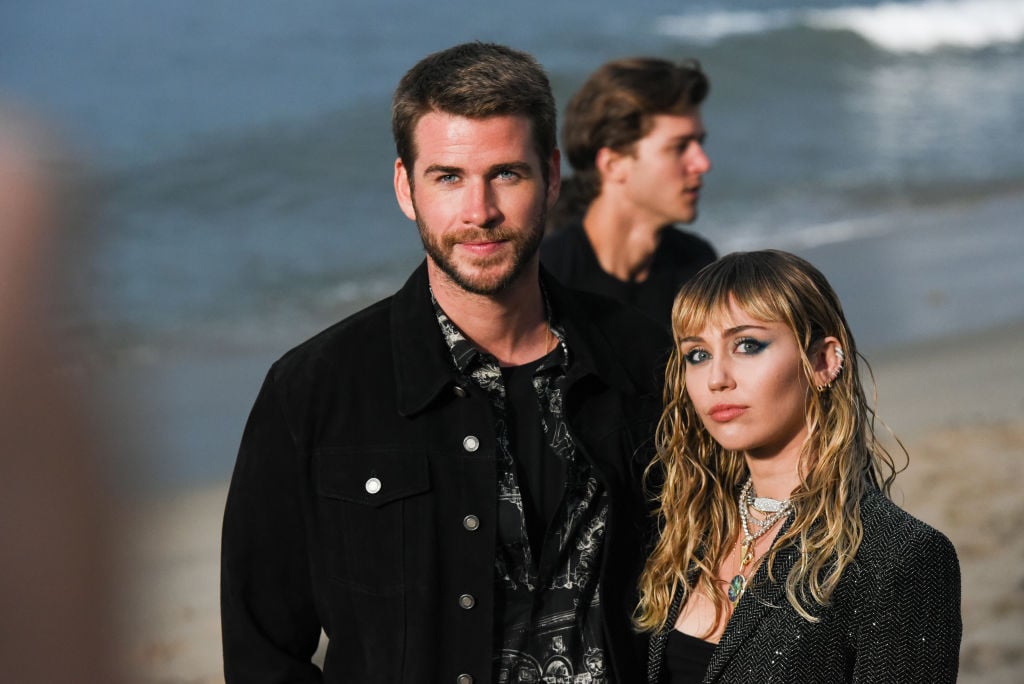 Hemsworth has a social media presence, too, though he doesn't appear to be as active online as other celebrities. While he has a few lingering photos of Cyrus on his Instagram, he doesn't give any indication that he's seeing someone new. But the media spotted Hemsworth introducing Brooks, who's a model, to his parents in Australia and kissing on the beach.
A source told HollywoodLife, "Gabriella has been a breath of fresh air and she makes him very happy."
New Idea posted the photographic proof of Brooks and Hemsworth locking lips. And according to another source who spoke to Us Weekly, "Liam feels comfortable with Gabriella. His family approves of her and really 
likes her, which is very important to him."
After Hemsworth's sister-in-law, Elsa Pataky, spoke to Hola! candidly about Cyrus, we're sure Hemsworth is happy to have his family approve of his relationship this time around. "My brother-in-law, well … After a relationship that you've dedicated 10 years to, he's a little bit down, but he's coping well," she told the publication. "He's a strong boy and he deserves the best, I think he deserves much better."
Cyrus took to her Instagram Story to flaunt her romance
Fans have a growing interest in Hemsworth and Brooks, which might be taking some of the spotlights off of Cyrus and Simpson. Cyrus isn't finished flaunting her love for Simpson, however. On Jan. 15, she posted a photo of Simpson holding a puppy to her Instagram Story. And she then added a short video of Simpson doing jump squats in the gym behind her as she laid on her side and posed in her undergarments.
"We have a different idea of 'werking out,'" she captioned the provocative video.
We're not sure if Cyrus posted the new content in direct response to reports of Hemsworth's new woman, but it's possible. We can't forget that Cyrus featured Hemsworth in her highlight video of the last decade, which makes us wonder if she's really completely moved on from the relationship. Only time will tell if Hemsworth and Brooks are meant to last — and we'll see how Simpson and Cyrus continue as well.
Check out Showbiz Cheat Sheet on Facebook!