Miley Cyrus Got This Tattoo Inspiration From a Surprising Source
Miley Cyrus is one of the most controversial young stars in the entertainment business today. From her love of racy clothing and suggestive onstage dance moves to her outspoken love of marijuana and her tabloid-worthy relationships, Cyrus is almost always in the headlines for one reason or another.
Cyrus is also an unabashed fan of body ink and recently, she celebrated a major milestone in her life with yet another trip to the tattoo shop. Even more surprising: One of her new tattoos is a nod to another controversial icon.
How many tattoos does Miley Cyrus have?
Although Cyrus might have become famous playing the wholesome Disney Channel heroine Hannah Montana, she has long since left that image behind. As her musical career took off, Cyrus adopted a much edgier look to her style and gradually began adorning her body with a wide variety of tattoos. 
No one is quite sure how many tattoos Cyrus has, in total. However, over the years, fans have managed to capture many pictures of her body art. In addition, Cyrus herself has shared many pictures of her ink, although she doesn't often talk about each one specifically.
All in all, Cyrus has at least twenty confirmed tattoos, most of them very small and a lot of them in relatively hidden locations, like between her fingers. A few of her tattoos include the words "Just Breathe" tattooed on her rib cage, in memory of a friend who died from cystic fibrosis, and the word "Love" written inside her ear.
Cyrus intended the word to help her remember to block out the haters and to only pay attention to people who truly love and support her. 
What new tattoos did Miley Cyrus just get?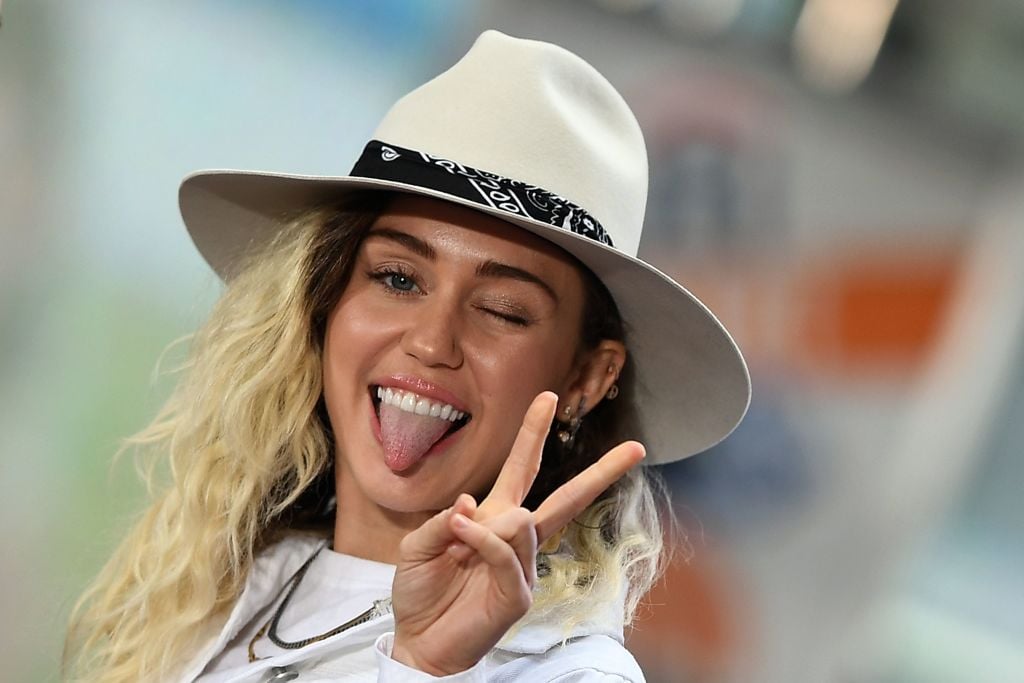 In December 2019, Cyrus was fresh from a breakup. After more than ten years of on and off romance, she and Liam Hemsworth decided to call it quits for good.
Cyrus decided to honor the changes in her life with not one, but two new tattoos from top celebrity tattoo artist Winter Stone. One tattoo is the word "Freedom," done in simple script over the top of her hand.
While a few fans might have assumed that the word is in reference to her divorce from Hemsworth, it is actually a word that featured prominently in her song "Mother's Daughter."
Her second tattoo was taken directly from a note written to Cyrus from iconic artist Yoko Ono. The tattoo reads, "I'm proud of you, Yoko," and was inscribed on Cyrus's shoulder in a carbon copy of Ono's delicate handwriting.
Cyrus is a huge admirer of Yoko Ono as well as her late husband, John Lennon, and has paid tribute to the iconic due on more than one occasion.
Miley Cyrus's love for Yoko Ono and John Lennon
While many celebrities might profess their love for the Beatles, and Lennon specifically, Cyrus actually collaborated with their son, Sean Ono Lennon. In December 2018, Cyrus performed Ono and Lennon's iconic holiday song "(Happy Xmas) War is Over" on Saturday Night Live.
As an extra special treat for fans of the song, Cyrus invited Sean Ono Lennon onstage with her to help sing the song. The moment became one of the highlights of that week's show. 
Whether or not Cyrus and Lennon decide to work together again in the future remains to be seen. But, with Ono's support, it is likely that fans can look forward to some sort of collaboration in the coming years.