Miley Cyrus 'Melted Down' When She Saw This 1 Britney Spears Performance
Miley Cyrus grew up just like any '90s kid: fangirling over Britney Spears. The "Midnight Sky" singer wowed fans with her cover of Spears' "Gimme More" during a Backyard Sessions performance on Oct. 16, but that's far from the first time the star has expressed her love for the Princess of Pop.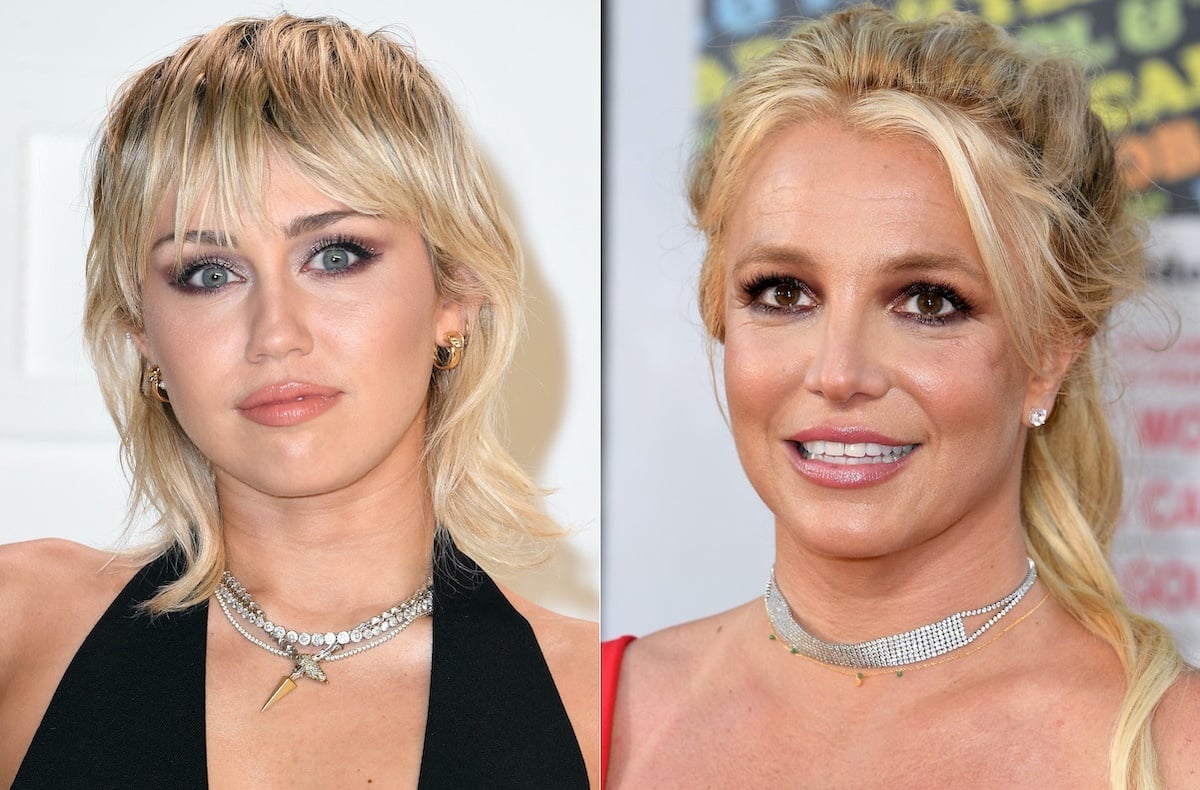 Miley Cyrus has been a rock/pop music fan all her life
In an interview with Variety in June 2020, Cyrus opened up about playing fictional pop star Ashley O in Netflix's Black Mirror and what it was like to play a character similar to Hannah Montana.
"There were some obvious similarities through the character that I've played before that actually really became my life," Cyrus said. "Like [Ashley O] wanting to explore rock 'n' roll and change genres. That's something that, right after 'Hannah Montana,' was really important to me."
The 27-year-old star has surely leaned in to the rock genre this year. On Sept. 10, the singer performed a cover of Hall & Oates' "Maneater" on The Tonight Show Starring Jimmy Fallon. On Oct. 6, she covered Blondie's "Heart of Glass" at the iHeart Festival. On Oct. 16, at the Save Our Stages Fest, she covered The Cure's "Boys Don't Cry" and The Cranberries' "Zombie." And she covered The Cardigans' "Communication," Nico's "These Days," and the Cowboy Junkies version of The Velvet Underground's "Sweet Jane" during Backyard Sessions.
RELATED: Miley Cyrus vs. Billy Ray Cyrus: Who Has the Higher Net Worth?
Fans can't get enough of Miley Cyrus' 'Gimme More' cover
One of the most memorable from her MTV Unplugged series, however, was her "Gimme More" cover. Cyrus' rendition of Spears' 2007 hit gave the pop track a southern twang, and fans couldn't get enough of it.
The Disney Channel alum shared a clip from the performance on her Instagram, and the comments were flooded with praise.
"You got my attention, honey!" actor Leslie Jordan commented on Cyrus' post.
"My sweet little Miley & Britney fan heart can't take this," MTV's Instagram account said. Jamie Lynn Spears commented on the post with the fire emoji.
RELATED: Why Britney Spears' Cover of 'I Love Rock 'n' Roll' Confused Joan Jett
Miley Cyrus' love of Britney Spears runs deep
Cyrus told Variety that her love for the "Toxic" singer has been a lifelong journey.
Speaking of the posters she had hanging in her childhood bedroom, the "Mother's Daughter" singer said, "I had the most weird hodgepodge of Britney Spears, 'NSync, Metallica and Hilary [Duff.] I had Joan Jett and Pat Benatar." There was one pop culture moment, in particular, where Cyrus' love of Joan Jett and Spears combined.
"You should've seen my face when Britney covered 'I Love Rock 'n' Roll' in 'Crossroads,'" she told the outlet. "I melted down. That scene was the father, the son and the Holy Spirit all in one room. I actually lost my mind. That was worlds colliding beyond what I could have ever dreamed of."
If Cyrus keeps on covering Spears songs, her own fandom is going to start having similar meltdowns.