Did Miley Cyrus Introduce Her Mom, Tish Cyrus, to Marijuana? 'She's the Cleanest Person I Know'
Singer Miley Cyrus comes from a show business family. In addition to her sister Noah Cyrus, other members of her family are involved in the industry. Her mom, Tish Cyrus, is also her manager and has a podcast called Sorry We're Stoned. In July 2020, Tish revealed how she started smoking and how she feels about Miley's sobriety.
Miley Cyrus is known for her love of marijuana
When some think of Miley, they associate her with her Bangerz era persona. Follow her time on the Disney Channel, Miley had a few years where she made headlines for doing drugs, dressing provocatively, and, mostly, for being unapologetic about it. This has followed her to this day.
Miley never denied that she loved smoking weed, calling it "the most magical, amazing thing" and her "first and true love" on Jimmy Kimmel Live. "I want to be [smoking]," she said when the host asked her about it, adding, "I'm sure there will be a day where I will happily indulge [again]."
She has been sober for a year 
Miley has taken a number of "breaks" from smoking over the years. In the 2018 interview, she told Kimmel this was due to her career. "I am very focused on what I am working on right now," she said, adding, "it's just not for me right now." Fast-forward two years, and she's in a similar frame of mind.
In June 2020, Miley told Variety she had been "living a sober lifestyle" for a year, "because I really wanted to polish up my craft." She added, "I've been sober sober for the past six months." Though she conceded it's been "really hard," Miley affirmed she's committed because "I really wanted to polish up my craft."
Miley says her mom is 'a big stoner'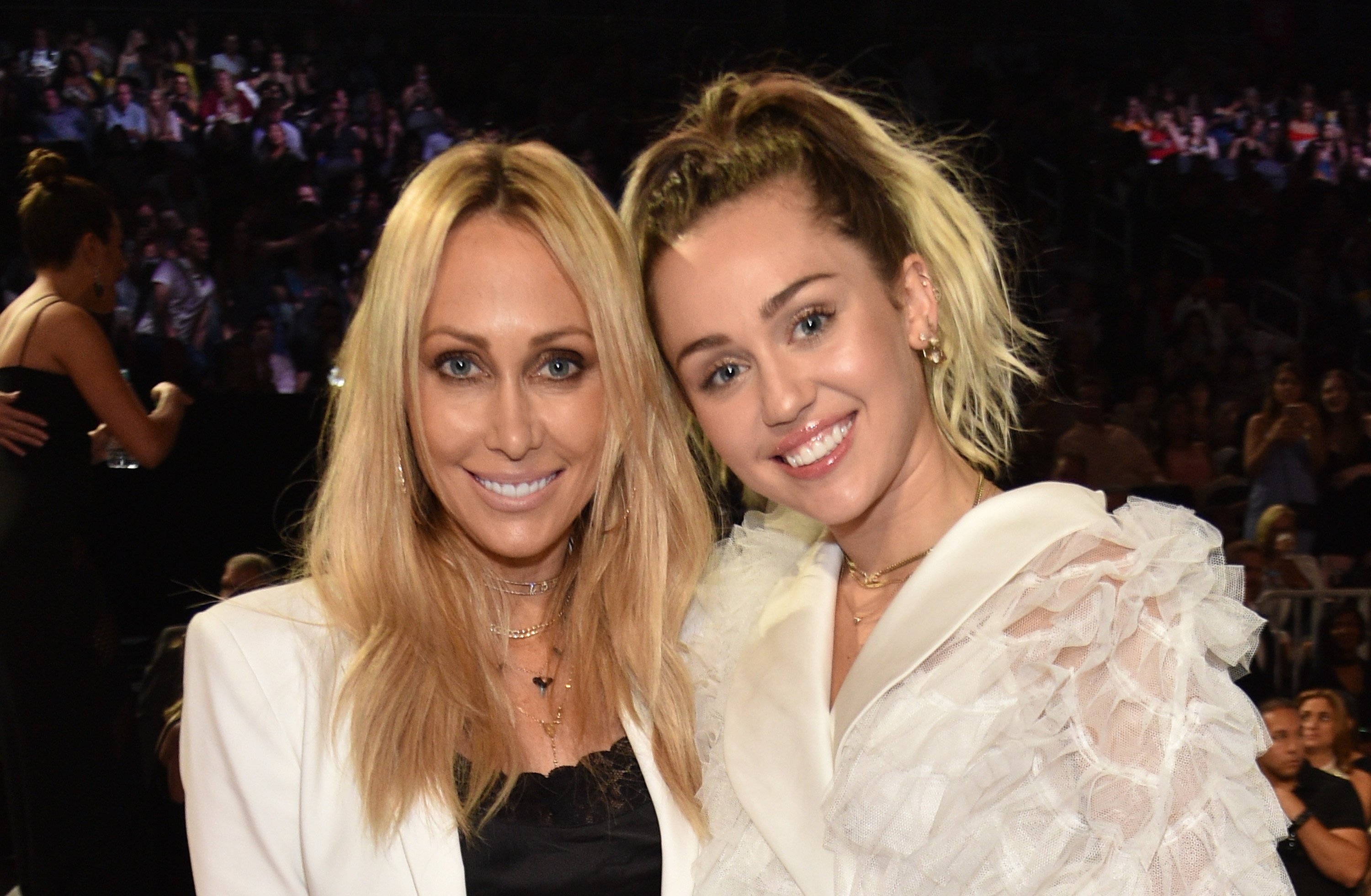 In the Variety interview, Miley referred to her parents Tish and Billy Ray Cyrus as "big stoners." She's spoken about their use of marijuana in the past, telling The Tonight Show Starring Jimmy Fallon host that Tish, "smokes more pot than anyone I know," and that the two engage in it together.
"They smoke together, and they play with these hummingbirds," continued Miley of her parents. "They've named them all. And that's like, their little magic time is smoking weed and naming hummingbirds."
Tish Cyrus says Miley convinced her to try weed
Appearing on the podcast Chicks in the Office, Tish and Miley's sister, Brandi Cyrus, spoke about their own podcast, Sorry We're Stoned. Tish revealed that she grew up chastising her kids for smoking, but after their tour bus burned down, she needed something to help her sleep.
"I always say 'someone,' but Miley suggested that I smoke weed," she said, adding that Ambien "made [her] feel terrible." Miley took her into the bathroom and encouraged her to smoke. "I tried it, and it helped me sleep. And I loved it," said Tish. 
Tish on Miley's sobriety 
Tish and Brandi detailed how many other members of their family smoke, but not Miley at present. Cyrus has been embracing a more clean lifestyle with her boyfriend, Cody Simpson, and Tish can't praise her daughter enough for all of her healthy choices.
"Miley doesn't even smoke pot anymore. She smokes only CBD. She doesn't drink. She's the cleanest person I know. She's just so solid," Tish said. She added, "Now she is just so unbelievably… she's just incredible. That's all I can say. She's [doing] yoga and working out, [she] eats clean. So whatever I did, I feel like I did right."