Miley Cyrus' Reason For Sticking Her Tongue Out In Pictures Is Sad and Relatable
Miley Cyrus is one television's most famous teen queens, a child star who has risen to the peak of fame. Cyrus was raised surrounded by the trappings of the music business, so it was little surprise when she decided to pursue a career in entertainment — however, Cyrus has surpassed the fame of her father, Billy Ray Cyrus, and makes headlines on a regular basis.
As controversial as Miley Cyrus is to many, she is surprisingly normal when it comes down to it. As the star revealed in an interview, one of her most outrageous behaviors is one that is rooted in deep insecurity.
How did Miley Cyrus become a star?
RELATED: Miley Cyrus Left Church, Religion Because of Her Sexuality and LGBTQ Friends
Cyrus was born in 1992, and raised in Tennessee, close to the heart of Nashville. She showed an early talent for singing, acting, and entertainment, and her parents encouraged her to pursue her dreams.
In 2006, after a series of small roles in made-for-television films, Cyrus auditioned for the Disney Channel series Hannah Montana. At the age of eleven, Cyrus snagged the lead role and quickly began impressing viewers with her singing ability.
After a few years of starring in Hannah Montana, Cyrus decided to branch out and start exploring her talents as a solo artist, apart from the wholesome image that she cultivated in her TV show. She quickly began sparking controversy with her provocative onstage dance moves and lyrics that were much more mature than anything she had previously performed.
In the past 10 years, Cyrus has remained a powerful force in entertainment, earning legions of new fans and repeatedly showing that she has the power to reinvent herself (and her image) whenever she desires. Her personal life has also made headlines, including her decade-long relationship with Liam Hemsworth. 
Miley Cyrus has weathered a lot of controversies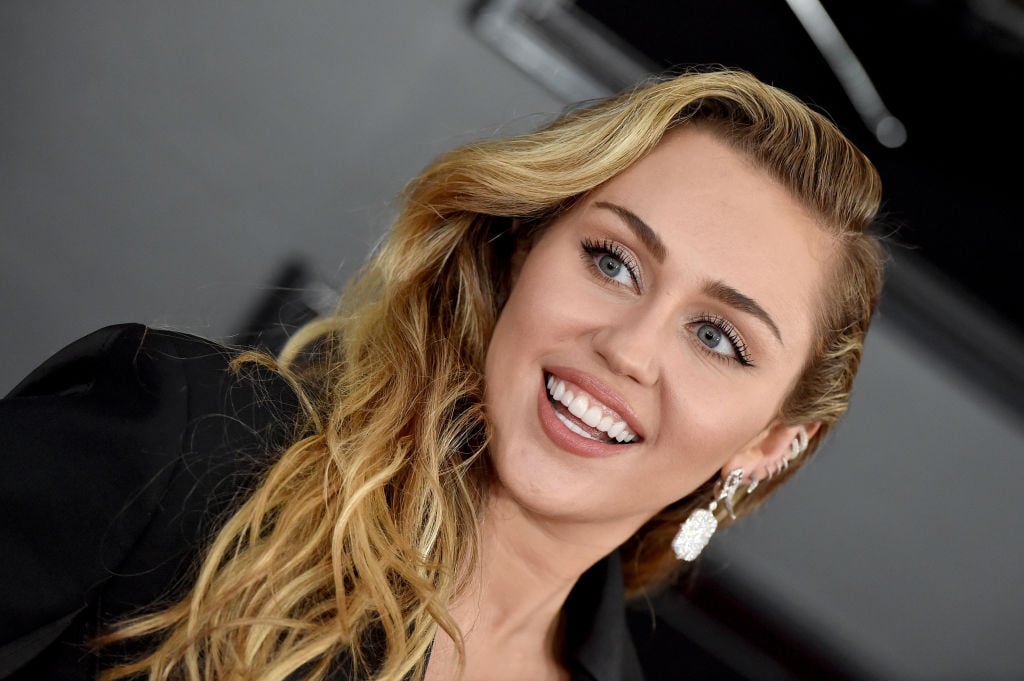 Cyrus is a talented singer, of that there's no doubt. She also has a knack for creating controversies, whether by design or accident.
As early as 2009, Cyrus caused outrage when she danced around a pole in short shorts. Parents everywhere were shocked, but Cyrus shrugged off the incident without much thought.
Only a year later, a video was released that showed Cyrus smoking a bong, and although her reps stated that Cyrus was smoking salvia, not marijuana, many point to that moment as the time when Cyrus shed her good-girl image for good.
Cyrus also loves to hit the red carpet in barely-there outfits and often wears crop tops, sheer blouses, and super-short denim shorts. Clearly, Cyrus is comfortable with herself — although, as she revealed in an intimate interview, her most famous red-carpet pose sprung out of a deep dislike of one of her physical features.
Why does Miley Cyrus stick out her tongue in photos?
After she left Hannah Montana, Cyrus developed a number of signatures. One of her most famous is her habit of posing on the red carpet with her tongue out. While critics as well as fans were quick to label this pose as controversial, Cyrus has stated that she only started posing with her tongue out because feels insecure about her smile.
"I'm so embarrassed because people are taking pictures of me and I don't know how to smile," Cyrus said. "So I stick my tongue out, because I don't know what else to do."
It seems as though, for all her seeming confidence, Cyrus has the same insecurities and struggles as most of her fans — making her one of young Hollywood's most relatable young stars.