Who Are Miley Cyrus' Favorite 'RuPaul's Drag Race' Contestants?
She's an honorary member of the Haus of Edwards, performing alongside Alyssa and Shangela at the MTV VMAs. Who are Miley Cyrus' favorite performers from RuPaul's Drag Race aside from that drag family? 
Here's what we know about this artist and her appearance on season 11 of the reality competition series.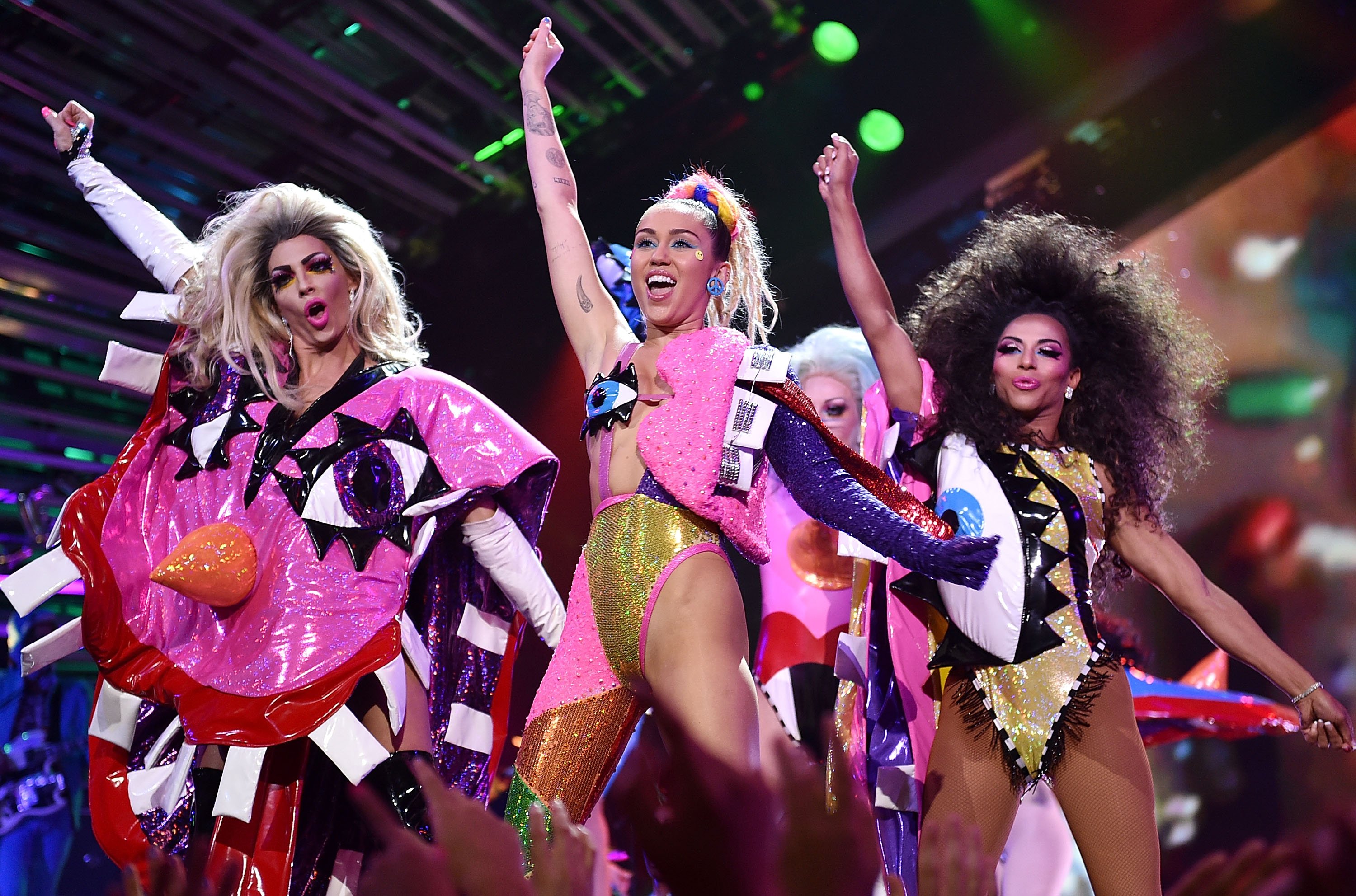 Miley Cyrus was a guest judge on 'RuPaul's Drag Race'
She's an activist for the LGBTQ community and an unapologetic fan of Drag Race. Back in 2015, she the artist hired RuPaul's Drag Race alumni and members of the "Haus of Edwards," Shangela, Alyssa Edwards, Laganja Estranja, and Gia Gunn for her 2015 MTV VMA performance of "Dooo It!" 
That same year, Cyrus attended the season 7 finale of the reality competition series. It was only a matter of time before she joined the judge's panel, alongside RuPaul and Michelle Visage. 
For the season 11 premiere, Cyrus went overcover in drag, appearing as a member of the crew, to surprise the contestants. Silky Nutmeg Ganache was the first to point her out. After that, she changed and supported the queens on their journey to finding "America's Next Drag Superstar." 
"I wanted to go undercover with the ladies. So, I'm going in as a crew member," Cyrus said in one promotional video for the series. "I love me some f—ing beautiful women! Season 11's not going to know what hit 'em."
Miley Cyrus clapped back at Joe Rogan for dissing the 'Drag Race' contestants
Cyrus wasn't afraid to throw shade when someone questioned the queens and their talent. When she was on Joe Rogan's podcast, The Joe Rogan Experience, the two watched clips of RuPaul's Drag Race queens. One video was of Kennedy Davenport doing splits and death drops. 
"They all do the same move," Rogan said of the drag performers.
"That's what I think when I'm watching your shows, too," Cyrus quickly responded. "All the same stuff."
Who is Miley Cyrus' favorite 'RuPaul's Drag Race' queen?
When it comes to Cyrus' favorite alumni for the season, it's no surprise that she's an honorary member of the Haus of Edwards. For one video, she danced and lip-synced to Shangela's song "Werqin Girl." She also said during the Joe Rogan podcast that Alyssa Edwards is her favorite.
Thanks to her Instagram posts and followed account, fans also learned that Miley Cyrus is a fan of RuPaul's Drag Race queens like Bianca Del Rio, Milk, Courtney Act, Alaska 5000, and Miss Fame. 
During her coronavirus (COVID-19) pandemic-inspired Instagram show, titled "Bright Minded," Cyrus also invited several queens from the series to speak. That includes the winner of All-Stars 3, Trixie Mattel.
Although Miley Cyrus already appeared on this reality competition series, some fans look forward to lip-syncs featuring her songs. New episodes of RuPaul's Drag Race premiere on a weekly basis on VH1.