Will Miley Cyrus Sing Any Covers During Her Super Bowl Pregame Show?
Miley Cyrus' covers are just as popular as her original music. Cyrus is the star of the TikTok Tailgate Super Bowl pregame show this year. Given her recent history of rock covers, will she sing any covers during her Super Bowl 55 performance?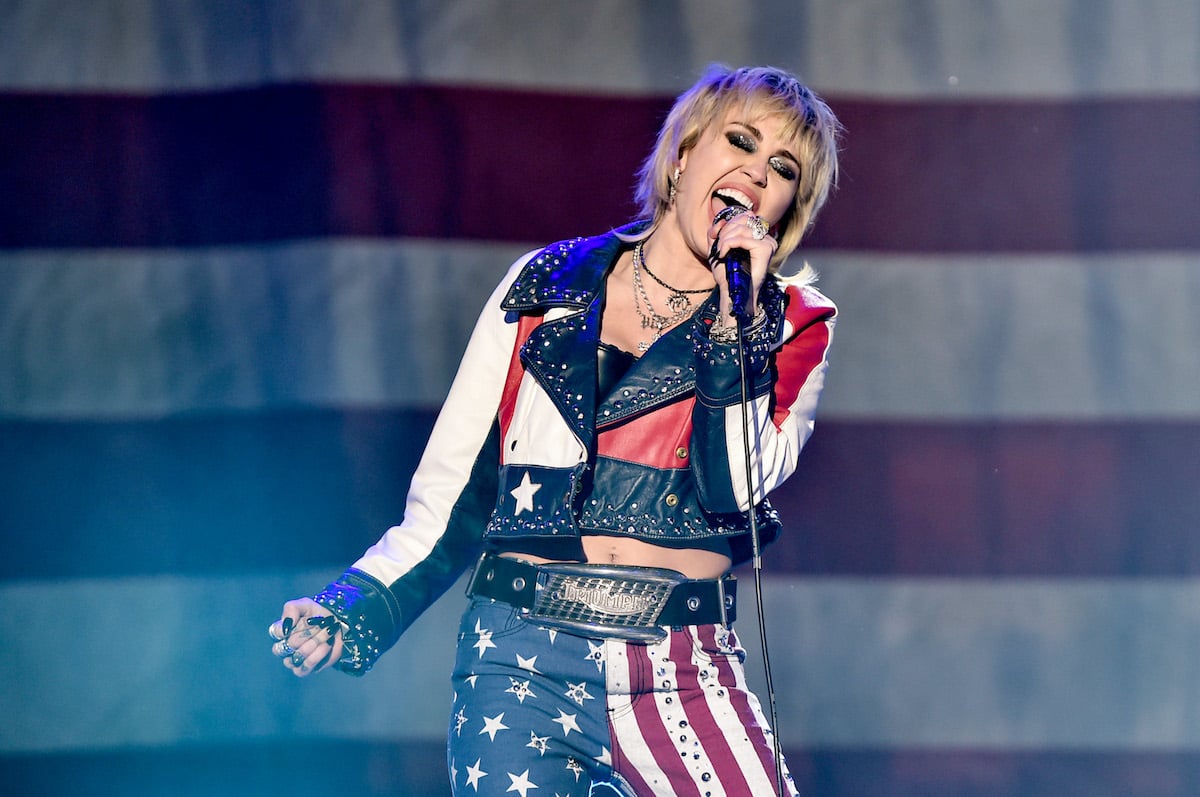 Miley Cyrus covered 'Zombie' and 'Heart of Glass' on 'Plastic Hearts'
The Plastic Hearts era has been the rock era Cyrus' fans have been waiting for. Following the release of "Midnight Sky," the album's lead single, Cyrus performed an epic cover of Blondie's "Heart of Glass" at the iHeart Festival in October.
The Hannah Montana alum then revamped her "Backyard Sessions" series in preparation for the album release in November, which included covers of Britney Spears' "Gimme More" and The Cardigans' "Communication." She also performed with little sister Noah Cyrus in a rare joint performance.
She covered "Boys Don't Cry" by The Cure and "Zombie" by The Cranberries at the Save Our Stages Fest, and she gave her own rendition of "Help!" by The Beatles for the Global Goal: Unite for Our Future event.
The live recordings of "Heart of Glass" and "Zombie" were included on Plastic Hearts.
Miley Cyrus sang 'Rebel Girl' on a treadmill to prep for the Super Bowl
To prepare for her Super Bowl pregame show, the 28-year-old sang while doing cardio to help build her stamina and lung capacity. (Beyoncé/Destiny's Child used to do this as well—it's a great vocal training tool.)
In the first video posted on Feb. 3, Cyrus ran on a treadmill while belting out "Rebel Girl" by Bikini Kill.
"See if you can match the pace with the rhythm of the band," her voice coach instructs in the video. When Cyrus finished the song, she hopped off the treadmill and immediately started singing her song "Angels Like You."
Cyrus either sang "Rebel Girl" because it was a good vocal warmup in the same style of her original music, or because it's on her setlist for the Super Bowl pregame show and will be directly followed by "Angels Like You."
Miley Cyrus' TikTok Tailgate performance at Super Bowl 55 is sure to be exciting
On her Twitter and Instagram, the star has teased songs like "Party In The U.S.A.," "Rebel Girl," and "We Can't Stop," along with original songs from Plastic Hearts. She hasn't revealed her setlist, but fans are pumped to see her continue this rockstar era. Whatever Cyrus has planned for her performance, trust it is going to be high energy the entire time.
Cyrus' TikTok Tailgate Super Bowl Pregame show will be streamed live on the NFL's official TikTok account and on CBS starting at 2:30 p.m. EST. The National Anthem will be sung as a duet by R&B star Jazmine Sullivan and country singer Eric Church. The Weeknd is the star of the Super Bowl 55 Halftime Show.