Millie Bobby Brown: This "Would Be My Ultimate Pride and Joy"
'Stranger Things' star Millie Bobby Brown reveals what would be her "ultimate pride and joy."
Millie Bobby Brown has skyrocketed to fame over the last few years. Starring as Eleven in the Netflix phenomenon Stranger Things, the young actress was a virtual unknown before taking on the character fans incessantly adulate across every social media platform in existence.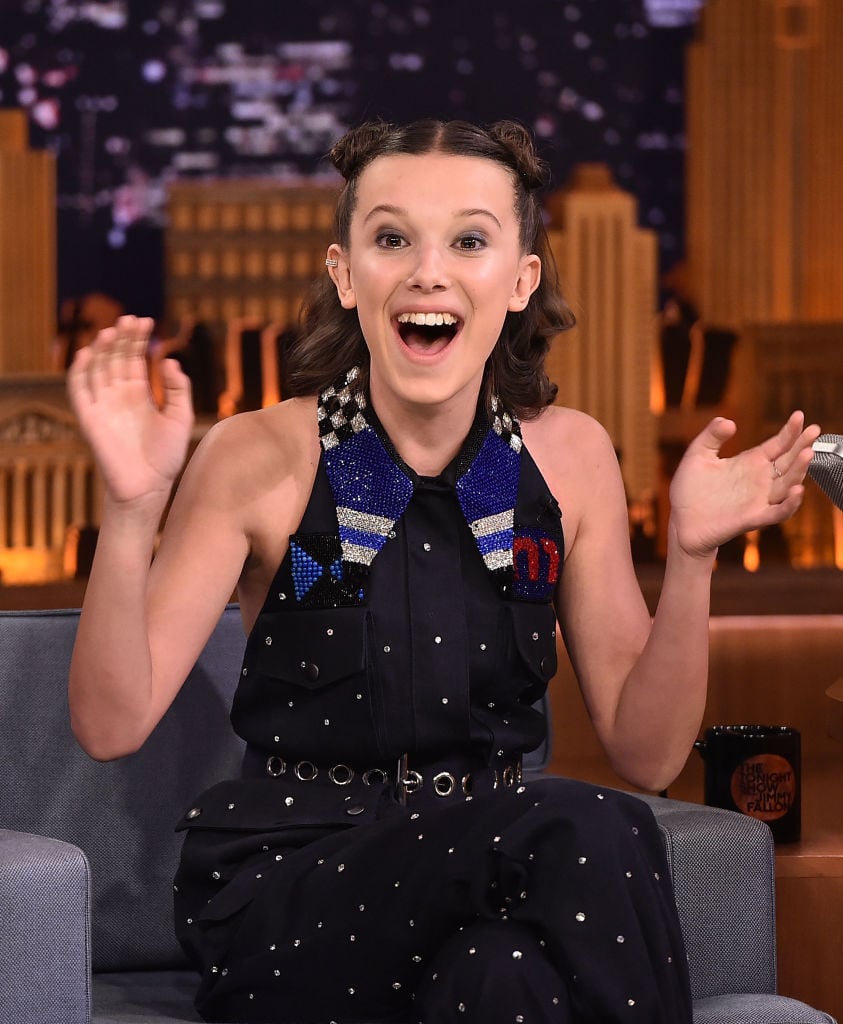 Starting out socially withdrawn and timid – after being kidnapped and raised in a laboratory – the fearful Eleven became fiercely protective of her friends and displayed unwavering loyalty as Stranger Things progressed. However, her character in Stranger Things is not solely responsible for Brown's quick climb to celebrity status.
From her inspiring fashion sense and palpable sincerity to her contagious personality, fans have grown to love Millie Bobby Brown. During an interview with Refinery29, the young actress discussed Stranger Things, Godzilla, roles she would like to try, and more. She even revealed what would be her "ultimate pride and joy."
'Stranger Things' Star Millie Bobby Brown wants to do a musical!
During her interview with Refinery29, Millie Bobby Brown discussed the many genres she has yet to venture into. Explaining that she would love to try romances and comedies, she goes on to discuss her appreciation for Love and Other Drugs, before stating the showbiz desire existing at her core. 
The interviewer asked Brown, "Would you ever entertain the idea of something like a musical?" Brown replied:
"Absolutely. I haven't touched that either, but I'd love to. I love singing, so that would be my ultimate pride and joy."
If Millie Bobby Brown wants to do a musical, let's get this girl a musical! Rumor has it Ariana Grande is out of The Prom due to scheduling conflicts. So, maybe Millie Bobby Brown can take her place and work alongside greats like Meryl Streep, Nicole Kidman, and James Corden? 
There might be a significant age difference between Millie Bobby Brown and Ariana Grande; however, the part in The Prom technically calls for a high school student, making Brown a more appropriate choice; Grande is 26, while Brown is 15. 
Though Millie Bobby Brown's fame keeps climbing, seeing her take on a musical would solidify her place in Hollywood, making her a triple threat (if she's able to pull off some dance moves). However, with Stranger Things reaching the heights it has, will Millie Bobby Brown be able to manage the added paparazzi and fans that her Hollywood blockbusters would lead to?
Millie Bobby Brown talks boundaries 
During her interview with Refinfer29, appropriate fan behavior became a topic of conversation, for Stranger Things has catalyzed a discussion surrounding the topic. Brown stated:
"Boundaries and privacy are one of the things that I think is very important, but fans should understand that if [actors] are out at dinner and they feel they want to spend time with their family. Most of my fans have been wonderfully understanding, so it would be very easy for me to tell a fan, 'Hey, can you give me two seconds to finish my meal and I'll be right over.' There's the odd person that will say things, but not everyone is going to like the person you are. My co-stars have experienced that a lot. I've been ever so lucky to go through it sometimes, but most of all I accept the fact that maybe [fans] just didn't understand correctly. It's weird because nobody understands [celebrity] except if you've been through it. I try to inform fans that I'm a person and I'm going through something extremely overwhelming sometimes. I'm a very anxious person, I will never hide that from people, but I think as long as you inform them and start making them understand, then they'll be fine."

Refinery29
In short, Millie Bobby Brown is a good sport, and she is lucky enough to have fans who obey her wishes for some privacy (at least most of the time).