Did Missy Elliott Sample a Hit Song From Tina Turner?
Missy Elliott paid homage to Tina Turner when the 'Proud Mary' singer turned 80. Many fans might not know that the music superstars have a song in common.
Music superstars Missy Elliott and Tina Turner became famous during different eras. The "Work It" rapper became famous in the 1990s through her solo efforts. She also produced songs for notable artists such as Aaliyah and Destiny's Child. As for Turner, her music career started in the 1960s when she was a part of the Ike and Tina Turner Revue. 
Although both artists perform different genres of music, Elliott and Turner have one popular song in common.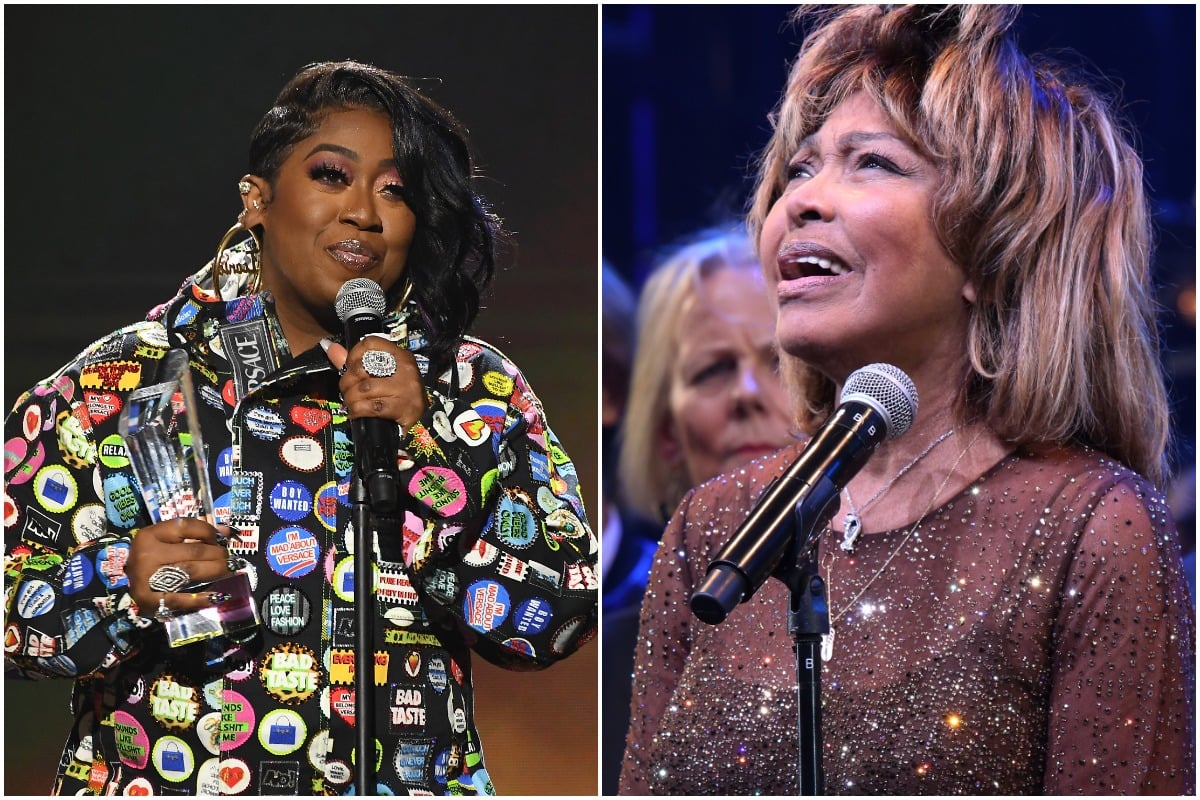 Missy Elliott said Tina Turner 'kicked down doors' for her and other musicians.
Turner's career spans over five decades. In 1961, she and her ex-husband, Ike Turner, released their first album, Ike and Tina Turner's King of Rhythm Dance. Following their debut record, the couple performed several songs together, including "Proud Mary," "Fool In Love," and "River Deep, Mountain High." However, Turner divorced Ike in 1978, ending their 16-year abusive marriage. 
After Turner's ex left her penniless, she found success as a solo artist. The singer's 1984, Private Dancer, revived her music career. Throughout the 1980s, 1990s, and early 2000s, Turner started touring stadiums. She also won multiple Grammy awards for her solo songs, including the smash hit "What's Love Got to Do with It." Additionally, Turner shared her story about the abuse she endured through several books and a 1993 biopic starring Angela Bassett.
On Nov. 26, 2019, Turner celebrated her 80th birthday. The singer received well-wishes from artists such as Cher and Elliott. The "One Minute Man" rapper honored Turner by reminding her followers about the singer's legacy. 
"@LoveTinaTurner We Celebrate your 80th today!" Elliott tweeted. "It's so IMPORTANT for us to KNOW OUR HISTORY in music because of artists like #TinaTurner who KICKED DOWN DOORS & left them open for artists like MYSELF & MOST of your FAVS." 
Missy Elliott and Tina both performed the song 'I Can't Stand The Rain'
Elliott's tweet to Turner came years after both musicians debuted their versions of "I Can't Stand the Rain." In 1984, the "I Don't Wanna Fight" singer released the song for Private Dancer. The song originally came out in 1974 and was performed by R&B singer Ann Peebles. 
"I can't stand the rain against my window,"  the lyrics read. "Bringing back sweet memories. I can't stand the rain against my window. Cause he ain't here with me Hey window pane. Tell me, do you remember?
In 1997, Elliott came out with her solo project, Supa Dupa Fly. The album featured several tracks, including "The Rain." Throughout the song's chorus, the Grammy winner samples Pebbles' music. Although Turner popularized the song in the '80s, Elliott used Peebles' voice for the chorus. 
"I can't stand the rain," Missy's lyrics read. "Against my window, I-I can't stand the rain." 
Tina Turner played a clip of 'I Can't Stand the Rain' in her HBO documentary
After remarrying the love of her life, Erwin Bach, in 2013, Turner became an official resident of Switzerland. The 82-year-old singer currently spends most of her time in the country and retired from music in 2009. In March 2021, Turner released her HBO documentary, Tina. The film discussed her life in Nutbush, Tennessee, leaving Ike, and the performances along the way. During one clip, Turner shared a live version of herself singing "I Can't Stand the Rain." 
Toward the end of the documentary, Bach said the movie was a way for Turner to have "closure" with her American audience. Although she didn't confirm, the singer's husband said she doesn't plan on returning to the U.S. 
"She said, 'I'm going to America to say goodbye to my American fans, and I'll wrap it up,'" Bach said. "And I think this documentary and the play, this is it — it's a closure."