Which Rides Did the 'Modern Family' Cast Members Go on in the Disneyland Episode?
Everyone loves a day at Disneyland. Well, not Gloria Pritchett, who walked around the theme park all day in heels, or her son Manny, who was too busy with a school project, or Phil Dunphy, who recently discovered he couldn't take the motion of roller coasters. 
For one episode of ABC's comedy series, Modern Family, the cast appeared at Disneyland in California to spend the day together. Here are some of the rides that the characters went on during the episode.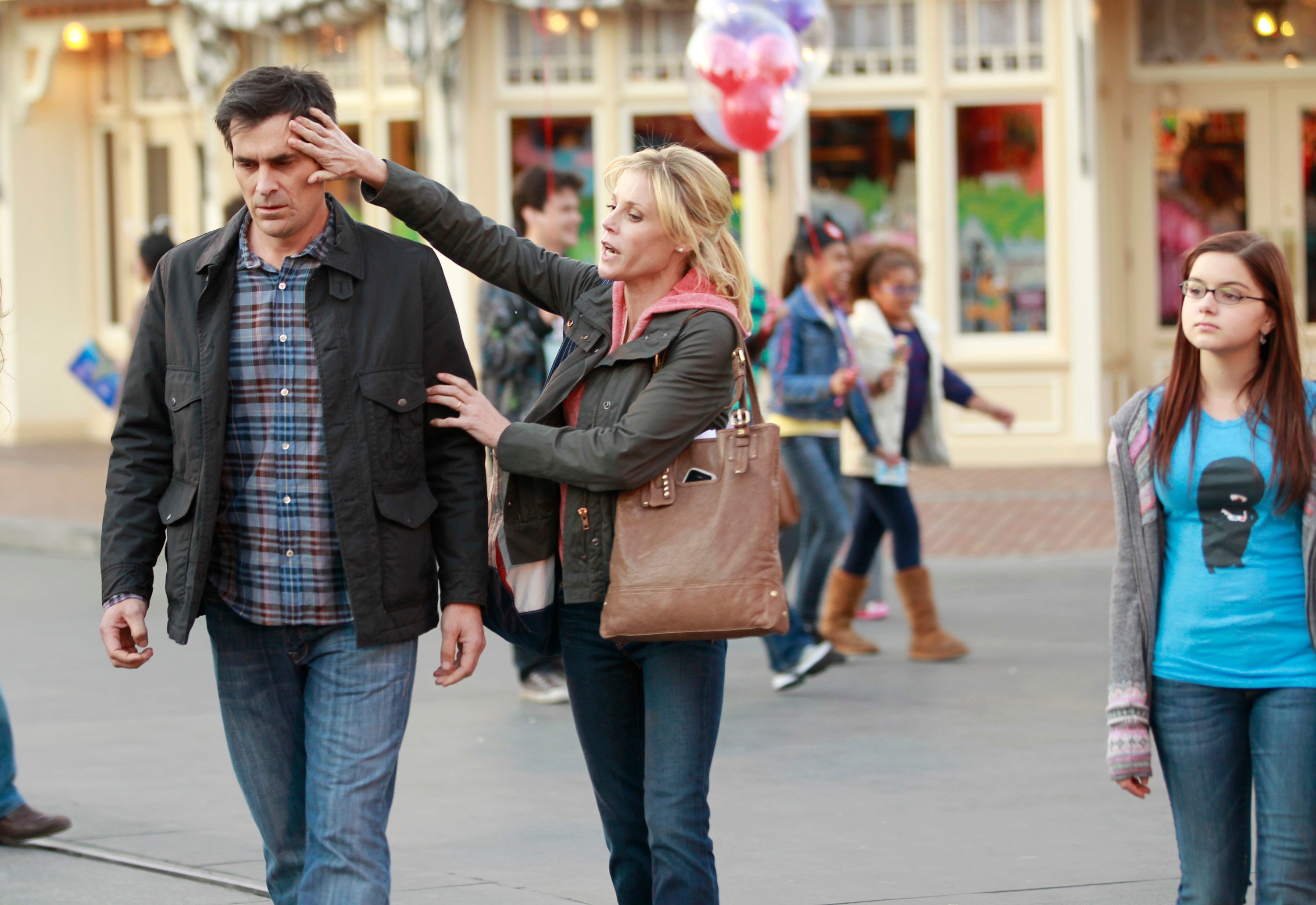 Indiana Jones Adventure
Luke is pretty excited about hitting up the roller coasters with his father, especially now that he's tall enough to ride Indiana Jones Adventure. Unfortunately, before jumping on the ride, these characters have a wait in line. 
Even worse is that Phil discovers roller coasters impact him differently from when he was a kid. After going on this ride with Luke, Phil has to sit down for a minute to recover. 
Splash Mountain 
Sure, fans don't actually see the characters riding on this roller coaster, but, because Gloria is in uncomfortable shoes, she's excited to go on a ride where she can take them off. 
Jay even bought a picture of Gloria and Manny on the ride. Manny was busy on his phone with a school project, while Gloria was screaming with her poncho and a high heel in each of her hands. 
Dumbo the Flying Elephant
After seeing Manny on his phone all day, Gloria finally decides to tell him to stop burying his face in business. Manny agrees to be more present and notices a girl in another elephant who had been smiling at him. She's not his type, he said, but it's still nice to be noticed. 
It's on this ride that Manny also notices Gloria's new yellow shoes — a nice departure from the high heels she was wearing earlier.
The Disneyland Story Presenting Great Moments with Mr. Lincoln
Throughout this episode, Jay tells the story of his divorce from his first wife, DeDe, which was really kickstarted by an argument they had prior to taking young Claire and Mitch to Disneyland. She decided not to go on the family vacation, so Jay took the kids. 
His plan was to get home and tell DeDe that he was over but after stopping at The Disneyland Story Presenting Great Moments with Mr. Lincoln, he knew he wanted to stay with the children until they were older. The universe rewarded him with Gloria. 
Big Thunder Mountain Railroad
Just how sick was Phil Dunphy on the roller coasters? In the credits scene, fans saw the father and son duo on the roller coaster, Big Thunder Mountain. Phil started off super happy but as the ride progressed, he got more sick. Eventually, he fell asleep. 
The "Disneyland" episode of Modern Family is available for streaming on Hulu.