All 'Modern Family' Christmas Episodes, Ranked by Fans
There's nothing like celebrating Christmas — especially ABC's Modern Family. In its 11 seasons, the comedy boasts a handful of Christmas episodes for fans to binge-watch. Which are the best Modern Family Christmas episodes of the award-winning series? Here's what fans had to say.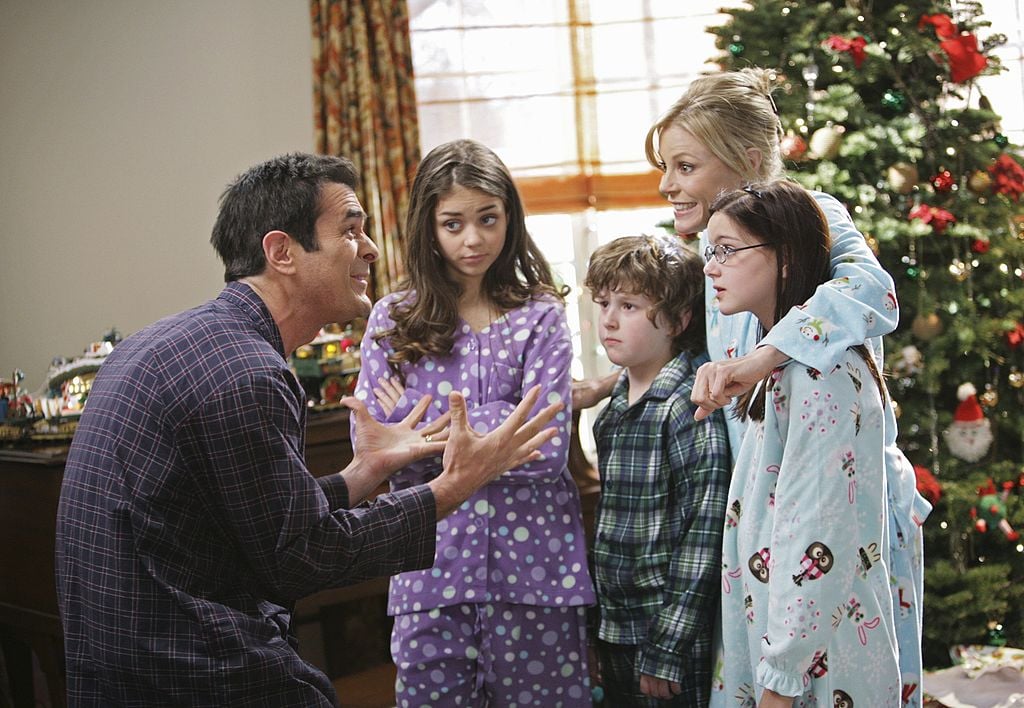 6. Haley's pregnancy revealed in one of the 'Modern Family' Christmas episodes
During season 10, Haley had a huge announcement for the rest of her family. "Stuck in a Moment" is the episode that she and Dylan tell the family about their pregnancy. At the same time, Phil borrows the family Christmas tree for one of his house showings. Of course, there is plenty of jokes and holiday fun along the way.
While the episode features a turning point in the series, it ranks at the bottom among fans' favorite Modern Family Christmas episodes. According to IMDb, "Stuck in a Moment" rates as the lowest.
5. 'Modern Family' Season 11 Christmas episode was the final one
Modern Family Christmas episodes wrapped up with "The Last Christmas" in season 11. It features most of the family at odds with one another, such as Luke and Manny feuding over the latter's ex-girlfriend. Meanwhile, Jay attempts to recruit Claire to his dog bed business, and Gloria looks to join another real estate company without upsetting Phil.
Unfortunately, fans didn't think Modern Family saved its best for last when it came to Christmas episodes. "The Last Christmas" earned a 7.6 score from audiences, according to IMDb.
4. 'Modern Family' Christmas episodes began with 'Undeck the Halls'
No one likes a liar, especially during Christmastime. That was the theme of Modern Family's first Christmas episode "Undeck the Halls." In season 1, Phil takes it upon himself to find out which kid was smoking after seeing a burn mark on the couch.
Fans shared their thoughts on the inaugural Christmas episode. "'Undeck the halls' no doubt! Phil taking the tree away, about to put it back, and then takes it away again. And Phil saying, 'So I guess the couch came home from a stressful day and lit a cigarette' because that makes no sense," said one Reddit user.
3. 'The Old Man and The Tree' was one of season 5's best episodes
In this season 5 episode, everyone has goals for the new year. For Phil, that was reaching Canada on his elliptical machine. During "The Old Man and The Tree," Luke tries to help Phil reach his goal, while Cam and Lily get mixed up at a homeless shelter for the holidays. At the same time, Jay and Manny head into the forest to chop down their own Christmas tree, which proves to be a lot harder than it looks.
Some fans consider this Modern Family Christmas episode among the best in season 5. "I thought it was the best one so far this year. Loved the pace and getting right to the funny. I actually thought Alex's dysfunctional marriage to Santa was the best part," said one Redditor.
2. The 'Modern Family' 'White Christmas' episode takes the family to a log cabin
When the Dunphys, Pritchetts, and their "manny," Andy, head for a log cabin, they're welcomed with heat and a woman named Fig Wilson, whose family abandoned her on Christmas. Jay announces he's retiring, and to Claire's surprise, he's leaving Pritchett's Closets to someone named Chuck Finney. The biggest surprise is that Gloria invited Andy's girlfriend, Beth, to stay with them, even though Andy and Haley are seeing each other.
The Modern Family Christmas cabin episode was a hit with fans. "I love when Gloria brings Beth in and Claire pushes Haley back into the room. And then after you hear Gloria yell 'what,'" said one Reddit user.
1. 'Modern Family' fans love season 3's 'Express Christmas'
How does the cast of Modern Family celebrate Christmas when the Dunphys and Pritchetts are all busy on Christmas day? They scramble to celebrate Christmas a week early, on a day Phil calls "Express Christmas." This episode features a hectic shopping trip, Gloria's stun gun, and a heartwarming ending. Fans love this Modern Family Christmas episode so much, Dec. 16 has become its own holiday.
"'Express Christmas' will always be my [favorite Christmas episode,]" wrote one Reddit user. "The whole family working together so they can celebrate Christmas before they all leave – not a big deal anyway but the fact they wanted to celebrate together even though they're together every week."