1 'Modern Family' Episode Featured Jesse Eisenberg as a Competitive Eco-Friendly Neighbor
Modern Family featured appearances from several celebrities. For one episode, Jesse Eisenberg portrayed an environmentally conscious neighbor, who ends up feuding with Mitchell Pritchett and their family.
Here's what we know about this character from ABC's comedy series.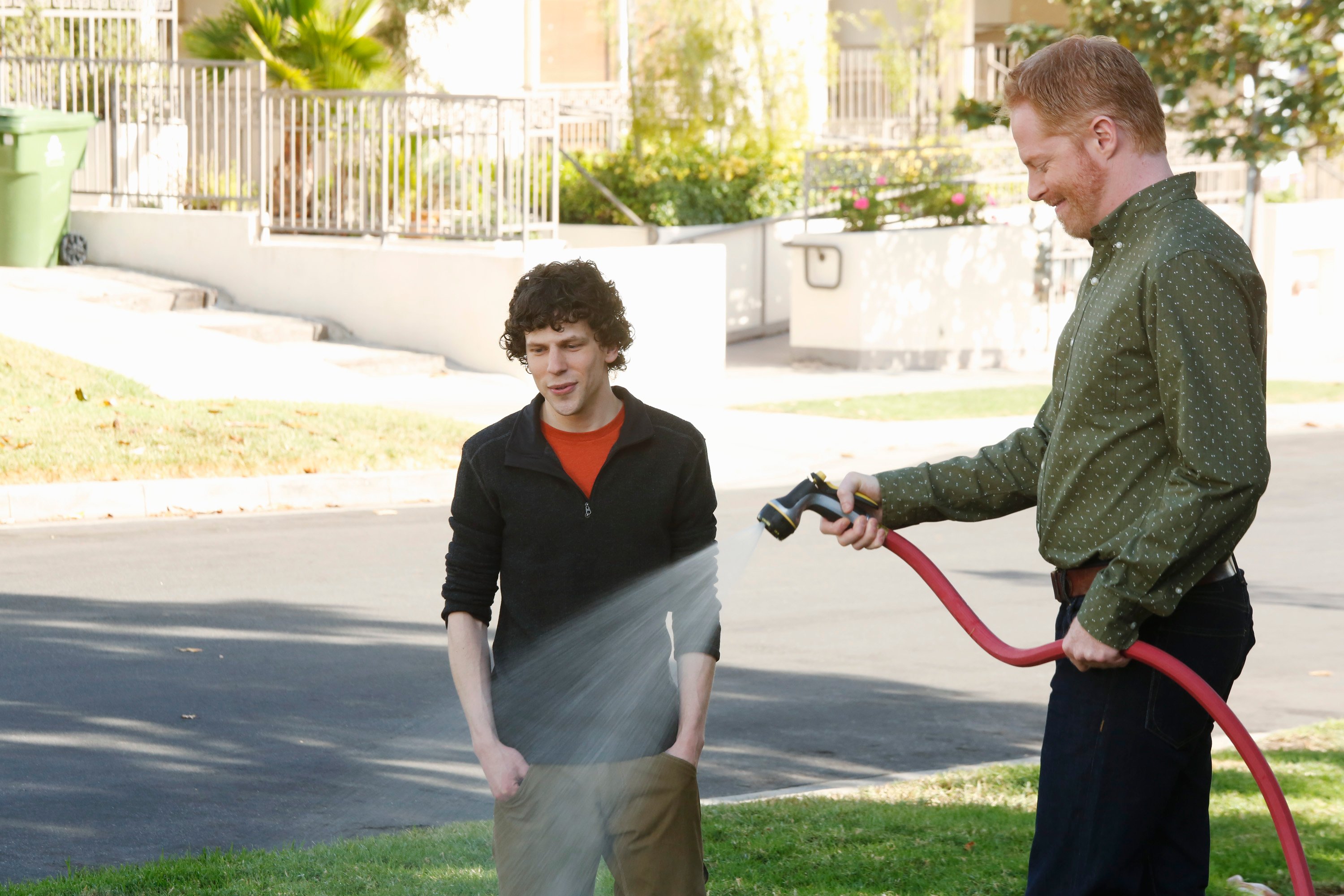 Jesse Eisenberg appeared on the 'Under Pressure' episode of 'Modern Family'
The character Mitchell Pritchett of Modern Family considered himself pretty "green." He drove a Prius and he was an environmental lawyer. He even recycled a baby (referring to Lily, who accidentally heard that comment from her father).
For Mitchell's neighbor Asher, though, what this character was doing wasn't enough to save the planet. He went over to the Pritchett-Tucker home to complain about their Air Conditioning Unit.
This environmentalist neighbor was portrayed by Jesse Eisenberg, the actor who appeared in movies like Now You See Me, Zombieland, and The Social Network. His cameo on Modern Family only lasted for one episode, titled "Under Pressure." During that time, his character feuded with Mitchell Pritchett
RELATED: Here's the 'Modern Family' Episode With 'Stranger Things' Actor Millie Bobby Brown
'Under Pressure' also featured other celebrity cameos, including Jane Krakowski
Just to prove how green he was, Mitchell Pritchett decided to go to Asher's house and brag about an award he earned as an environmental lawyer. Unfortunately, Haley dropped off a dollhouse for Lily that was protected by packing peanuts. The wind blew them into his neighbor's lawn.
While he was over there was Haley cleaning up the peanuts, he knocked over Asher's drum of recycled cooking oil. While cleaning up the mess together, the two tried to make peace. It didn't really work, but Mitchell eventually had a chance to brag about his accomplishment.
This episode also featured a celebrity cameo from Unbreakable Kimmy Schmidt's Jane Krakowski portrayed "Dr. Donna," a mother of a classmate of Manny who fights against Gloria for the attention of one teacher. John Benjamin Hickey also appeared in this episode, acting as a therapist to one member of the Dunphy family.
RELATED: Did Luke Dunphy Ever Go to College? Here Are a Few of Our Favorite Milestones of This 'Modern Family' Character
Millie Bobby Brown and other stars appeared in 'Modern Family'
Eisenberg wouldn't be the only guest star on ABC's award-winning comedy series. There were several cameos from celebrities like Kobe Bryant, Millie Bobby Brown, Billy Dee Williams, and Peyton Manning.
Lin-Manuel Miranda of Broadway's Hamilton portrayed a hopeful young inventor named Guillermo. Benjamin Bratt, of Disney and Pixar's animated film, Coco, portrayed Gloria's ex-husband, Javier Hectoro Delgado, for several episodes.
Several Modern Family cast members went on to appear on other television shows and films. Ariel Winter voiced the Disney Junior princess, Sofia the First. Ty Burrell and Ed O'Neill voiced characters for Disney and Pixar's animated film, Finding Dory.
Episodes of Modern Family, including the episode "Under Pressure" featuring Eisenburg, are available for streaming on Hulu.