'Modern Family' Fans Remember Fred Willard as a Member of the Dunphy Family
Although Fred Willard recently died, his legacy lives on through his work. For some fans, this actor is best known for his appearance on Modern Family as Phil Dunphy's father. Here's what cast members had to say about working with this comedy legend prior to the comedy show's final season.
Fred Willard appeared on ABC's award-winning comedy series, 'Modern Family'
The Dunphy's always have their lights on, but, unfortunately, 2020 brought the end of ABC's award-winning comedy series. Modern Family ended with its 11th season this spring, with fans saying goodbye to characters like Claire, Phil, Mitch, Cam, Gloria, and Jay.
Fans also said goodbye to Phil Dunphy's father, Frank Dunphy, who was portrayed by comedian, actor, and writer Fred Willard. As an extended member of the "Dunphy clan," this character offered love and support for Alex, Luke, and Haley.
Fred Willard portray Phil Dunphy's best friend and father, Frank Dunphy
As a remember of the extended Dunphy family, Fred Willard portrayed Frank Dunphy, Phil's goofy and fun-loving father, who lives in Florida. He would appear for some episodes, even one regarding death and its impact on the Dunphy-Pritchetts.
For one episode, Phil Dunphy's mother passed away. As a result, the entire family went to Florida for the funeral. Fred Willard, as Phil's dad, appeared throughout the episode, offering kind words to Alex and reassurance to Phil. In fact, Fred Willard portrayed Phil's dad for a number of episodes.
As the show wrapped on one of their last seasons, Frank Dunphy passed away. During his confessional, Phil said, "when I was growing up, he was the cool dad. He knew all the dances from Grease and he knew all the expressions. BFF: best friends forever, TMI: too much Information, BJ: blue jeans. [It] makes me feel lucky. "
"We didn't do much that day, but it might have been one of the best days I've ever had with my dad," he continued. "I just didn't know it would be the last."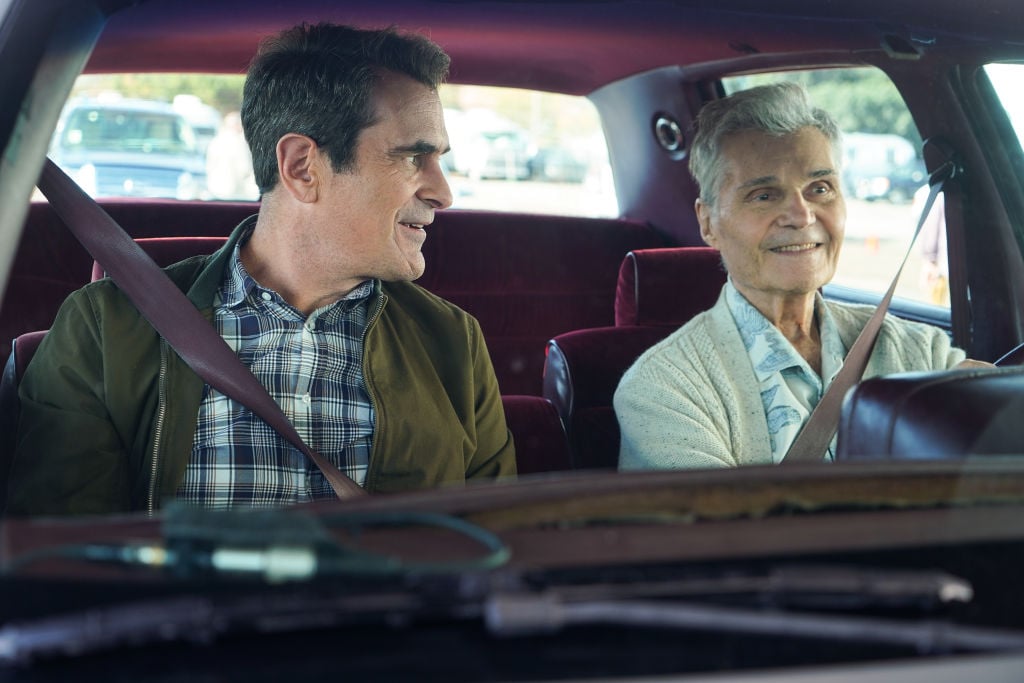 'Modern Family' fans shared their appreciation for Fred Willard on social media
On May 15, Fred Willard passed away at 86-years-old. Although Modern Family recently came to a close, fans of the award-winning comedy series took to social media, sharing their love for this actor. Even cast members wrote messages regarding Fred Willard following his passing.
"Rest In Peace sweet Fred Willard. You will always be a true original and I am so honored that our lives intersected. No one will ever come close to replacing your genius," Jesse Tyler Ferguson, who portrays Mitch on Modern Family, tweeted.
"RIP to one of our family members. It was always a pleasure having you on set. Thank you for the laughs! You will be missed, Mr. Willard," Rico Rodriguez, (who portrays Manny,) tweeted.
RELATED: Was Alex Dunphy the Valedictorian of Her High School? Here Are Some Milestones for This 'Modern Family' Character
RELATED: Is 'Modern Family' on Disney+? How to Watch the Last Episode of ABC's Comedy Series