'Modern Family:' Why Joe Isn't the First Name and Jay and Gloria's Son
When most Modern Family characters refer to Jay and Gloria's son, they typically call him Joe. When it comes to this character's first name, though, it holds a special meaning for Gloria and her mother. 
Here's what we know about this character from ABC's comedy series.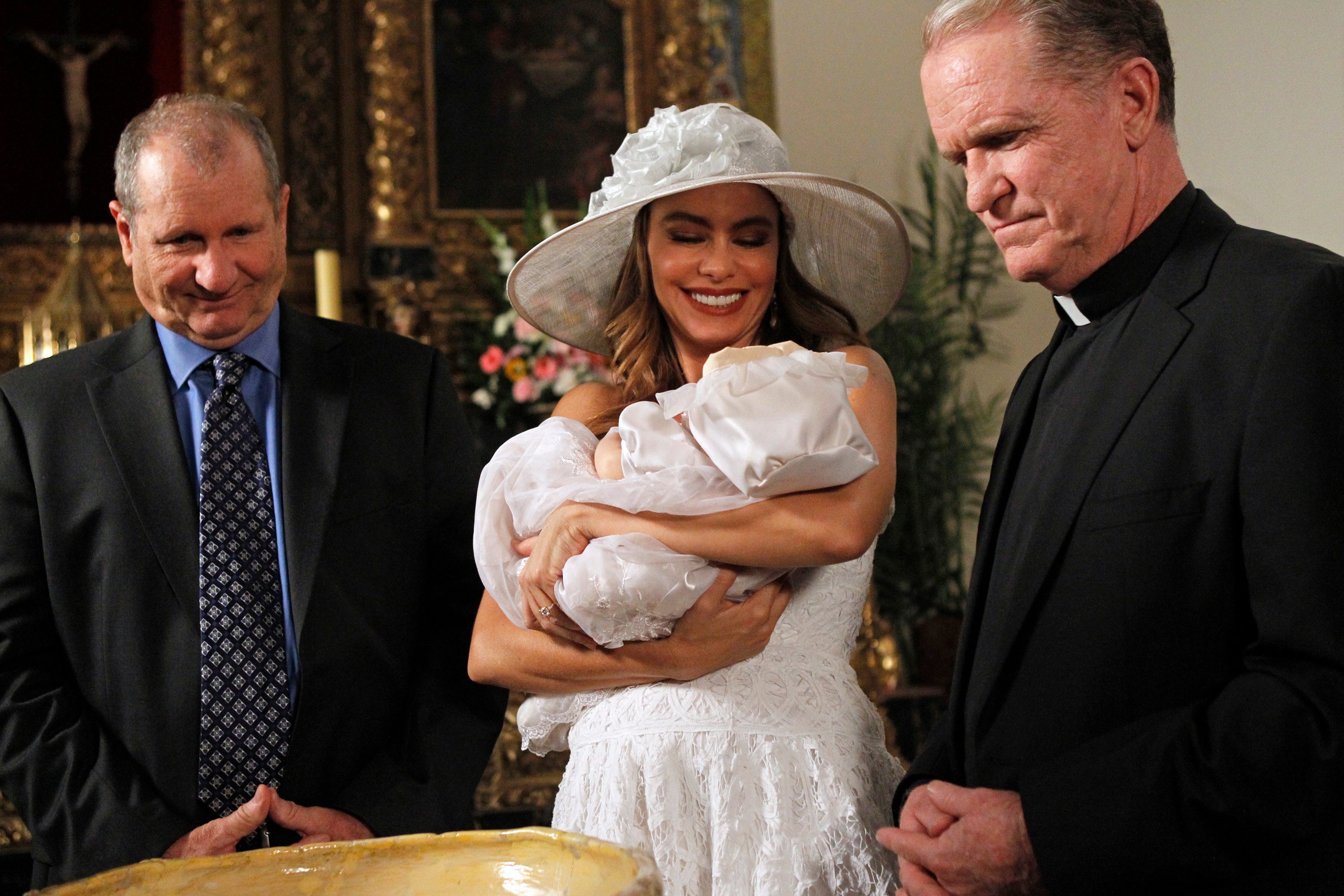 Jay and Gloria had a son together on 'Modern Family'
Gloria had a son, Manny, prior to marrying Jay Pritchett. However, after a few seasons, Jay and Gloria had their own child together. 
Following the birth of Jay and Gloria's son, a few more relatives stop by the Pritchett home. There's Sonia, Gloria's sister, who has more than just a little crush on Jay. There's also Pilar Ramirez, Gloria's mother, who is honest about how much she doesn't like Jay. 
These members of the extended family were there for the child, though, as his christening approached. According to Jay's mother-in-law, the child's full name is Fulgencio Umberto Pritchett."
Fulgencio was her husband's first name, she explained. She also brought a gown for the baby to wear, saying all the men in their family wore it for their respective christening ceremonies. Jay is quick to point out that the initials are "FU Pritchett," which was exactly how he felt. 
Joe's full name is Fulgencio Joseph Pritchett
After plenty of arguing with Gloria and her family members, Jay learned how special the name Fulgencio was to Gloria. When he was christened, with Phil and Claire as the godparents, Jay said that their child's full name was Fulgencio Joseph Pritchett. 
Gloria thanks her husband, but he's quick to tell her that they're never going to call him by his first name. For the remainder of this comedy series, the character was most often called Joe by both his parents and other members of the Pritchett-Dunphy-Tucker clan. 
Joe became a part of the 'Modern Family'
As this character grew up on Modern Family, fans saw his personality shine. He loved animals, even befriending a goat while spending Thanksgiving with Mitch and Cam. He also loved his older brother, Manny, and the family dog, Stella. 
After over 10 years of new episodes, this comedy series has come to an end. During an interview with Teens Wanna Know, the actor who most recently portrayed Joe, Jeremy Maguire, discussed his final moments with the cast. 
"The final scene that I filmed was the last and final scene for everyone at the same time. It was our last hug," Maguire said. "The emotions in that hug were so real for us all. When we were done filming it they wrapped each one of us individually with a final hand clap. Every cast and crew member and everyone else watching us film had tears in their eyes. I'll never forget that day."