'Modern Family:' Here Are Some 'Inspirational' Phil's-Osphy Quotes to Get You Through These Trying Times
What would Phil Dunphy do? Here's a collection of some of our favorite 'Phil's-Osophy' quotes, featured in the ABC comedy series, 'Modern Family.
The world can't be that awful if Phil Dunphy is in it. Although the coronavirus (COVID-19) pandemic might've left Modern Family fans feeling a little distant, there are some quotes from Phil's-Osophy that'll help them feel right at home. Here are a few of our favorites. 
'Never be afraid to reach for the stars because even if you fall, you'll always be wearing a Parentchute'
TM. Although families may be social distancing right now, there are still ways to connect with one another. For Haley Dunphy away at college, that meant video chatting with her mom and her sister. For Jay Pritchett and his brother, that means calling to wish each other a happy birthday. 
'If you're ever in a jam, a crayon scrunched up under your nose makes a good pretend mustache'
Whether you're looking for something creative to do or just looking to shake up your zoom meetings, Phil Dunphy suggests a good disguise. One person who knows all about dressing up, though, is Cam. Before he worked as a football coach, Cam was a professional clown. (But, as he would say, once a clown, always a clown."
'When life gives you lemonade, make lemons. Life will be all "what?"'
This is definitely one of those "when life gives you lemons" moments, or rather "life gives you lemonade." For Alex Dunphy, though, her "life gives you lemons" moment was when she didn't get into Havard. She did, however, end up going to Caltech, graduating at the top of her class, and landing a pretty sweet job with her mentor and Haley's ex-boyfriend, Dr. Arvin Fennerman.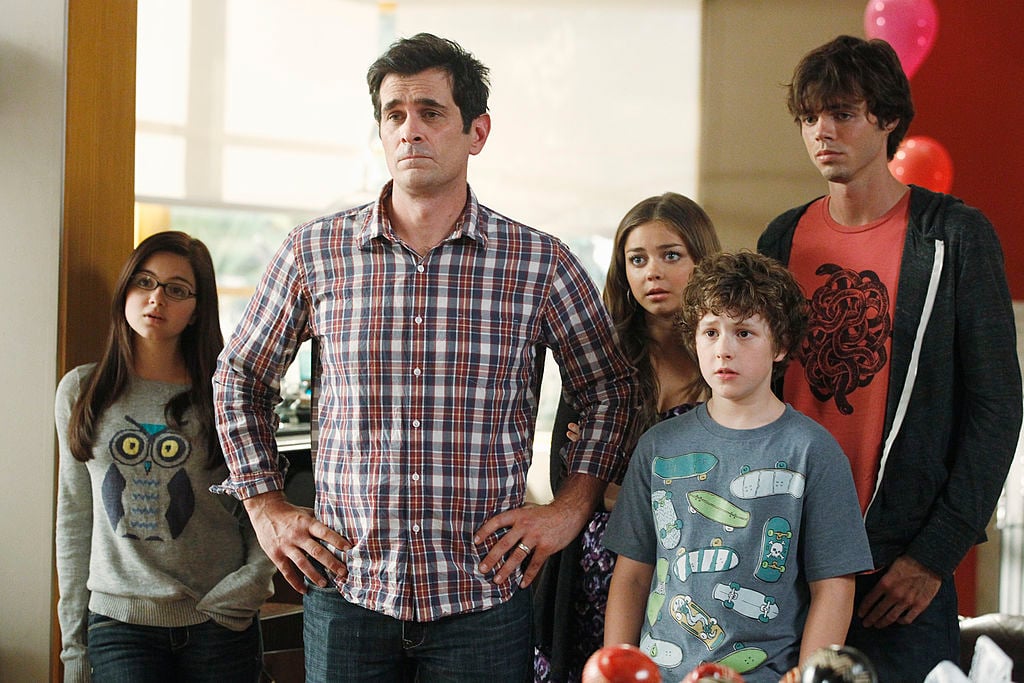 'The most amazing things that can happen to a human being will happen to you if you just lower your expectations'
Although it's important to stay optimistic, Phil Dunphy suggests that sometimes, a positive attitude just comes from having super low hopes. There was one time when Phil wanted an iPad for his birthday and Claire promised she'd get one for him. 
Because she overslept, she couldn't get him one and out of disappointment Phil heads to the batting cages where another set of unfortunate surprises occur. After basically giving up on having a happy birthday, Luke and Claire manage to get him an iPad, proving that wishes do come true… sometimes. 
'Always look people in the eye. Even if they're blind. Just say, 'I'm looking you in the eye.'
This is a favorite quote of Ty Burell, the actor behind the fun-loving Dunphy dad. During the group's interview with ABC News, Burell quoted this Phil's-Osophy, as the rest of the cast members shared their thoughts on the series coming to a close. 
After 11 seasons and a handful of Emmy Awards, Modern Family said its "Modern Goodbye," earning its place as one of the most popular sitcoms in television history. Don't worry, though. Their porch light is always on (and plenty of episodes are available for binge-watching on streaming platforms like Hulu.) 
RELATED: Did Luke Dunphy Ever Go to College? Here Are a Few of Our Favorite Milestones of This 'Modern Family' Character
RELATED: Was Alex Dunphy the Valedictorian of Her High School? Here Are Some Milestones for This 'Modern Family' Character