Molly Yeh's Clever Ingredient Swap Transforms Tabbouleh Salad Into a Low-Carb Feast
Food Network host Molly Yeh puts her own clever spin on tabbouleh, a salad normally made with the whole wheat grain of bulgur.
With one simple ingredient switch, the Girl Meets Farm star turns this classic Middle Eastern staple dish into a low-carb star.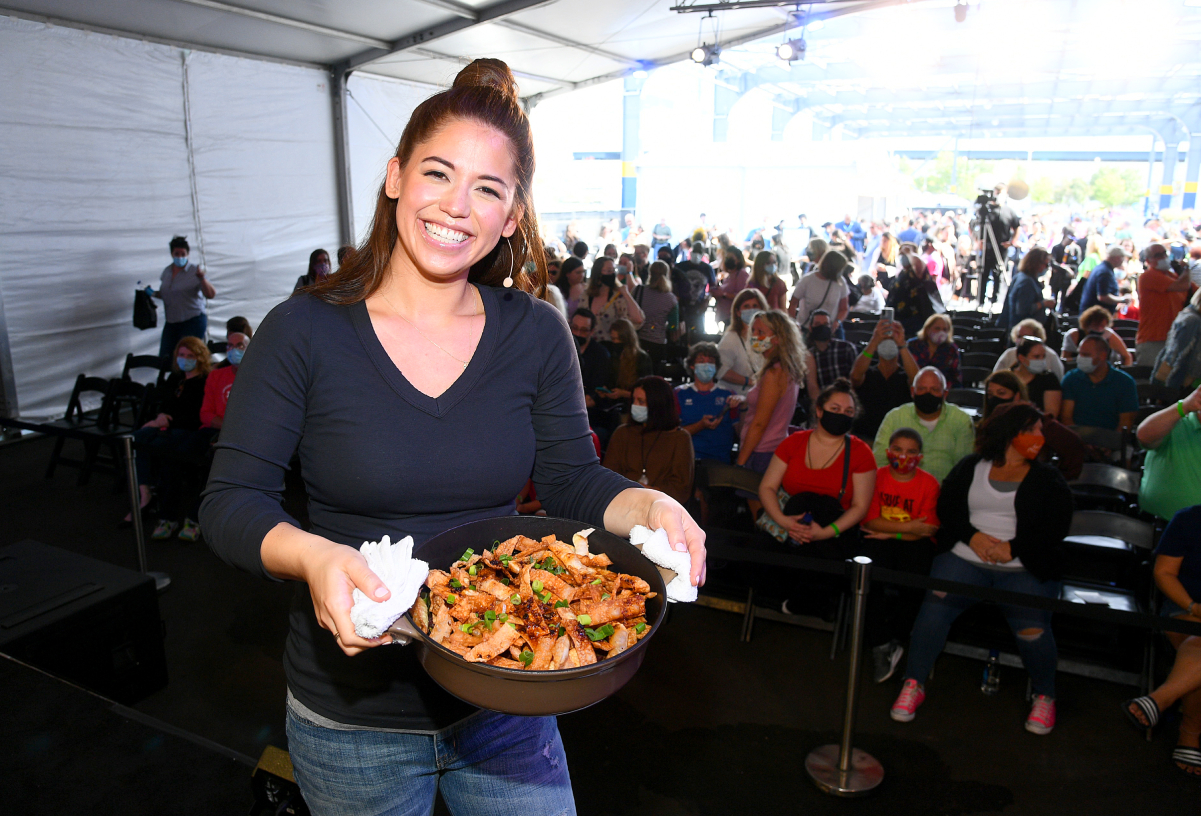 The culinary personality's salad recipe is a breeze
While bulgur wheat is traditionally featured in tabbouleh salad, Yeh dispenses with tradition and replaces the grain with cauliflower rice. The popular ingredient mimics the tabbouleh's chewiness and is supported by a cast of fresh herbs and other ingredients. Many fans of the iconic dish might not even notice that the grain is replaced in the recipe.
Yeh's recipe includes, of course, cauliflower rice, extra-virgin olive oil, crushed red pepper, chopped scallions, diced Persian cucumbers, sliced radishes, lemon juice, chopped onion, and fresh cilantro, mint, and flat-leaf parsley.
The recipe itself is incredibly easy and makes a fantastic side dish alongside any meat or even falafel. It can also be enjoyed as a light vegetarian meal. "It makes me feel better about eating the whole bowl," Yeh says in the Food Network video, below, for this recipe. "Because cauliflower is good for you."
To make Yeh's cauliflower tabbouleh, cook the cauliflower rice. Then toss it with all the other ingredients in a large bowl. That's it!
You can find the complete recipe and reviews on Food Network's site.
Yeh's cauliflower tabbouleh is all about herbs
The cauliflower in Yeh's dish (as bulgur does in the traditional recipe) sponges up all of the flavors of the pepper, scallions, radishes, and lemon. And especially of the herbs with which, the chef writes on her blog My Name is Yeh, she has a "really complicated relationship."
She says of herbs, "1) i love them, 2) but apparently not enough to be able to keep them alive when i grow them myself, 3) and apparently not enough to use them up before they go bad when i buy big massive bunches at the store."
Yeh noted that growing mint, in particular, has led to her yard being "covered in mint," resulting in delicious recipes including "fresh mint coffee, fresh mint milkshakes, fresh mint everything else … does anyone else have this problem with herbs or just me?"
Food Network reviewers embraced Yeh's spin on tabbouleh
While tabbouleh purists will insist on the use of bulgur in this dish, many home cooks chimed in on Food Network's site to note how surprised they were at how much they loved Yeh's take on the salad.
"This is a tasty salad and much like the one from my grandmother which was authentic and used bulgur wheat and no cauli. I actually like this version as much or even better," one reviewer said.
Another home cook said that their decision to not cook the cauliflower rice just added to the salad's freshness: "This salad was a great addition to our family trip to the cabin. Especially for our gluten-free family members! Since I riced my own cauliflower I didn't microwave the cauliflower which kept the cauliflower crunchy and fresh."
RELATED: Try Molly Yeh's Intensely Decadent Turkish Coffee Brownies