Molly Yeh Says Her Shawarma Stuffed Peppers Are 'Colorful Little Bowls of Meaty, Juicy Goodness'
Food Network personality Molly Yeh's Shawarma Stuffed Peppers are the 'totally addictive' dish that's a breeze to make.
Food Network personality Molly Yeh's stuffed peppers, shawarma style, are a filling and delicious dish.
Reflecting the seasonings found in the popular Middle Eastern street food, Yeh's stuffed peppers, she jokes, are "easier to make than they are to eat."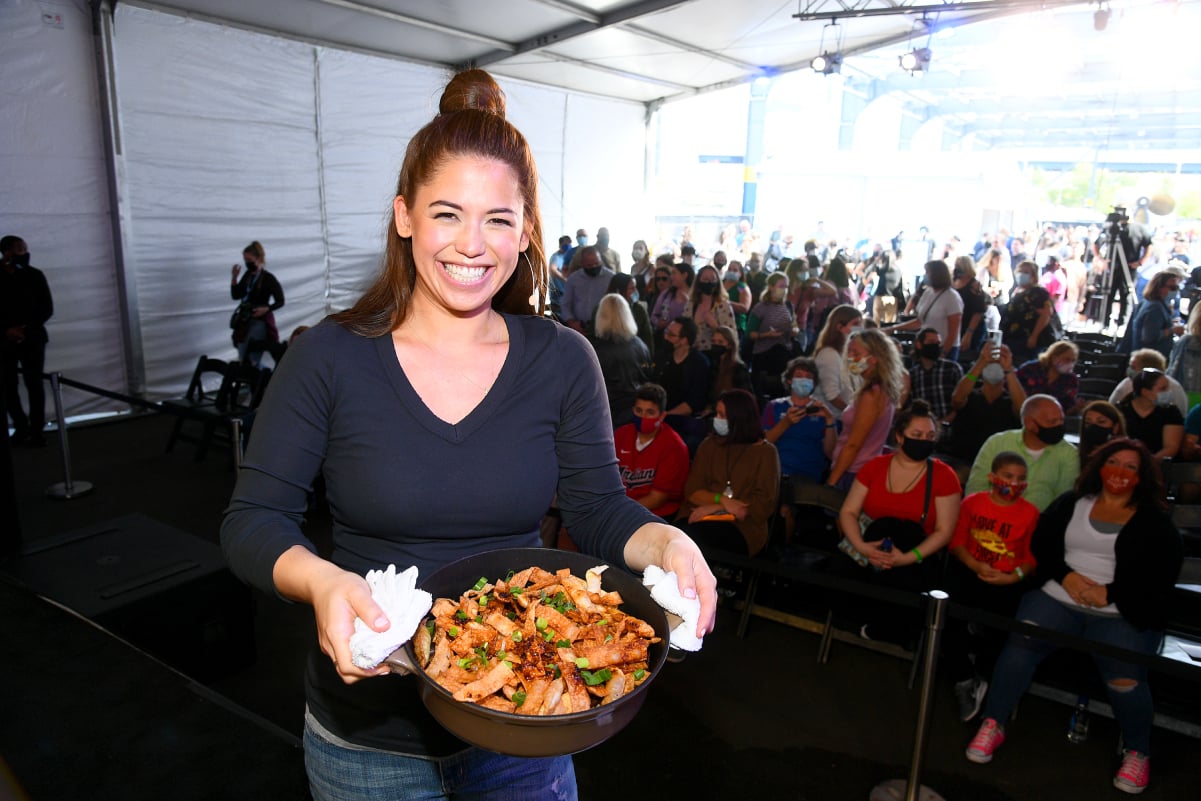 Yeh's shawarma stuffed peppers are a flavor-packed delight
The Food Network star's stuffed peppers recipe comes together quickly with the following ingredients for the peppers: a chopped onion, ground turkey, cooked basmati rice (or for a vegetarian version of this dish, use cauliflower rice), canned diced tomatoes, four large or six small bell peppers, tahini sauce, one lemon, and fresh herbs for serving.
For the shawarma seasoning, you'll need: garam masala, curry powder, powdered chicken bouillon, and ground turmeric.
As Yeh says on the culinary channel's site about this dish, "These stuffed peppers are inspired by the flavors of one of my all-time favorite street foods, shawarma. Shawarma is a Middle Eastern dish consisting of seasoned meat cooked on a spit and then shaved thin. The spice combination typically found in shawarma is savory, warm, and totally addictive!"
Get the complete recipe, video, and reviews on Food Network's site.
Molly Yeh's dish is topped with a creamy tahini dressing
In the Food Network video, above, for this recipe, the Girl Meets Farm host explains that "Typically, shawarma is made with lamb or chicken. I love to use ground turkey with these stuffed peppers just because I happen to always have it on hand."
She starts her "colorful little bowls of meaty, juicy goodness" by cooking the chopped onions in a pan, adding the shawarma seasoning as they cook ("You can buy the shawarma seasoning at some stores or you can make it").
The ground turkey is added to the onion mixture, along with the cooked rice ("This is a great way to use leftover rice"), and the tomatoes. "And that's it for my filling, it's so easy!," Yeh says.
The bell peppers are cleaned out and filled with the rice and meat mixture. Place them on a baking dish then in the oven at 400 degrees F for 35 minutes.
Mix the tahini sauce with the lemon and drizzle over the finished peppers once they're out of the oven. Sprinkle the fresh herbs on and these are ready to eat!
Reviewers loved Yeh's spin on regular stuffed peppers
Lighter and even tastier than conventional stuffed peppers, Yeh's recipe is a keeper, according to many Food Network home cook reviewers.
"These are delicious! Easy to make and a nice change from traditional stuffed peppers. The tahini sauce really adds a nice flavor, too! Definitely will make again," one reviewer said.
Another home cook noted that they used cauliflower rice in the dish and it was just as delicious: "Really good. The tahini sauce is fantastic. I have my own shawarma blend, otherwise I followed the recipe exactly. Snuck in cauliflower rice and no one noticed with all of that flavor!"