'Money Heist' Fans Uncover Alarming Detail About the Professor and Alicia Sierra
Fans dug up an elusive clip from 'Money Heist' season 4 that has some worried for Professor.
In the final moments of Money Heist Part 4, Professor found himself in a precarious position. He beat himself up over Lisbon's capture, celebrated her release, and grieved Nairobi's shocking death. Heading into La Casa de Papel Season 5, there is too much hanging in the balance, and war is nigh.
The TV show's fast-paced, fresh trailer shows Tokyo, Rio, Denver, Palermo, and the rest of the crew armed to the gills and dodging bullets. Even Marseille is inside the building. But what's going on with Professor? Some fans think a season 4 "glitch" may provide a clue to his fate, and it's in Alicia Sierra's hands.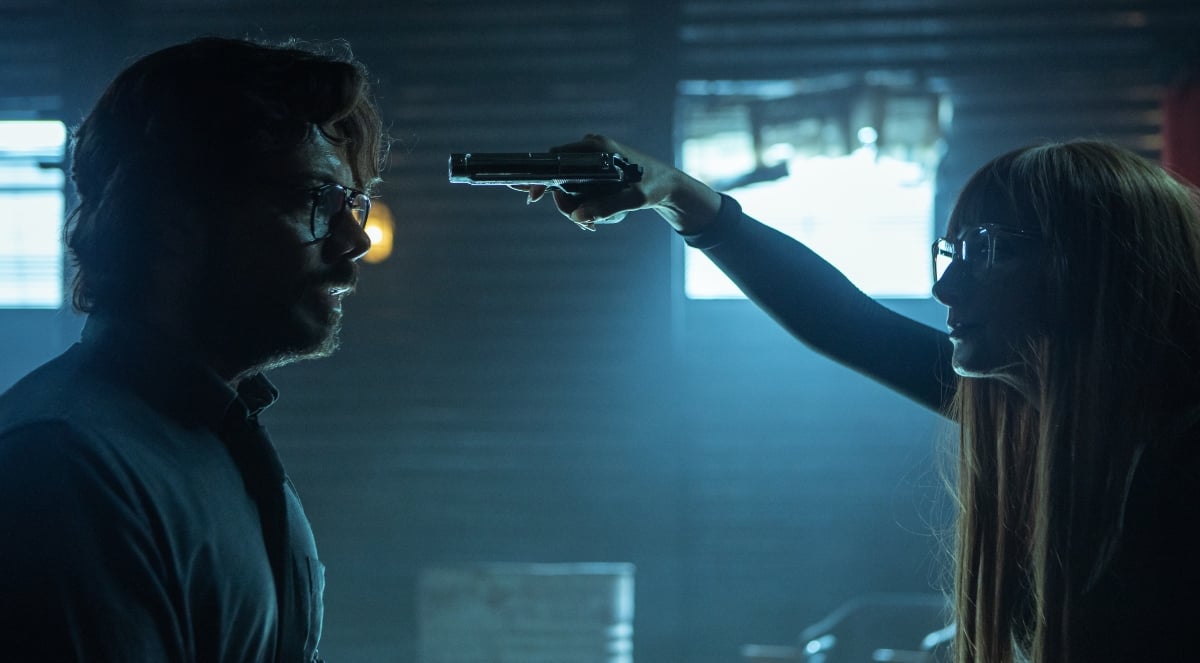 Professor is stuck with Alicia Sierra
Now is a prime time for a quick La Casa de Papel refresher for those who like to figure out the beloved Professor's next move. Does he even have one right now?
Unrelenting and cruel, Inspector Alicia Sierra is not anything like the detective Raquel used to be. In the closing moments of season 4, Professor had a long-distance huddle with the team as they regrouped in the Bank of Spain. A noised startled him, and he turned around to find Alicia pointing a gun at him. She fired one shot to warn him, and Professor closed the show out with his hands in the air.
Only the viewers know what happened to him. Peep the teaser trailer for part 5, and there's a shot of him with his hands bound behind his back with rope. And he's still in his warehouse hideout.
'Money Heist' fans discover 'secret' footage in part 4
Savvy Redditors who have watched the show in multiple languages believe they discovered a clue in Money Heist season 4's closing scene. In the Hungarian and Hindi versions, one can hear a gunshot and breathing — audio only — when the scene fades to black. It's right before the credits roll.
It sounds like the bullet hit a person or thing, and it could be Alicia who's breathing heavily. Someone uploaded a clip to YouTube, and now some fans think either the Professor or Alicia will be wounded in a future episode.
Is she hurt or simply in labor? Remember she's pregnant and holding a gun, but that doesn't mean Professor is without a backup plan. Or maybe there's nothing going at all.
Some fans think Alicia will defect to the Resistance
While this is some buzzworthy scoop, many viewers suspect that Alicia is going to switch sides. Would Professor go for that? She's responsible for Nairobi's death. That was a sick game she played by luring Nairobi to the window.
Alicia is too far along in her pregnancy to escape with the team, and it would be difficult for her to travel to an international, covert location. But if they get the gold, the persuasive Professor could always pay her off. She has no job and no reason to be loyal to the government.
Which scenario is most likely? Alicia Sierra is ruthless, cold, and vindictive. Her actions harmed a member of the Resistance's family. However, looping her in could mean the difference between freedom, jail, or death. And that's if no one in the warehouse or the Bank of Spain loses.
Money Heist Part 5, volume 1 arrives on Netflix on Sept. 3.