'Money Heist' Season 5: Fans Predict Which Gun-Toting Member of the Crew Will Die
The Money Heist creative team teased fans with footage of Spain's favorite thieves in peril. No one in the show is safe. And no one is guaranteed to make it out alive, including La Casa de Papel's prevailing narrator, Tokyo. So far, we've said goodbye to Berlin, Moscow, Nairobi, and Oslo, and those deaths hit the team hard. More is yet to come, and there's one battle-ready person who many fans think will be the next one greeted in the afterlife.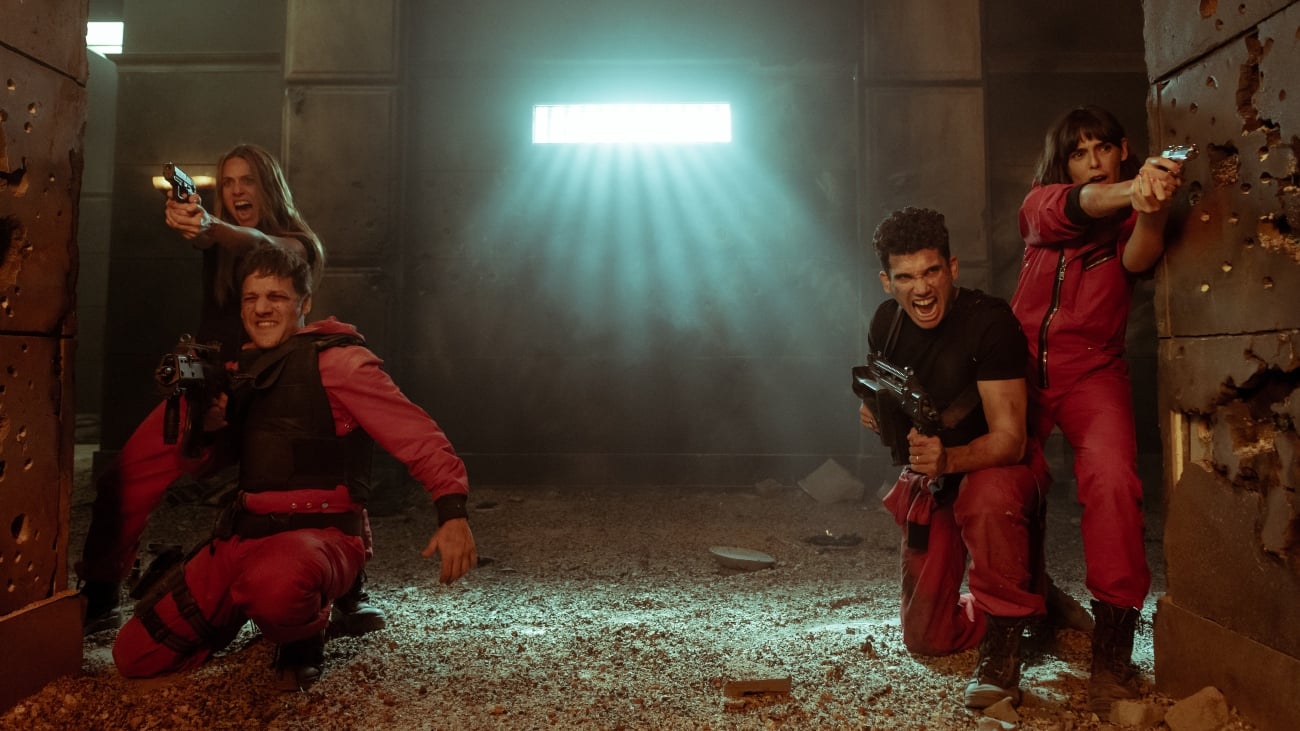 Some fans think Denver will die in 'Money Heist' Season 5
After watching the newest trailer for Money Heist, fans are already wagering on which characters will die in the Bank of Spain. Denver's name keeps coming up on social media. Why? That world where the four dead robbers are hanging out is a clue. A clip from the series showed Denver — and one other fan-favorite character — sharing snacks with Moscow while Berlin, Oslo, and Nairobi watch from the background. 
Viewers have grown to love most of these characters and have watched Denver grow. He lost his dad Moscow in the first season, fell in love with one of the hostages (Stockholm/Monica), and is now raising a baby with her. And that laugh. He has the most original laugh in the show.
However, Denver is a fighter and unafraid when it comes to war. He'll protect those he loves and will take a bullet. And some Redditors think he'll die defending Stockholm from the military or Arturo.
Others believe the Professor won't survive
It's important to point out that in the same afterlife scene with Denver and Moscow, two other living members of the crew were sitting there: Professor and Oslo. They hand him a plate of cookies as Nairobi — in her red dress — looks on. Though it would hurt, it would not be surprising if the mastermind died. Everyone — including the audience —would shed tears.
Additionally, people already think the professor is a goner because former inspector Sierra has him in her claws. Judging by the season 5 trailer, she plans to torture him. She's out of a job and is obsessed with shutting the team down. She wants no parts of Viva la Resistencia!
Professor's death would make him a martyr to the Madrid public and it would crush Tokyo and the rest of the band. He's carrying out a mission inspired by his father, ignited by Berlin, and executed by his makeshift family. It would make for a heck of an ending to this entire saga.
What we do know about 'La Casa de Papel' Part 5
Expect 10 full episodes in season 5 that are split into two volumes. Netflix's synopsis for the series provides only a snapshot of what's to come, and it doesn't sound like an all-around victory:
The gang has been shut in the Bank of Spain for over 100 hours. They have managed to rescue Lisbon, but their darkest moment is upon them after losing one of their own. The Professor has been captured by Sierra and, for the first time, doesn't have an escape plan. Just when it seems like nothing else could go wrong, an enemy comes on the scene that is much more powerful than any they've faced: the army. The end of the greatest heist in history is approaching, and what began as a robbery will turn into a war.
So many cards are stacked against them, and it's a given someone else will die. It could very well be Denver and Professor dancing to "Bella Ciao" on the other side.