'Money Heist' Season 5 Is Actively Filming and a Dead Character Is Back
A 'La Casa de Papel' fan favorite is returning from the dead for season 5.
Now that the fate of La Casa de Papel is known, fans can settle in with the news that season 5 will truly go out with a bang. With the gang holed up in the Bank of Spain and the Professor under Inspector Sierra's thumb, it's a given they won't go out quietly. Cue the theories, storyline wishes, and ships for Money Heist's final bow on Netflix.
Death is inevitable, but so are flashbacks to remind everyone of the good times, the challenging times, and THE PLAN. With that in mind, one character is coming back in the last episodes, leaving us to wonder how his presence will help tie up all the loose ends in the last season.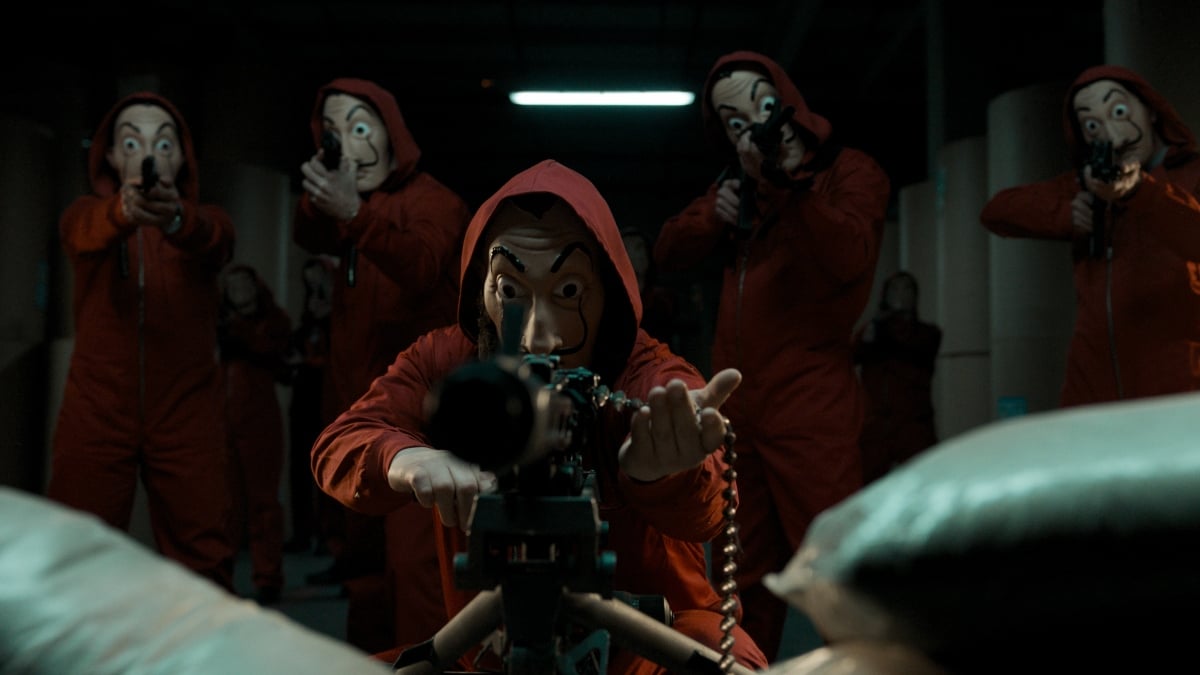 'Money Heist' production is up and running
Last month, we shared that series' showrunner Álex Pina revealed he's writing part 5 of La Casa de Papel. Weeks later, Netflix confirmed the news and added that it would be the series' last round. What else do we know about season 5? More war.
We also know that production has officially begun in Spain and the actors are reporting to set. Luka Peroš (Marseille), Álvaro Morte (Professor), Darko Peric (Helsinki), and Najwa Nimri (Sierra) have all dropped Instagram posts to share that they are back to work and the countdown is on.
A fan-favorite is also joining the party.
Berlin is coming back too
We all know Berlin is dead, but after he popped up in part 4 via flashbacks, some fans wondered if his work was truly done in La Casa de Papel. Rest assured, we'll be seeing him again.
Actor Pedro Alonso shared a few LCDP snaps on his Instagram account, and in the one below, he's on a plane with co-stars Diana Gómez (Tatiana), Patrick Criado, and Peros — who took the picture. Criado is playing a new character in the upcoming season.
Clearly, Berlin and Tatiana are featured in part 5. Set photos from Netflix show Alonso and Criado in scenes together. There's a good chance that Criado's character is part of the Money Heist squad.
How Berlin could show up in 'Money Heist'
Part 4 dedicated an entire episode to Berlin's wedding titled "La Boda de Berlin" and viewers learned about Marseille's connection to Andrés (Berlin) and Sergio (Professor). We also learned more about the original plan and Palermo's role in it, shedding light on why he felt qualified to take over at the bank.
It is likely the rest of the plan will be revealed through flashbacks with Berlin and those privy to its finest details. Could Tatiana be part of that blueprint or Professor's emergency fallback? It's possible.
The other reason we're guaranteed to see Berlin is much sadder. As with Nairobi, he'll be there to welcome another member of the heist family into the afterlife. The question is who will it be?
Creator Álex Pina admitted he writes as he goes along, so fans probably shouldn't expect too many hints to drop between now and part 5's release. For now, we can wait for Berlin and the others to yell "Bella Ciao!" one last time.