'Money Heist' Season 5 Vol. 1: Fans Mourn Badass Character's Death
After waiting more than one year for the Money Heist Season 5, volume 1 kicked the series finale episodes off with tension, flashbacks, and more tension. The gang wiped their tears following Nairobi's death so they could get back to business — and in this case, business means war.
Blood, sweat, and tears aren't enough to describe what the band has gone through, and fans have been with them every step of the way. That's why it's no surprise that the series' latest death left people in shock and anguish over this kickass character. With only a few episodes left, the TV show won't be the same.
[Spoiler Alert: This article contains spoilers for Money Heist (La Casa de Papel) Season 5, Volume 1]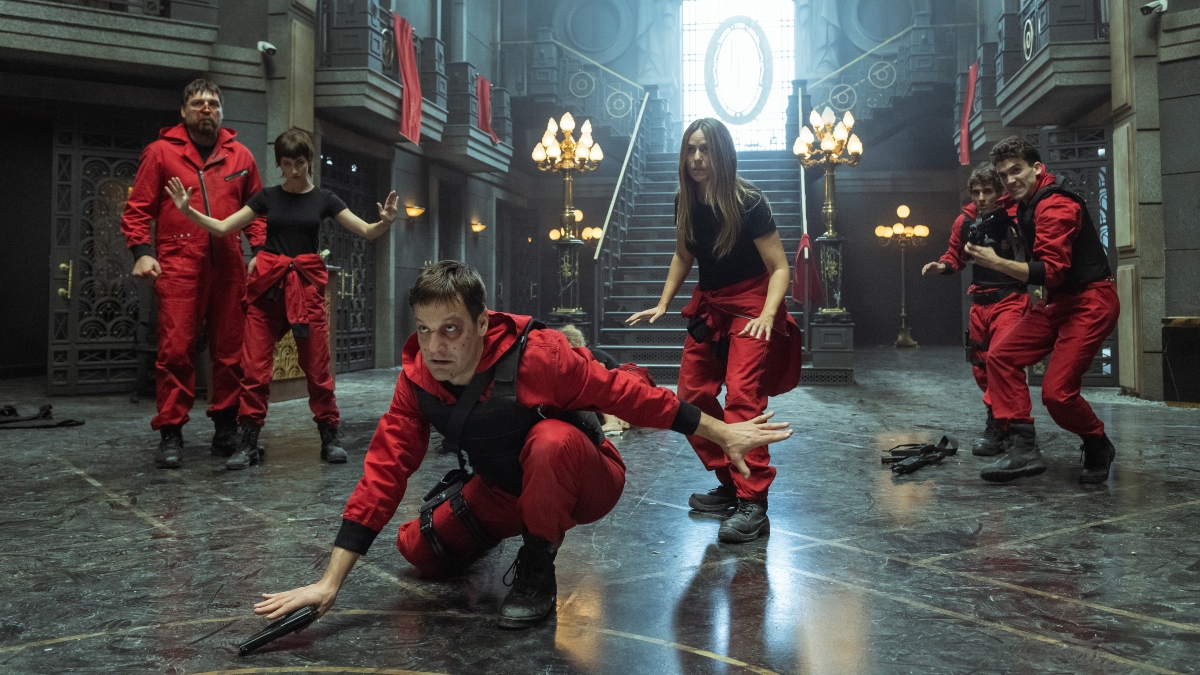 'Money Heist' fans sad that Tokyo died
Fighter. Impulsive. Wounded. Lover. All these words and more can be used when speaking about Úrsula Corberó's Tokyo, the fallen soldier. And now everyone must speak about her in past tense because she's dead. Tokyo went out like a boss, and she took Gandía with her.
It was hard not to binge watch all five episodes of volume 1 in one sitting, and Money Heist trended on the internet on its Sept. 3 release date as fans collectively mourned Tokyo. After taking five bullets from snipers, she continued to fight, willing to shoot a gun until her arms fell off. Too injured to jump down the dumbwaiter in time, she sacrificed herself when Sagasta's team breached the kitchen.
Tokyo went out in a blaze of glory, and online, fans shouted, "No! Tokyoooooo!" Twitter, Instagram, and Reddit exploded with reactions, as many could not believe a main character died. Crying emojis and disbelief are filling up social media.
Many began a rallying cry similar to Nairobi's with "For Tokyo!" Others simply commented, "I'm still crying my eyes out." One Instagram user wrote, "Wow I just finished volume 5 and when I tell you my heart broke," echoing viewers across the world.
Tokyo went from annoying character to hero
To be honest, Tokyo has not been a universally loved fan-favorite character since day one. It's taken time to get there. When viewers met her in season 1, she clashed with Berlin, put the team at risk, and fell in love with Rio. As the story marched on, viewers saw how much she respected the professor and cared for the gang, but she also had a small beef with Raquel/Lisbon.
At times, she acted selfishly and recklessly which rubbed some in the audience the wrong way. Not everyone was of fan Tokyo in the beginning.
Somewhere in there, she matured a bit, redeemed herself in the middle of the heist, and had the courage to stand up for herself and the group. The bitter fight between the Resistance and Sagasta's black ops crew proved that she could hold her own. Part 5 brought us hero Tokyo. Locked, loaded, and ready for war. And fans love her.
This version of Tokyo was dedicated to Professor and the plan, loved her heist family dearly, and focused on taking Gandía's smug tail out. After selflessly encouraging Rio to live a new life, she will meet Nairobi at the picnic.
Fans wonder who will narrate 'Money Heist' Volume 2
What now? The battle isn't over with five episodes left for Money Heist. Up to this point, Tokyo has been the narrator for the series, but now that she is dead, fans wonder if someone else will take over.
Creator Alex Pina has not revealed if another character will handle those duties, so it's anyone's guess whether Professor, Sierra, or another person's voice will walk viewers through the finale. Tune in for volume 2 on Dec. 3.