Monsta X on Their Album 'The Dreaming' and Touring Again
Showbiz Cheat Sheet interviewed the K-pop group Monsta X about their new English-language album 'The Dreaming' and their thoughts on touring again.
Monsta X ended 2021 with a bang, releasing two albums and a documentary in the final months of the year. In May, the K-pop group is set to embark on the highly-anticipated No Limit US Tour.
Since debuting with Starship Entertainment in 2015, Shownu, Minhyuk, Kihyun, Hyungwon, Joohoney, and I.M have become known for consistently pushing the envelope. With their new English-language album The Dreaming, Monsta X once again showcase their ability to bring something new to the table every comeback.
Over email, Showbiz Cheat Sheet interviewed Minhyuk, Kihyun, Hyungwon, Joohoney, and I.M about the making of The Dreaming, what it was like releasing a concert film, and how they feel about touring again in the near future.
This interview has been edited and condensed.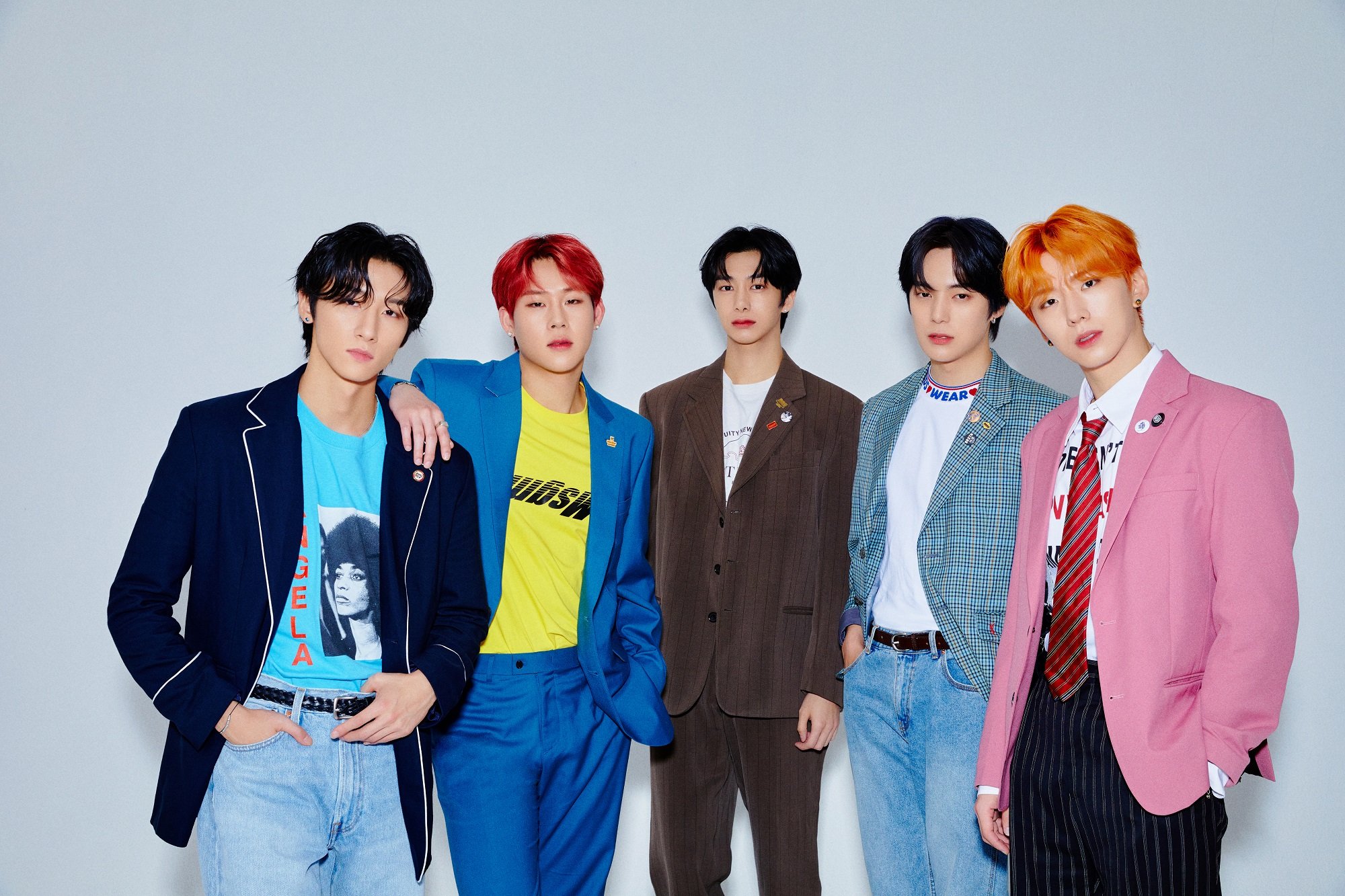 'The Dreaming' is Monsta X's second English-language album
Showbiz Cheat Sheet: Your first English-language album All About Luv was released in 2020. What did you learn over the past year leading up to the release of The Dreaming?
Joohoney: I think everyone has experienced hardships during these unprecedented times. As we get a lot of energy performing on stage, hearing the fan chants, and meeting our Monbebes, last year was a bit tough since we didn't have many opportunities in that regard. So I guess that we learned to be thankful for the opportunities given to us and to work even harder to keep our Monbebes entertained even when we are apart (physically!).
Showbiz Cheat Sheet: Do you have any specific goals you want to accomplish with The Dreaming?
Kihyun: Number-wise, we don't have a set goal as we don't think the numbers are the most important things when releasing an album. Instead, our goal for The Dreaming is to make our fans think "What can they NOT pull off?" by showing our unknown charms through our music. To go a step further, it'd be great if those who don't know about us could give us a second listen after listening to our The Dreaming album.
Showbiz Cheat Sheet: The Dreaming shows a new side of Monsta X. After being active in Monsta X for over six years, how do you continue to discover and show different sides of yourselves musically?
Hyungwon: I think we don't play safe and rather try to get adventurous when it comes to our music. Especially now that some of us are making our songs, we can definitely make songs that better suit our style or songs of a genre that we wanted to try out.
How the band made 'The Dreaming'
Showbiz Cheat Sheet: What was the process like working on The Dreaming, especially so close to the release of your Korean-language EP No Limit?
Minhyuk: Because the release of The Dreaming and No Limit were like only two weeks apart, most people might think that we had to prepare both albums on a very tight schedule. Luckily, we worked on these two albums on different time frames so the process wasn't as tough as many would expect.
Kihyun: Due to the pandemic, we had to record the tracks on The Dreaming remotely. Sometimes we had to wake up very very early in the morning to match the time zones, so my voice would crack when singing haha. Still, we got to work with many talented producers, and I'm more than grateful for this opportunity.
Showbiz Cheat Sheet: What do you hope Monbebes take away from the album?
I.M: The fact that we think of our Monbebes dearly and we're always trying to find new ways to communicate with them. The phrase "see you soon" is getting more and more clichéd as the pandemic is getting prolonged. Despite the current restrictions imposed on us, we will continue to do our best to communicate with our Monbebes so that we can stay connected. I hope this wish comes through in our album.
The K-pop group released a movie alongside 'The Dreaming'
Showbiz Cheat Sheet: Along with your new album, you made a movie called Monsta X: The Dreaming. What was it like seeing how far Monsta X have come over the years on screen?
Hyungwon: It felt a bit weird seeing how much we have grown over the past years — as if we were watching a memoir of another person. In retrospect, we've all had our highs and lows, and I think those moments are what have shaped us into who we are today.
Showbiz Cheat Sheet: There is a popular trend on TikTok where people have their "main character moment" and feel like they are the main character of a movie when something good happens. After releasing No Limit, The Dreaming, and a movie back-to-back, have any of you felt like you had a "main character moment"?
Minhyuk: I recently had my main character moment when we walked down the red carpet in LA for our movie! Who would have imagined that I would be walking down the red carpet of a movie about me?
Joohoney: Mine was when we won multiple music shows with "Rush Hour." That a lot of people enjoyed the song that I had created for our members was extra meaningful to me and truly felt like a "main character moment."
Showbiz Cheat Sheet: As a group, you've explored a lot of different genres and sounds. What do you want to try next as Monsta X?
Kihyun: Well, there's nothing much that I can say at the moment, but all I can say is that we all want to experiment with various sounds as much as possible. We set the signature "Monsta X power" style throughout the first few years of our debut but we also proved that we could pull off the fatal sexy concept through our recent album releases. So who knows? Maybe you could see Monsta X in a refreshing and cool concept! (Just joking but you get my point).
Monbebes can look forward to seeing Monsta X tour soon
Showbiz Cheat Sheet: You recently performed at multiple Jingle Ball concerts in December and will be going on tour later this year. How did it feel to perform in front of fans again, and what are you looking forward to the most when it comes to performing on tour?
Minhyuk: Showing some stages that we've never performed in front of our fans before. There are stages that we have not yet performed live but would love to enjoy with our Monbebes. Many new albums have come out since our last tour, so be ready to enjoy them with us!
Showbiz Cheat Sheet: Did you have any special New Year's resolutions, either individually or as a group?
I.M: My New Year's resolution for 2022 is to stay healthy — both physically and mentally. I wish to become a solid-standing person who can radiate positive energy to those around me.
Hyungwon: To add to that, I wish our group would maintain the strong teamwork we have right now. I think our teamwork is what keeps us going strong for so many years, and I wish that we can continue to learn from each other and grow together as brothers.