'Moon Knight' Season 2 Rumors Circulate Following Suspicious Marvel Studios Post
Marvel Studios mysteriously changed a tweet to call 'Moon Knight' Episode 6 the 'season finale' instead of the 'series finale' — does that mean season 2 is on its way?
Marvel's Moon Knight series will soon come to an end — or will it? Since the show's premiere on Disney+ in March, fans have been under the impression that it would run as a limited series. However, a mysterious tweet-and-delete from Marvel Studios has sparked rumors that Moon Knight Season 2 will arrive in the future. Here's what the tweet said, plus director Mohamed Diab's thoughts on Moon Knight's future.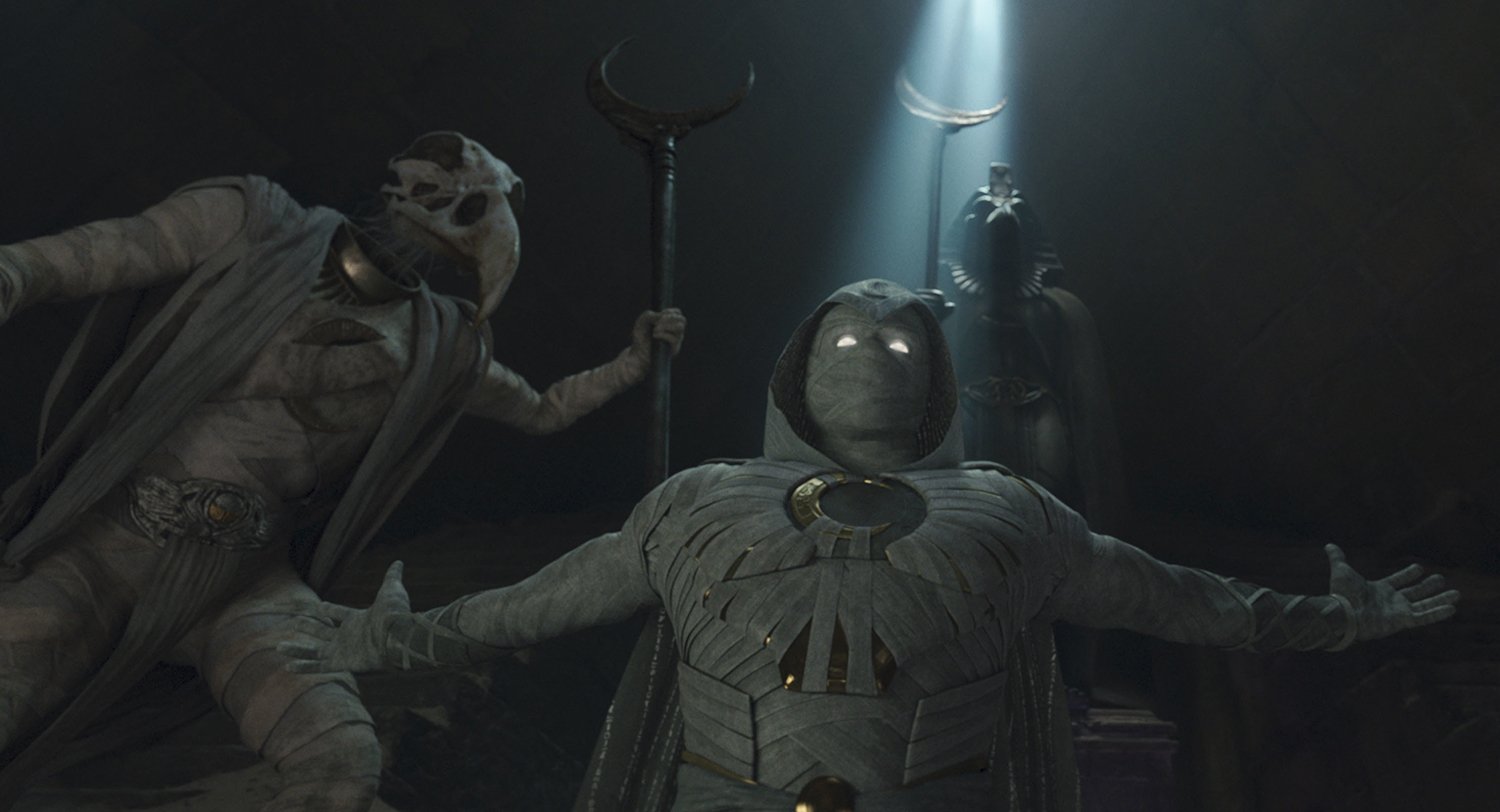 'Moon Knight' was billed as a Marvel mini-series with 6 episodes
Moon Knight is a standalone project in the Marvel Cinematic Universe. The six-episode series follows Steven Grant (Oscar Isaac), a museum gift shop employee who experiences blackouts and severe memory loss. Eventually, Steven learns he has dissociative identity disorder.
Steven shares a body with Marc Spector, a mercenary who serves the Egyptian god Khonshu (F. Murray Abraham) in a disguise known as Moon Knight. As Steven learns more about Marc and his mission, he finds himself entangled in a mystery involving a cult leader, Arthur Harrow (Ethan Hawke), and the Egyptian goddess Ammit.
Moon Knight's story will seemingly wrap up with episode 6 on May 4. Even the cast has believed the show would be a limited series, much like Marvel's WandaVision in 2021. Ethan Hawke spoke about the nature of Moon Knight earlier this year.
"Well, the limited series in and of itself is a relatively new form, as far as our industry is concerned," Hawke told Entertainment Weekly. "It's evolving and changing so rapidly. I mean, I've been working for 30 years, and in the last three years, I did two limited series after never having done one at all. And they both had bigger budgets than any of the movies that I've done. The medium is changing."
Marvel Studios seemingly hinted at 'Moon Knight' Season 2 with careful wording in a tweet
Moon Knight may still have stories left to tell after all. As a fan on Reddit noticed, the official Marvel Studios Twitter page published a tweet on May 2 that read, "This Wednesday, experience the epic series finale of Marvel Studios' #MoonKnight, only on #DisneyPlus." However, Marvel Studios quickly deleted the post and re-published it, this time saying "season finale" instead of "series finale."
The suspiciously careful word choice had many fans wondering if the studio would soon confirm Moon Knight Season 2.
"Really hoping for a season 2 confirmation, or at least a 'Moon Knight Will Return' tease of some sort," one fan replied in the Reddit thread.
"I won't be surprised if they give the show a second season, it was a success, especially for a new character who didn't have any support from a known [Avenger.] I try to keep my hype low until we get confirmation, but I must say it make me really happy just to think about it lol," another person added.
Of course, nothing is set in stone until Marvel Studios explicitly announces a second season. Many fans also pointed out that the studio also called WandaVision's finale a "season finale," likely to leave the door open for future installments. However, nothing official has come up regarding WandaVision Season 2 yet.
'Moon Knight' director Mohamed Diab said he 'knows nothing' about a possible season 2
Unfortunately, even Moon Knight director Mohamed Diab is in the dark about the show's future. He told Collider in April that Marvel is very "secretive" about their projects.
"And sometimes you ask yourself, 'Did I do a bad job?' But I think this is the way they do it. Thank God they love the show," he said.
On the bright side, Diab added that he thinks the character of Moon Knight will live on for years, whether it's in another season, a film, or some other Marvel project.
"What I'm absolutely sure of [is] that Moon Knight is staying, staying for a long time, in my opinion," he said. "That's just a prediction."
Moon Knight Episodes 1 through 5 are now streaming on Disney+. Episode 6, the finale, will drop on Wednesday, May 4. Stay tuned to Showbiz Cheat Sheet for more updates on Moon Knight Season 2.